Millennials and the Future of Public Health
.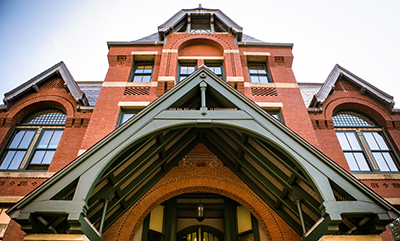 This week is National Public Health Week, a time to reflect on the accomplishments and aspirations of our field and on the work we still have to do to create a healthier world. Indeed, the work of public health is never finished, with each era producing new advocates and innovators ready to advance progress and catalyze positive change. Increasingly, I have found myself thinking about the next generation that will carry on this work—the Millennials—and how we, as a school, can best prepare them to meet the challenges we collectively face.
Millennials—widely considered to be the birth cohort born between 1982 and 2003—comprise most of our student body. They are the country's largest living generation, outstripping even the Baby Boomers. By 2020, they will account for more than one in three adult Americans. Millennials currently represent 23 percent of the total population and 30 percent of the US population of voting age. By 2025, they will comprise up to 75 percent of the country's workforce. Millennials are also highly diverse, especially relative to preceding generations (Figure 1). They are 27 percent of the total minority population of the US, 38 percent of the minority population of voting age, and 43 percent of the minority population of working age.
The influence of this rising generation can already be felt, changing the face of American arts, economics, politics, and popular culture. It is clear that Millennials will play a key role in shaping the future of the social, economic, and environmental conditions that determine the health of populations. I intend this note, then, to be a meditation on the particularities of an emerging population wave that has the potential to create a healthier world, and a challenge perhaps to our students to see their contribution to public health as part of a continuum across generations.
Who are Millennials? What forces shaped their upbringing and values? Millennials—sometimes known as Generation Y—succeed Generation X (my generation), the Baby Boomers, and the Silent Generation among generations born in the 20th century, and precede Generation Z (Figure 2).
The Center for Generational Kinetics suggests that technology and economics shape generations. Millennials came of age in an era of great change, marked by significant advances in technology, most notably the rise of the internet and social media. Older Millennials saw the media emphasis shift from television to online platforms, while younger Millennials could perhaps be considered the first "digital natives," growing up with the internet as their primary means of consuming information. The world inherited by Millennials has been one of uncertainty, marked by conflicts like 9/11 and the War on Terror. The Great Recession added an economic dimension to this upheaval; many Millennials entered the job market at the height of the downturn, often with significant student debt. Partly as a result of this investment, Millennials trend towards being the most educated generation to date. About 27 percent of Millennial women and 21 percent of Millennial men have completed at least a bachelor's degree by the ages of 18-33. This is an improvement over Generation X-ers, with 18 percent of men and 20 percent of women with at least a bachelor's degree by ages 18-33, and a significant improvement over the Silent Generation, with 12 percent of men and seven percent of women ages 18-33 educated at that level (Figure 3).
What is of interest as we seek to create opportunities for a new generation is that Millennials are different in several ways from young adults of previous generations. Between the ages of 18—33, 86 percent of Millennials have lived in metropolitan areas, compared with 83 percent of Generation X, 68 percent of Boomers, and 64 percent of the Silent Generation. Three percent of Millennials between those ages are veterans, compared with six percent of X-ers, 18 percent of Boomers, and 35 percent of Silents. Sixty-three percent of Millennial women between those ages are in the civilian labor force, compared with 69 percent of X-ers, 60 percent of Boomers, and 38 percent of Silents; 68 percent of Millennial men are in the civilian labor force, compared with 78 percent of X-ers, 78 percent of Boomers, and 78 percent of Silents.  

Importantly, the views of Millennials have evolved on key issues that affect the health of populations; particularly their views on economics. Strikingly, a recent survey found that 51 percent of American young adults between the ages of 18 and 29 said that they do not support capitalism (Figure 4).
This attitude is likely shaped, in part, by the challenge of growing up and seeking jobs during the Great Recession, the effects of which are still being felt. Eighteen percent of Millennials faced unemployment in 2010; today, two-thirds of this generation continue to have at least one long-term source of debt. Compounding these challenges, wages have fallen over the last five years, contributing to a sense of economic pessimism among Millennials. Seventy-eight percent say that they worry about having good-paying job opportunities, 74 percent register concern about being able to pay their healthcare bills in the event of illness, and 79 percent worry that they will not have enough money to live on when they retire (Figure 5).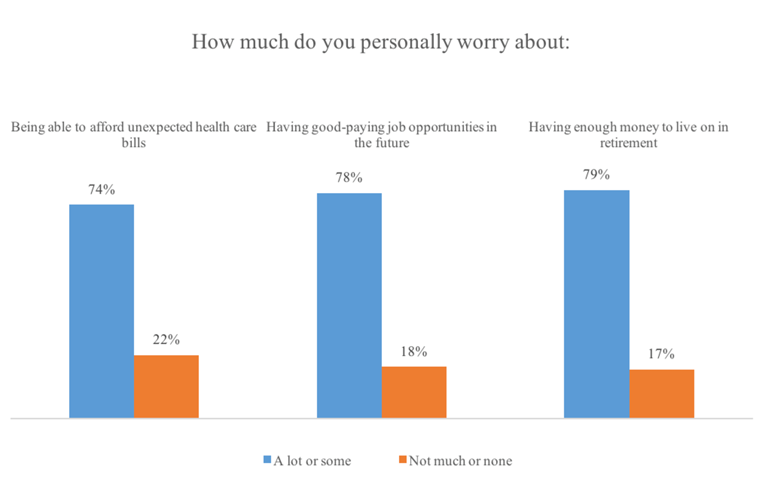 Perhaps informed by their own experience of economic uncertainty, Millennials remain engaged with broader questions of economic fairness at every level of our society. 51 percent of Millennials believe that the US middle class pays too much in taxes, 56 percent feel that the tax burden is too high for lower-income Americans, and 70 percent feel that the wealthy pay too little in taxes. This presents opportunities for public health. Given the link between income and health, it is heartening to see that the attitudes of this ascendant generation are so open to questions of economic fairness and equity—core concerns of economic justice—that are close to our core thinking in public health.
More broadly, and of direct relevance to public health, Millennials have shown a clear interest in advancing social justice and improving the social, economic, and environmental conditions that shape the health of populations. This interest is evident in everything from what they choose to buy, to where they aspire to work. Eighty-nine percent of Millennials have indicated a stronger likelihood that they would buy from companies that support solutions to specific social issues. According to a US Trust survey, this preference also extends to Millennials' stock portfolios; more than 85 percent of Millennial respondents showed interest in "social impact investing," i.e. tailoring an investment strategy to combine "positive social-environmental and financial returns" (Figure 6).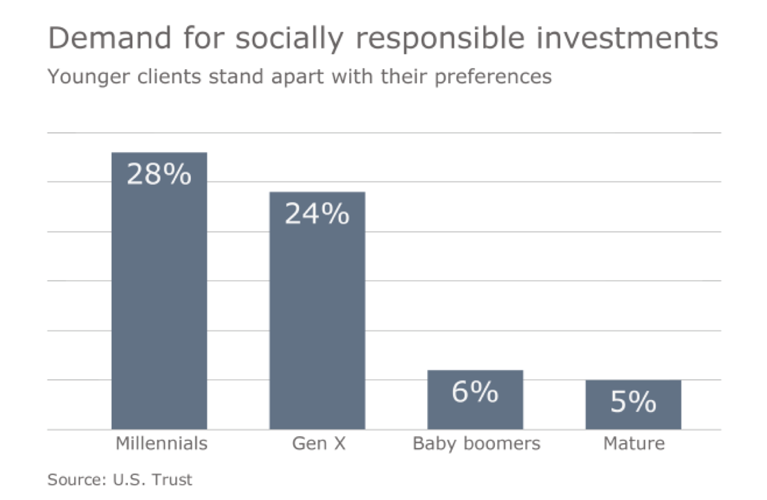 According to the 2016 National Society of High School Scholars Millennial Career Survey, 46.6 percent of respondents said that they valued "corporate social responsibility" in prospective employers, ranking it higher than "brand image of the company" and "prestige" (Figure 7).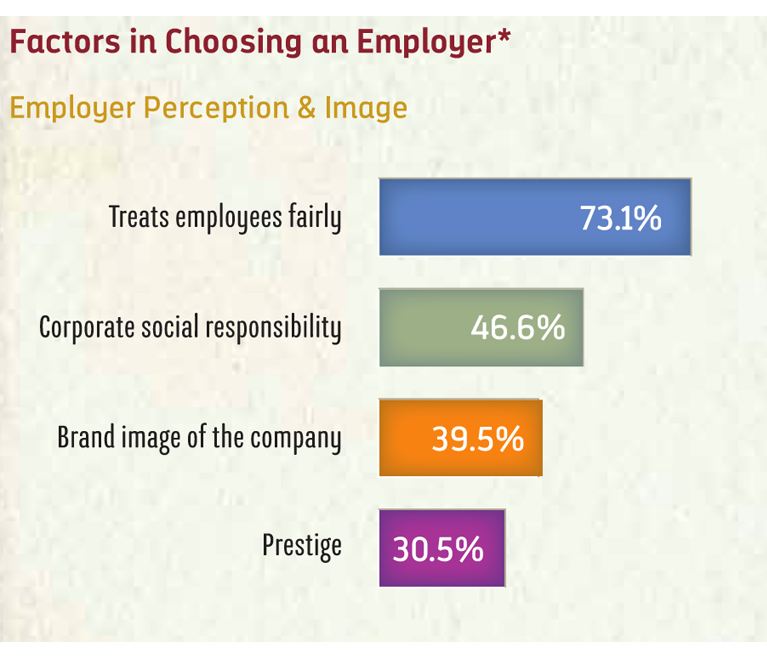 The consequences of Millennials' engagement are starting to be felt. The Black Lives Matter (BLM) movement is a key example of the synthesis of Millennials' embrace of digital approaches and their political engagement. Using social media, young activists have mobilized a movement against the injustices of racism and police violence, tackling an old, entrenched problem with a new, 21st century nimbleness. I have written previously about how racism undermines the health of populations; the efforts of BLM suggest the tremendous potential of Millennials to confront this challenge, and others, improving the conditions of health, and promoting dignity across generations and among social groups.
It is of course always a bit tricky to ascribe generational characteristics to all born within a certain time period. And yet, it seems indeed reasonable to reflect on the characteristics of particular birth cohorts, and to anticipate where we are headed as a society, to the end of creating social, cultural, and economic conditions that better promote population health. As a school, we need to be agile about generational shifts, welcoming of new approaches to teaching and learning that are consonant with our students' needs, and smart about capitalizing on our students' energies towards creating a healthier world. We are slowly doing more and more of this at SPH. We are enabling this "real-world" application through initiatives like our Activist Lab, which allows students to use what they learn at SPH while they are learning it. We have now engaged much more assertively with social media, connecting our events to a dynamic online conversation, embracing the communication avenues that speak most directly to our present moment. We have also regularly used our website and print materials to feature the stories of our students and young alumni, to put individual faces to the work of an ascendant generation. As these stories tell us, many Millennials come to SPH already animated by the aspirations that have historically shaped the work of public health. It seems to me that this is promising for our collective aspirations indeed.
I hope everyone has a terrific week. Until next week.
Warm regards,
Sandro
Sandro Galea, MD, DrPH
Dean and Robert A. Knox Professor
Boston University School of Public Health
Twitter: @sandrogalea
Acknowledgement: I am grateful to Eric DelGizzo for his contribution to this Dean's Note.
Previous Dean's Notes are archived at: https://www.bu.edu/sph/tag/deans-note/