HIV Treatment Succeeds at Primary Health Clinics
.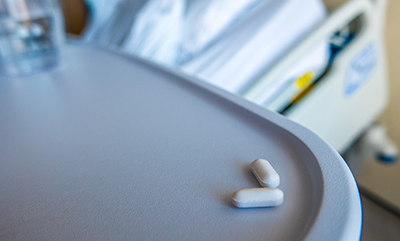 With more than 2.6 million people on HIV treatment, South Africa has had unprecedented success in rolling out a public sector antiretroviral therapy (ART) program. But despite those gains, further expansion—to more than 5 million patients on treatment by 2018–2019—will be needed for the country to reach targets set by the World Health Organization.
In light of that challenge, a new study co-authored by School of Public Health researchers recommends that South Africa further expand an approach that allows nurses working at primary health clinics (PHCs) to initiate and manage ART treatment, rather than limiting ART provision to doctors at hospital-based HIV clinics. Treatment at PHCs demonstrated equivalent patient outcomes, at lower costs, compared with hospital-based clinics, the authors found.
They suggest that South Africa continue to invest in expanding ART treatment in primary health clinics, while also transforming hospital-based programs into "centralized, expert referral facilities that focus on complicated patients.
"We found that both models achieved similar proportions of patients alive and in care 12 months after initiation, but the primary health clinic model cost substantially less per patient treated, despite providing more months of patient care overall," the study says. "The knowledge that PHCs can deliver equally good care, at much lower cost, will help the South African Government, neighboring governments, and their partners to make cost-effective decisions about program design."
South Africa revised its HIV treatment guidelines in 2010 to allow nurses to initiate and manage patients on ART, under a program called NIMART (Nurse Initiated and Managed Antiretroviral Therapy). The program shifted the focus of treatment from doctors to nurses, and from hospitals to PHCs, increasing the number of accredited ART delivery facilities from fewer than 500 to more than 4,000, according to the study, published in PLOS ONE.
Roughly 12 percent of HIV patients are now treated at hospital clinics, while decentralized, full-service primary health clinics serve about 85 percent.
The study, based at one outpatient hospital clinic and one PHC in Gauteng Province, found that the majority of patients at both facilities were reported to be alive and in care after 12 months—72 percent at the hospital and 82 percent at the PHC. The average cost per patient initiated on ART over a year was $342 at the hospital clinic, compared to $213 at the PHC. Most of the difference was attributed to the higher costs of staff and infrastructure at the hospital clinic.
The authors recommend that South Africa policymakers develop guidelines for how to "triage" patients between routine PHC care and specialized hospital clinic care. They also suggest that the impact of incorporating HIV care into nurses' workloads at PHCs be evaluated.
SPH researchers on the study include: Sydney Rosen, research professor in the Department of Global Health and the Center for Global Health & Development; Matthew Fox, professor of epidemiology and global health; and Alana Brennan, a research scientist in global health.
The study was led by Lawrence Long of the Health Economics and Epidemiology Research Office (HE2RO) at the University of Witwatersrand, with co-authors from HE2RO and Right to Care, both in Johannesburg, South Africa.