Evidence of CTE Found in Brains of Deceased Football Players
.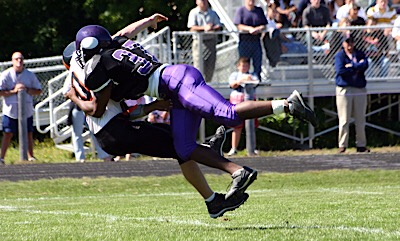 Chronic traumatic encephalopathy (CTE) was diagnosed post-mortem in a high proportion of former football players whose brains were donated for research, including 110 of 111 National Football League players, according to a recent study co-authored by the School of Public Health.
CTE is a progressive neurodegeneration associated with repetitive head trauma, and football players may be at increased risk of long-term neurological conditions, particularly CTE, the study authors said in a recent JAMA article.
Ann McKee of the CTE Center and VA Boston Healthcare System and colleagues conducted a study that examined the brains of 202 deceased former football players to determine neuropathological features of CTE through laboratory and clinical examinations and by collecting players' detailed histories. Among the 202 players (median age at death was 66), CTE was neuropathologically diagnosed in 177 (87 percent) who had had an average of 15 years of football participation. The 177 players included: 3 of 14 high school players (21 percent); 48 of 53 college players (91 percent); 9 of 14 semiprofessional players (64 percent); 7 of 8 Canadian Football League players (88 percent); and 110 of 111 NFL players (99 percent).
Neuropathological severity of CTE was distributed across the highest level of play, the study found. Among 27 participants with mild CTE, 96 percent had behavioral or mood symptoms or both, 85 percent had cognitive symptoms, and 33 percent had signs of dementia. Among 84 participants with severe CTE pathology, 89 percent had behavioral or mood symptoms or both, 95 percent had cognitive symptoms, and 85 percent had signs of dementia.
"In a convenience sample of deceased football players who donated their brains for research, a high proportion had neuropathological evidence of CTE, suggesting that CTE may be related to prior participation in football," the authors said. They acknowledged that several other football-related factors may influence CTE risk and disease severity, including age at first exposure to football, duration of play, player position, and cumulative hits.
Study co-author Jennifer Weuve, associate professor of epidemiology, said the only way to definitively diagnose CTE is through brain autopsy, which makes it "extraordinarily challenging to quantify the burden of CTE on the population of football players, much less on the general population.
"This study, the largest of its kind, involved a convenience sample of donated brains of former players," she explained. "Such a design may seem primitive when compared with the modern world of sophisticated study designs. But case series open the conversation, constructing the outlines of a condition's existence and generating momentum and direction for the next steps."
She added, "We can learn much from this 'primitive' study, including a possible lower bound on the prevalence of CTE among NFL players."
Although the percentage of players with CTE probably falls below 99 percent, "it very likely exceeds the percentage of players of similar age who have other neurodegenerative conditions, such Parkinson's disease and Alzheimer's dementia."

The study has several limitations, including that it is a skewed sample because public awareness of a possible link between repetitive head trauma and CTE may have motivated players and their families with symptoms of brain injury to participate in research. The authors urged caution in interpreting the high frequency of CTE, stressing that estimates of how prevalent CTE may be cannot be concluded or implied.
SPH co-authors on the study include: Yorghos Tripodis, research associate professor of biostatistics; Michael McClean, professor of environmental health; Christine Chaisson, director of the Data Coordinating Center and an assistant research professor of biostatistics; and Brett Martin, statistical manager of the Data Coordinating Center. Other authors are affiliated with the School of Medicine and other institutions.