The Population Health Consequences of War
.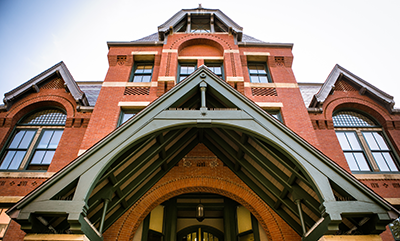 The ongoing conflict in Syria, and April's designation as Genocide Awareness and Prevention Month, motivate today's Dean's Note.
In CE 273, the Roman Emperor Aurelian destroyed Palmyra, a city in what is now modern-day Syria. A rebellion against imperial authority was in the works, so Aurelian used overwhelming force to maintain his position, and that of his empire. Last March was another bloody interlude in the long history of Palmyra, as Russian warplanes, acting in support of Syrian President Bashar al-Assad, bombed the ancient city, killing twenty jihadists who were fighting for the militant group, ISIL—a group that rivals Assad for cruelty. News of this airstrike is merely the latest sanguinary dispatch from a country where brutal violence seems, depressingly, to have become the norm.
From pre-Roman days until now, it appears as though our species has always been engaged in war. In Syria alone, over 200,000 people have been killed in the almost 5 years since the conflict began. In 2014, nearly 21,000 lives were lost in the Iraqi government's battle against ISIL. Similar flashpoints can be found all over the globe.
Often when we think about the consequences of war from a public health perspective, we focus on the substantial physical and mental health outcomes that soldiers and veterans face, from post-traumatic stress disorder, to traumatic brain injury, to depression. Less frequently discussed are the more indirect effects of war, on civilians and societies as a whole, across time.
A survey of over 4,000 civilians in Afghanistan, Colombia, Liberia, Lebanon, Haiti, the Democratic Republic of Congo, Georgia, and the Philippines, commissioned by the International Committee of the Red Cross, revealed a few years ago that about sixty-six percent of respondents in these countries reported feeling the effects of hostilities even if they were not directly involved in the violence, and nearly thirty percent reported a close family member being killed during the conflict. In some cases, the experience of simply being a civilian in a country at war can lead to psychological trauma and have devastating results. A recent review of studies on adolescents in Lebanon during times of heavy war found among the young people a high prevalence of post-traumatic stress disorder from various traumas like destruction of homes, bereavement, and economic hardships.
Another review summarized literature across several different countries, examining the impact of war on mental health. It found that women, children, and elderly civilians are particularly vulnerable to poor outcomes in times of war. I, too, have previously studied the mental health outcomes of civilians after the September 11, 2001 terrorist attacks in New York City, and others have done similar work in the wake of other civilian-targeted mass killings.
A somewhat more recent challenge is how media exposure complicates the consequences of war. During the American Civil War, the first widely-photographed conflict in history, images of the carnage shocked the nation and swayed public opinion. Now one need only run a quick Google search to witness the horrors of the battlefield as close to firsthand as it is possible to get without actually traveling to a conflict zone. Technological advances have made it easier for civilians to gain access to videos of violence occurring throughout the world, and to share photographs that can spread the impact of conflict across geographic boundaries, far from where it is taking place. These technologies make it difficult for people to keep the reality of war "at arm's length," and studies are beginning to be conducted to find out if viewing film and photos of war can lead to mental illness.
There are also known environmental health exposures related to war including pollution, pesticides, radiation, and susceptibility to infectious disease agents—both among soldiers and civilians. BUSPH Professor Roberta White has identified through her work toxic exposures from the 1991 Gulf War that likely contributed to the longtime poorly understood Gulf War Illness seen in soldiers. Armed conflict can also damage ecosystems of the surrounding areas.
A more immediate effect of war can be the outpouring of refugees who escape a war zone to enter another area, often refugee camps with equally bad or worse conditions than the surroundings they just escaped. I have written about the health of refugees previously, including their high risk of mental health disorders, infectious disease, malnutrition, poor birth outcomes and abuse. The presence of refugees can also lead to spillover violence and tension in the host countries.
From a broader perspective, there is an extraordinary economic effect of war, both in actual dollars spent on combat and preparedness, and in related expenditures. The Watson Institute of International and Public Affairs at Brown University found that in the US between 2001—2011, the ratio of federal debt held by the public to Gross Domestic Product increased, due in part to financing the wars in Iraq and Afghanistan, by almost thirty-seven percentage points. The Institute also projected that if the US government had spent the amount of money lavished on the military between 2001—2014, on health care coverage, the clean energy industry, and education, between one and three million more jobs could have been created in non-military sectors. The cost of war—economic, moral, political, and otherwise—always represents a diversion of resources away from the necessary projects of a peacetime society. Regardless of whether the cause of a war is just or unjust, or the prosecution of it is well-managed or bungled, the price will invariably be borne by the population, at the expense of its neglected needs. As President Dwight Eisenhower said, "Every gun that is made, every warship launched, every rocket fired signifies, in the final sense, a theft from those who hunger and are not fed, those who are cold and are not clothed." This reallocation of resources is not by any means limited to the duration of the conflict itself. The aftermath of war can also include food shortages and lack of medical care or other social services.
It is in the nature of war to degrade the fabric of the societies it affects. The destruction is comprehensive—it wears away at a country's economy, its environment, its infrastructure, and the physical and mental health of its population. The plight of those displaced by wars, who become refugees for years and decades, is heart-breaking, and never more so than when politicians caricature them for easy applause. It is part of the role of public health that we aim to communicate clearly and consistently the challenges to health faced by refugees, imposed by war.
I hope everyone has a terrific week. Until next week.
Warm regards,
Sandro
Sandro Galea, MD, DrPH
Dean and Robert A. Knox Professor
Boston University School of Public Health
Twitter: @sandrogalea
Acknowledgement: I am grateful for the contributions of Laura Sampson and Eric DelGizzo to this Dean's Note.
Previous Dean's Notes are archived at: https://www.bu.edu/sph/tag/deans-note/