Stories "Put a Human Face to Public Health"
.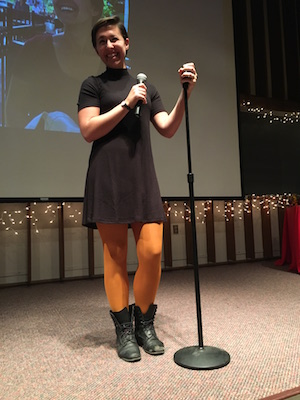 "I still had thousands of condoms in my dorm room—how was I supposed to get rid of them?" student Chelsea Lennox asked an audience of about 80 people on October 21 at BUSPH Stories.
Hosted by the Student Senate, the inaugural event in Keefer Auditorium brought 10 members of the school community to the stage to tell their public health stories.
Senate member Olaoluwa Omotowa, one of the emcees for the evening, explained that stories are vital to public health because they bring the data to life. "The purpose of stories is to take a public health issue and a put a human face to it," he said.
Lennox described how she was almost expelled from a Catholic university in 2013. Her unofficial student group had been giving out condoms under the school's ban, using a strip of city-owned sidewalk and a handful of dorm rooms as distribution sites. Soon the Boston Globe picked up the story, followed by national and international news outlets (Lennox found out she was facing expulsion only when she turned on CNN and heard it from her school's spokesperson in an interview with Wolf Blitzer.) Soon the ACLU got involved.
Eventually, Lennox said, the group agreed to stop using the dorm room distribution sites, and there would be no expulsions—but the "condomonium" had left her unsure of her plans, she said, and she dropped the idea of medical school, searching instead for a way to continue working with her newfound passion.
"It turns out what I had been doing the entire time," she said, "was practicing public health."
Other stories also traced the tellers' paths to public health, including Lois McCloskey, associate professor of community health sciences. McCloskey recalled the series of experiences from 1971 through 1978 that led her from the Encampment for Citizenship in Tucson, to gay rights activism in San Francisco, to anthropology in Nepal, to the Center for Population Activities in Washington, DC, and "what was then called 'women and development,' and what we now know as reproductive justice."
Student Fatima Dainkeh described learning about oppression and struggling to understand race at a predominantly white college. "Now, you all know I'm Black," she told the audience. "I know I'm Black. But I wasn't ready to learn what being Black meant."
In "trying to help my community members who were Black, under-resourced, and traumatized," she said, "all I could give were tears."
Dainkeh said applying for the Whitney M. Young Jr. Fellowship at SPH, and learning about the fellowship's namesake, was reinvigorating. She drew hope from exploring meanings of being Black often left out of the dominant narrative. "It's the type of Black that will fight for you, and you, and you, and you," she said. "It's the type of Black that will fight for justice, even when justice is long past due."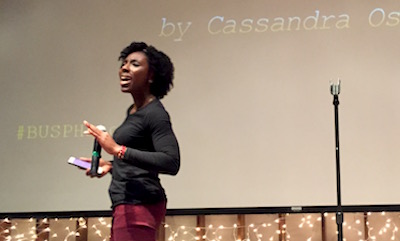 The night ended with voting for audience favorites. A slam poem by Cassandra Osei took first place, with Dainkeh's story in second. Third place went to an anonymous community member's story of sexual violence, told on their behalf by Ashlee Espensen, a member of the Student Senate.