On Engaging the Media Towards Furthering the Health of the Public
.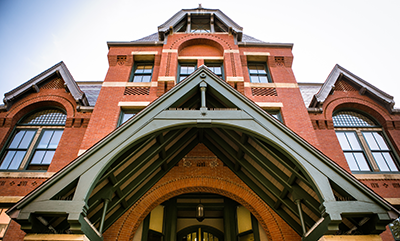 I am routinely struck by how inward looking universities have been over much of our history, and how this influences what we do and how we do it. The roots of universities are of course embedded within the traditions and histories of monastic institutions. Our forebears were monks who devoted their days to study and teaching, far from the prying eyes of the outside world. The modern university, emerging first and notably in Germany, transformed universities into research intensive institutions, coupling quiet contemplation with scholarship that engages with the world, aiming to produce knowledge that can inform how we might better structure our societies and our world. However, our traditions, culture, and values remain very much rooted in our history.
We continue to nurture faculty within disciplines, with disciplinary societies serving as guilds where we can socialize junior faculty and students into the approaches of the field. I shall comment on universities and these broader structural issues in a future Dean's Note. Relevant to today's note, however, is the issue of how we communicate the knowledge we generate. Our typical communication of knowledge remains squarely in the form of papers published in peer-reviewed journals. Although some disciplines, including, for example, economics, have adopted hybrid systems where papers are made available to the general peer community for comment well before publication in peer-reviewed journals, public health, as with most fields, continues to rely on peer-reviewed papers as our principal means of communicating what we learn and discover. This system has challenges aplenty, and authors have long commented on the weaknesses of the peer review-first system of communicating knowledge. For example, there are substantial delays between paper generation and publication, and readership of work published in peer-reviewed papers is limited. The median paper unfortunately is never cited, and even highly cited papers—with very few exceptions—are typically cited hundreds of times at most.
It is with this in mind that I have previously argued that our job does not stop with the generation of scholarship, or with the transmitting of that knowledge to our students. It must also include our commitment to translating this knowledge, as we work towards making sure that the thought we produce leaves the university's, or the academy's, walls, and informs and inflects the public conversation in a way that advances our agenda of promoting the health of the public.
This inevitably brings us to a need to engage with media organizations whose role it is to communicate broadly, and whose reach extends far beyond that of the typical scholarly journals that publish our work. Further arguing for this engagement, I have also made the point previously that the aspirations of public health "continue to be about the conditions that make people healthy, and thus must unstintingly engage the social, political, and economic foundations that determine population health." This inevitably argues for the engagement of the media, which plays such a critical role in informing culture and values with the effect of creating these social, political, and economic foundations.
What, though, are the challenges that arise when considering engagement with the media? How can we turn these challenges into opportunities, and best engage the media with an eye towards furthering the goals of public health?
In November, Tom Farley, recently announced as the new health commissioner of Philadelphia, then the CEO of the Public Good Projects, spoke as part of our Dean's Seminar series about media narratives, their relation to public health, and our potential to influence them. Farley made a compelling argument for the imperative of public health to engage with the media to achieve its ends. He was also, however, equally clear about the challenges that public health faces in communicating its message clearly and effectively through the media.
Reflecting on his presentation, and other source documents, it strikes me that there are three central challenges to our engaging with media in communicating our message. First, there are multiple competing influences that aim to shape media messaging—public health is only one, rather small, player in this larger game. Importantly, several stakeholders, whose interests may run counter to the interests of public health, hold a substantial advantage in resources that can be marshalled towards influencing media narratives and messages. The example that first comes to mind is tobacco. In its heyday, the tobacco industry had the capital to produce high-quality advertisements that made smoking appear glamorous and ubiquitous. These advertisements have of course since been banned, in one of the great triumphs of public health advocacy. But other industries that continue to successfully market unhealthy behaviors include those of soda, fast food and sugary snacks, even incorporating trendy words like "healthy" and "fat free" where they are not appropriate. The city of San Francisco recently passed legislation ruling that health warnings must be placed on soda ads, only to be sued by the soda industry for violating free speech. Therefore, our messaging must inevitably compete for space with both a clamor of clashing perspectives and with the ideas being proposed by other parties that sometimes have very specific agendas that often run counter to the aspirations of public health.
Second, media narratives engage through the power of individual stories. As the aphorism has it, a single death is a tragedy, a million deaths is a statistic. This creates an uphill climb for the communication of population-based, data-driven prevention efforts that characterize and are at the heart of public health. We see this perhaps most clearly in the recent focus on "lifestyle" diseases, a trend I have decried in a previous Dean's Note. Even when media communication focuses on the challenges presented, for example, by the obesity epidemic, messaging tends to emphasize the individual, suggesting that it is up to said individual to exercise, eat well, and maintain day-to-day well-being. This sells weight loss programs and gym memberships, but misses the far more important larger role of the cultural, economic, and social factors that shape the conditions that encourage or discourage population healthy behaviors to begin with. In many ways, therefore, the language of the medium runs counter to the goals of public health, creating a challenging engagement for us indeed.
Third, there is a substantial gulf between the complexity of the real world, and the simplification needed to convey messages compellingly through the media. This cartoon might capture this as elegantly as can thousands of my words.
This results in challenges around media outlets' capacity to convey complex messages concisely and compellingly, particularly around rapidly emerging stories. We have seen this as being the case with communication about the Zika virus recently. This eerily echoes challenges that the media faced just two years ago, as news outlets tried (and often failed) to deliver accurate and reliable information about a rapidly evolving epidemic. We share much of the responsibility here, and it seems to me self-evident that academics have a responsibility to be adept at communicating clearly and working closely with our colleagues in the press, both online and in print, in order to make sure that messages are indeed conveyed accurately and in a timely manner. We cannot do this without engaging with media and without preparing our students for such engagement during their career. Our revised MPH, launching in the Fall 2016, will include an interdisciplinary certificate in Health Communication and Promotion intending to do just that.
Where do we then fit in? How do we inform and influence media messaging in such a way as to promote the health of the public? It seems to me that a clear awareness of the challenges we face is an important first step. We are also, encouragingly, at a remarkable point in the history of communication where the democratization of messaging as part of the digital revolution creates opportunities for smaller players to communicate their messages directly. The growth of social media over the past decade may present a free way to get our message across via Twitter, Instagram, Facebook, and other outlets.
Public heath, while somewhat slow to the party, is increasingly engaging these methods, with one study showing that more than 60 percent of public health departments are using at least one social media application, the most common of which was Twitter. There are other good examples of public health's success in communicating its messages. The New York City Department of Health and Mental Hygiene, for instance, released a vivid advertisement showing soda literally turn into fat in order to try to combat the soda industry's constant advertisements. This ad was viewed millions of times on YouTube and shared frequently; the water filter company Brita released similar ads for their own company using a parallel visual tactic.
We have had historical successes, including (building on scholarship generated at our school) drunk driving commercials, which have been shown to be effective, especially when paired with other initiatives and legislation. We saw a very recent example in a new ad released during the Super Bowl featuring Helen Mirren, calling drunk drivers a "human form of pollution." Beyond advertising, popular books and documentaries such as Fast Food Nation and Super Size Me have creatively spoken to consumers about issues very much at the heart of public health, reaching broad audiences.
I am enthusiastic on this front, feeling this to be both a core responsibility of schools of public health, and an area where we can indeed chalk up some "wins." We have several faculty who have long engaged this area, including, for example, William DeJong and Michael Siegel in community health sciences, Austin Frakt in health law, policy & management, and Craig Ross in epidemiology—who has recently advocated for a "no-buy" list for alcohol ads aimed at underage youth on cable television shows popular among this demographic. Our Strategic Thinking Initiative highlighted our community's interest in this issue, and we shall soon release other efforts that aim to build on our strengths here. I realize that while some of our faculty have a long history of engagement with media, this is not a natural engagement for most of us who have been trained in the academic world. We are working on developing tools and resources to further our community's engagement in this area. First among these is Public Health Post, which is announced in this issue of SPH This Week. I will comment on SPH's other communications efforts in a future Dean's note.
I hope everyone has a terrific week. Until next week.
Warm regards,
Sandro
Sandro Galea, MD, DrPH
Dean and Robert A. Knox Professor
Boston University School of Public Health
Twitter: @sandrogalea
Acknowledgement: I am grateful for the contributions of Laura Sampson, Eric DelGizzo, and Professor David Jones to this Dean's Note. Thank you to Bink Garrison for bringing the complexity cartoon to my attention.
Previous Dean's Notes are archived at: https://www.bu.edu/sph/tag/deans-note/