Marginalization, Health, and the Federal Election
.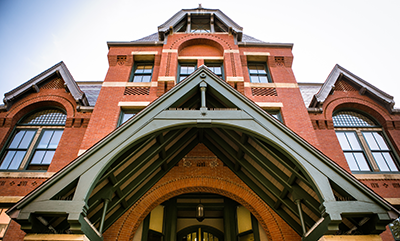 Before I begin today's Dean's Note, a moment to reflect on the cementing, this week, of Hillary Clinton as the presumptive nominee of the Democratic Party. This makes Clinton the first woman to be a major party presidential nominee and marks an important step towards gender equity in this country. In many ways, it is an extraordinarily long overdue step: we have as a country long lagged behind where we should be on this front. Nonetheless it seems to me that all Americans, regardless of political affiliation, could and should celebrate that this milestone has been reached; a milestone which points the way toward many other milestones-to-come and moves us closer to greater equality for all groups.
Now, moving on to today's Note, which happens to also be informed by the current political season.
The emergence of Donald Trump as a political force has, to a large extent, confounded pundits and data analysts alike. His success has been attributed to voter anger and vocal segments of the population who are dissatisfied with the problems that they feel are overwhelming their country. It is no coincidence that a large proportion of the population that has fueled Trump's rise shoulders a considerable burden of mortality. On health grounds alone, this group—primarily white, working-class, and non-college educated—has plenty of reasons to feel left behind.
A study published last year in the Proceedings of the National Academy of Sciences examined health across income and socio-economic groups. From 1979 to 1998, mortality rates for US whites between the ages of 45 and 54 declined by an average of 2 percent per year, a decline also seen in comparable groups in other high-resource, industrialized countries like France, Germany, Sweden, and the UK. After 1998, mortality for middle-aged whites in those countries continued to diminish at the same rate. In the US, however, the rate of decrease actually rose during that time by half a percent each year. According to the study, if, between 1999 and 2013, white mortality in the US had kept pace with the decline seen in other industrialized nations, 96,000 deaths need not have occurred. Speaking of the magnitude of this loss, Angus Deaton, one of the authors of the study, said, "Only HIV/AIDS in contemporary times has done anything like this." Particularly hard-hit were white Americans with a high-school degree or less. The study showed that much of this increase in mortality was due to an increase in suicide, drug overdose, and alcoholism among this fraying demographic. It is not hard to link these causes of mortality to economic hardship, and loss of occupation, simply, and bleakly, making the case for the link between the foundational drivers of population health and the health indicators that characterize these populations.
That some should bear so much burden of poor health while others—citizens of the same country, but perhaps of a different socio-economic group—may feel renewed optimism and hope, is sadly not a new phenomenon in America. We are, in 2016, a nation of disparities, especially disparities in health. What the Trump demographic is experiencing is, in many ways, no different from what this country's black and Hispanic population has endured for decades. Disparities persist between minority populations and American whites across the board, including in health insurance coverage, income, and education level (Figure 1).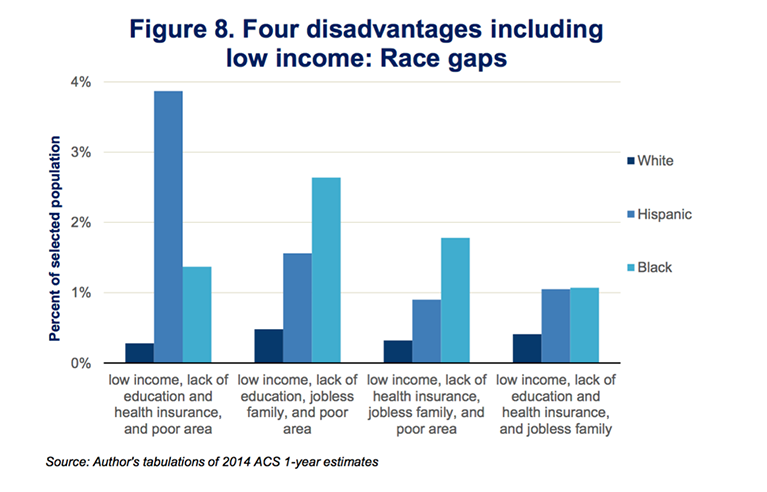 Regardless of whether or not the concerns of these predominantly white, low-income voters result in the election of a President Trump next November, this group will continue to be disadvantaged and marginalized until something is done to alleviate the challenges that characterize the daily lives of millions around the country.
Whither public health? Three observations about why the core concerns of public health are particularly apposite this election cycle.
First, our core aspirations demand a focus on the social, economic, and environmental factors that create the conditions for health and disease. Fundamental concerns with issues of fairness and economic opportunity are currently animating, perhaps inflaming, the discourse during this political cycle. These are the same issues that are creating health haves and health have nots in this country, suggesting that our efforts towards our core mission are particularly relevant to the situation the country finds itself in. By way of just one example, the link between education and health is abundantly clear. Populations with a college degree are likely to live at least five years longer than those who did not graduate from high school. Our collective investment in education is therefore tied to the health of our populations, and the wellbeing of the country.
Second, we have a core interest in ensuring that no group is marginalized or forgotten. We have created a perilously unequal society, one where life experiences are starkly different for the health haves and the health have nots (Figure 2). These differences transcend any one group, and are united mostly by a commonality of socio-economic disadvantage. It is becoming increasingly difficult to separate inequality in resources from inequality in population health.
Third, our focus on representing diseases as preventable states (but, if suffered, curable ones) and our insistence that illness does not define persons, stands to elevate the humanity of those who bear the burden of poor health. This calls for us to work tirelessly toward changing the way we view addiction, and to work to reduce stigma, resisting the impulse to stereotype people who abuse drugs. While nearly half of Americans know someone who struggles with addiction, the impulse to use these diseases to characterize the whole individual is strong, making entire populations easier to discard and forget. There are encouraging signs of an emerging political consensus on the subject of drug abuse treatment and prevention. The House recently passed a bipartisan package of legislation aimed at fighting the addiction crisis, and President Obama has weighed in on the issue, encouraging more funding for programs that counteract the epidemic; this comes after Republican lawmakers blocked such funding in the past.
There is much to despair about in this current political cycle. Clearly the polarization of the country may be a reason for ennui among those of good conscience. The aspirations of public health represent, however, an opportunity for investment in the foundations that build a healthy society, and that blunt the anger that will inevitably emerge from a marginalized, unhealthy population.
The imperative to help populations that are marginalized and socio-economically disadvantaged is therefore both moral and political. Working towards healthier populations is the right thing to do. It may also be the politically astute thing to do—for both parties. Improving the foundational drivers of health will elevate the standards this country seeks to uphold, the public conversation it engages in, and, hopefully, the quality of the leaders it elects. The policies currently being promoted by the Republican party's Presidential frontrunner will only deepen our divides. The country would be well served to elevate all, to avoid, and counter the proliferation of social, political, and health divides.
I hope everyone has a terrific week. Until next week.
Warm regards,
Sandro
Sandro Galea, MD, DrPH
Dean and Robert A. Knox Professor
Boston University School of Public Health
Twitter: @sandrogalea
Acknowledgement: I am grateful to Eric DelGizzo and Catherine Ettman for their contributions to this Dean's Note.
Previous Dean's Notes are archived at: https://www.bu.edu/sph/tag/deans-note/