Can Precision Medicine Benefit Public Health? Maybe …
.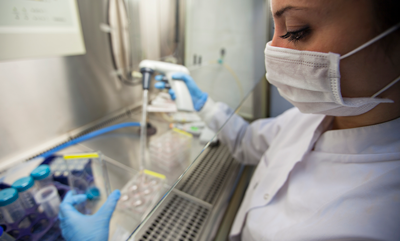 The recent national focus on personalized or "precision" medicine could benefit public health if health professionals use emerging genetic information to develop a better understanding of the broader determinants of health, risk factors, and disparities.
That's the conclusion of a "Viewpoint" article published online in the Journal of the American Medical Association (JAMA), co-authored by Dean Sandro Galea and Muin Khoury, director of the Office of Public Health Genomics for the Centers for Disease Control and Prevention. The article examines whether precision medicine is likely or unlikely to improve population health, and aims to bridge different perspectives on the issue.
"There are clear tensions at the intersection of precision medicine and public health," Galea and Khoury write. "There are, however, ways forward in which precision medicine could enhance collaborations between medicine and public health to address population health problems and disparities."
The authors say much of the current focus of precision medicine involves developing new drugs for personalized treatment of cancer and other diseases. Moving forward, health professionals should put a greater emphasis on "joining biological with social and environmental determinants of health to develop precision approaches to interventions in individuals and populations," they say.
For example, knowledge about genetic susceptibility to environmental exposures could lead to population-wide policy protections, based on thresholds determined by the most susceptible individuals in the population—rather than to individual genetic testing, with exposure avoidance only in susceptible people.
"As with all new technologies, genomic technologies have the potential for widening the divide between the haves and the have-nots," Khoury and Galea write. "A major challenge for the future is how to use emerging information from multiple levels—from reductionist molecular markers (genomics, omics, etc.) to holistic macrolevel risk factors (behavior, environment, policies)—to develop a better understanding of determinants of health."
They call for joining precision medicine and public health by linking detailed health outcome information about subpopulations with population-level data. Stratifying populations into risk groups for chronic diseases could help with prevention and treatment strategies, for example.
Still, they note that, "even with millions of points of biological data collected from individuals," population-level interventions affecting housing, nutrition, poverty, access to resources, and education may be of more benefit to health than individualized interventions.
"It is, in fact, more likely that a combination of approaches—ranging from population-wide interventions to specific interventions tailored to higher-risk groups—will be required to efficiently improve population health and narrow health disparities," they conclude.