Study Reveals Links Between Drinking, Violence in Mexico
.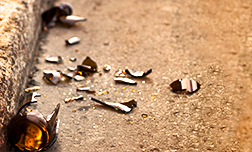 Young people in Mexico who drink excessively had three times the odds of being injured in a fight or forced to have sexual contact as compared to occasional drinkers, according to a new study led by School of Public Health researchers.
The study, published in the journal Alcohol and Alcoholism, examined how alcohol-consumption patterns impact the odds of experiencing violent victimization. Data was gathered from surveys of 29,000 entering first-year students during orientation at a university in Mexico City.
The study found that males were significantly more likely than females to drink both frequently and heavily, although female drinking rates have increased over time. More than twice as many males as females drank more than two times a week, and more males than females drank more than five drinks in a single occasion at least once in the past year. Males also were significantly more likely than females to report problems with friends, a sexual situation they later regretted, or having a physical fight because they drank.
The study noted "a consumption pattern" of infrequent alcohol use but occasional high intake—similar to previous findings—indicating that infrequent use with sporadic heavy drinking is the most common drinking pattern in Mexico.
But the researchers also found a significant number of students who reported heavy or excessive drinking, clearly deviating from this pattern. Older students and those whose parents had higher education levels were more likely to be heavy or excessive drinkers.
Of the sample, 22,224 students were aged 17 to 20, with 66 percent reporting some current drinking, and 7.8 percent reporting being a former drinker. Less than 27 percent reported never drinking alcohol.
The researchers identified five profiles of youths, defined by similar patterns of drinking behaviors and consequences: non/infrequent drinkers–no consequences; occasional–few consequences; regular–some consequences; heavy–many consequences; and excessive–many consequences. Regular drinkers were characterized by a pattern of drinking two to four times a month, averaging 4.2 drinks on a typical drinking day.
The majority of students (70 percent) fell into the "infrequent" and "occasional" categories, while 21.5 percent were "regular" drinkers, 6.5 percent were "heavy" drinkers, and 1.9 percent were "excessive" drinkers.
Females who were regular, heavy, and excessive drinkers had higher odds than males of being hit, insulted, threatened, or forced to have sexual relations, the study found. But both male and female heavy and excessive drinkers were at elevated risk for experiencing victimization.
Lee Strunin, lead study author and professor of community health sciences at SPH, said the study is the first to examine profiles among Mexican young adults "that predict membership in drinking subgroups experiencing alcohol-related consequences and associations with violent victimization. It has public health relevance for both Mexican and Mexican American young people."
Hispanics are the largest ethnic minority group in the United States, with almost two-thirds identifying as Mexican.
The authors said that identifying factors that contribute to cultural and gender differences can "inform alcohol prevention and intervention efforts in this population and, potentially, elucidate more universal risk and protective factors contributing to differences among Mexican American young people. These factors can also help in the broader goal of developing the most effective programs and policies to reduce alcohol-related health and social problems in Mexico, the U.S., and other countries."
The study was funded by the National Institute of Alcohol Abuse and Alcoholism of the National Institutes of Health. The National Autonomous University of Mexico provided financial support for the alcohol survey and contributed to the study.
Other SPH researchers on the study were: Timothy Heeren, professor of biostatistics; Michael Winter, associate director of the Data Coordinating Center; and Seth Kuranz, study project coordinator.
Submitted by: Lisa Chedekel