SPH-Led Team Receives $150,000 to Support Breast Cancer Research
.
A School of Public Health-led research team has received grants totaling $150,000 from a local foundation dedicated to funding research into environmental causes of breast cancer.
The grants were the latest round of funding in a $5 million grassroots campaign led by Art beCAUSE, a nonprofit cultural and philanthropic organization founded in 2000 to raise money and awareness of the environmental factors that may trigger breast cancer.
David H. Sherr, a professor of environmental health at SPH, leads the Art beCAUSE multi-disciplinary research consortium, which includes David Seldin from the School of Medicine, Stefano Monti from the School of Medicine and Broad Institute, and Gail Sonenshein and Charlotte Kuperwasser from Tufts University School of Medicine.
Sherr is also a professor of pathology and laboratory medicine at MED and directs the BU Immunology Training Program and the BU Superfund Research Program. For more than 25 years, he has studied how common environmental pollutants such as dioxins, polycyclic aromatic hydrocarbons, and PCBs can adversely affect cell growth and behavior.
During an informal check-signing ceremony, Sherr told Eleanor Anbinder, the executive director and co-founder of Art beCAUSE, that the group's contributions help propel research that represents "another major step toward breast cancer prevention."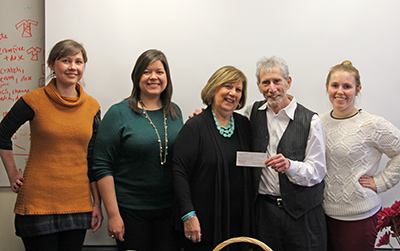 With support from Art beCAUSE, Sherr said his lab was able to conduct novel and high-risk research on possible environmental causes of breast cancer metastasis in menopausal women. Those initial experiments, conducted by doctoral students Olga Novikov and Elizabeth Stanford, enabled Sherr's lab to apply to the National Institutes of Health (NIH) for funds to support additional in-depth studies on the molecular biology of breast cancer and on the environmental causes of breast cancer in menopausal women.
"We had the assays and experiments already set up because of what you've funded. It was a linchpin for this grant. There's no way I had a chance of submitting a competitive grant like that without the support of Art beCAUSE," Sherr told Anbinder.
"Getting the money is great – just as money is what makes rocket science possible, funds such as these make breast cancer prevention possible. But it's the motivation we get from [Art beCAUSE] that makes the difference, because it's still humans that are doing the science—and we need that kind of inspiration."
Amy Li, a doctoral candidate in BU's Division of Computational Biomedicine, received an installment of the Art beCAUSE "Seed the Scientist" grant, given annually to a young scientist searching for possible environmental causes of breast cancer. Li is working in Monti's lab to investigate computational approaches for identifying cancer-related gene expression signatures. Early lab studies have shown that low-cost genetic assays can accurately predict whether common environmental chemicals, of which thousands exist, can induce and exacerbate various tissue-specific cancers. Li, Monti, and other members of the group believe that similar techniques could help scientists quickly and accurately predict the carcinogenic potential of thousands of chemicals, some of which may be implicated in causing breast cancer.
The research into computational analysis dovetails with Sherr's studies into the molecular mechanisms that initiate and maintain breast cancer, especially the role of an environmental chemical sensor—Aryl Hydrocarbon Receptor (AhR)—in tumor cell metastasis.