Some Thoughts on the Future of Academic Public Health
.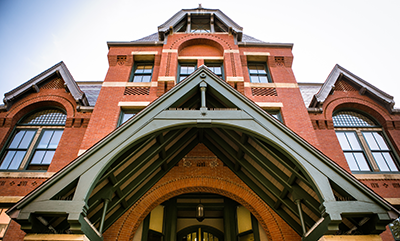 One of the questions I have been asked most frequently since I joined the school in January has been, "What is your vision for the school?" As I mentioned in last week's Note, we will have opportunity to discuss this together at upcoming gatherings, assemblies, and in one-on-one meetings. However, I thought I would here articulate some of my thoughts, ahead of these meetings, to stimulate discussion and as fodder for our in-person conversations.
My thoughts about general direction for schools of public health were summarized in the address I had the privilege of delivering to the school community in June, during the dean search process.
Looking Towards the Future
How, then, do I think about the future of academic public health and where SPH fits into that future? I start, once again, with asking myself what public health aims to accomplish. Repeating the definition from the Institute of Medicine report on The Future of Public Health:
"Public health is what we, as a society, do collectively to assure the conditions for people to be healthy."
It is a high-minded aspiration, but one that I find both inspiring and also practicable, serving as useful scaffolding for my thoughts on the particular role of our profession, and as framing for our potential direction as an academic school of public health. I find two elements of this definition particularly informative and helpful.
First, public health is what we "as a society, do collectively." This suggests that public health is not an individual sport, and that the goals of public health require our collective engagement.
An academic school of public health must engage with an inherently complex ecosystem of institutions, involving players from many different sectors, including government, non-profit organizations, and industry. As a school, we stand to gain much by working with the other sectors that can influence the health of the public, and it is our responsibility to find ways of engaging with our traditional counterparts and non-traditional actors constructively.
Second, public health is about assuring and creating the conditions for people to be healthy. This stands, to my mind, as the core feature of public health that distinguishes us from our frequent intellectual neighbor, medicine. Public health is about contributing to the creation of conditions; medicine is about curing the individual who has developed pathology either due to adverse conditions, or, perhaps, despite those conditions being as optimal as can be. Medicine trains clinicians to help cure people who have pathology. Public health, by contrast, aims to create the conditions that produce health to avert the need for medicine. To be clear, we do need medicine, shall always need medicine, and I value, respect, and am grateful for my clinician colleagues who can look after me when I am sick. However, the role of medicine is a very particular one, where it is possible for the individual clinician, within a functioning health system, to make a substantial difference. Our task—the creation of conditions that assure populations can be healthy—is perhaps harder, but also, I would argue, more rewarding. Why harder? It is harder because it is readily apparent that creating conditions extends well beyond the remit of any one person or institution. The health of the public depends on social, political, and cultural structures being such that they produce health and healthier populations. This of course harkens back to the collectivist roots and goals of public health. It is harder because it is readily apparent that any effort at creating conditions is a long-term project, that will require multi-sectored, multi-year efforts, and efforts that may take generations. Why more rewarding? Because the potential for the improvement of health of populations allows us aspire to work towards improving the health of many. It is more rewarding because the improvement of conditions at one point in the lifecourse (subject of a future Dean's Note) has the potential to improve the health of populations over time, and across generations. This challenge and this potential of public health is the main reason I shifted in my career from clinical medicine to public health.
The Role of the University
So what role do universities play, and how does an academic public health institution contribute to assuring the conditions for people to be healthy? We are neither a direct service organization, delivering community-based surveillance or health education to populations, nor a political organization with our hands on the levers of power that can alter the conditions of interest. Building on the work of others, I suggest that universities have three roles.
First, we are foundationally entrusted with knowledge generation. It is our central responsibility to be on the leading edge of generating scholarship, and in our particular public health context, to generate scholarship that can inform, influence, and shape the broader public health enterprise, scholarship that can contribute to creating the conditions that assure populations can be healthy. I shall leave to a future Dean's Note the discussion of knowledge generation inspired by an aspiration to advance knowledge itself, versus knowledge generation that is inspired by contemporary and practical concerns. However, at core, our role within the complex net of sectors engaged in public health is knowledge generation, and that needs to inform our values, our rewards, and our collective aspirations. It suggests that we as a school need to encourage and nurture innovative scholarship on the critical public health issues of our time, which in turns requires the infrastructure that best fosters that scholarship.
Second, the university's role is knowledge transmission to our students. Teaching, therefore, is a fundamental part of our role, and our responsibility to the next generation. Were we to focus only on knowledge generation, that knowledge generation, no matter how transformative, would die with us, and we would have missed an opportunity to contribute to the goal of producing health across generations. To this end, a great school of public health must be an environment that houses, generates, and rewards outstanding teaching, that innovates on pedagogy, and that embraces a broad learner community, across multiple modalities and educational formats.
Third is our role in knowledge translation. The more traditional role for universities was knowledge preservation, but the dramatic technological transformation of our time—the advent of digital communication and with it the democratization of knowledge transmission—has provided us with an invaluable opportunity to move from looking inwardly, preserving knowledge monastically for ourselves and future generations of academics, to an outward-looking role where we can engage in translating knowledge to a broad spectrum of constituents. Through translating knowledge, we can help move public health to the vibrant center of our global society, informing, influencing, and shaping the broader societal conversation so that we elevate health as a value and contribute to what has recently been called a culture of health.
A Vision for SPH
So at core, my vision for SPH has three elements: we must tackle the critical public health issues of our time; encourage innovative science, education, and translation efforts; and contribute to the global conversation assuring conditions for people to be healthy.
Which leads, of course, to the clear question: how do we do that? First we need to be clear on what we aspire to inform, to identify the critical public health issues that should inform our scholarship and action. I find it helpful to think fifteen years out, a forward-looking but conceivable time frame. In 2030, what will be the cutting edge of our field, and what will our students need as emerging public health leaders? Second, being pragmatic, we need to identify current strengths and opportunities for growth in our research, education, and translation. Third, we do so by building a system that supports our aspirations. Many of us value working in a school of public health because this affords us an opportunity to do excellent individual work and have this work contribute to a larger collective vision. Enabling individual and collective excellence, however, requires an effective system and a robust and responsive infrastructure. And this is something we will continue to build together to ensure we are able to deliver on our potential.
At a time of leadership transition, the reader of the Note might be asking, what are we going to do differently? This we will figure out together over the coming year. I am hopeful that these framing thoughts are useful as a scaffolding for our shared aspirations. Together—through a school-wide Strategic Thinking process that we shall discuss at the first school assembly in January—we shall articulate the core whats and hows that we need to guide our work. What are the issues that we should engage to have the greatest possible impact on the health of the public in 2030? Do we need to collaborate more closely with non-traditional sectors to tackle areas of shared interest? Should we develop digital educational opportunities? Do we offer non-degree granting courses? What are the new constituencies an activist school of public health needs to reach to improve the health of the public? How do we reach them? And together we shall articulate those answers.
As I mention above, at our school assembly we will discuss a Strategic Thinking process that we shall pursue to capitalize on the ideas and energy of our entire community, with input from outside experts as needed, to best position us to be at the heart of the broader societal discussion on assuring the people's health. I look forward to meeting this challenge together.
I hope everyone has a terrific week. Until next week.
Warm regards,
Sandro
Sandro Galea, MD, DrPH
Dean and Professor, Boston University School of Public Health
@sandrogalea