Ruiz-Narváez Elected to National Academy of Sciences of Costa Rica
.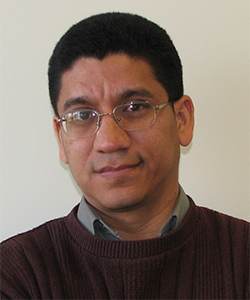 Edward Ruiz-Narváez, an assistant professor of epidemiology at the School of Public Health, has been elected a member of the National Academy of Sciences of Costa Rica.
This spring, Ruiz-Narváez will be one of 11 honorees inducted into the national academy, which is adding members to its ranks for the first time in four years.
Dayana Mora Solórzano, executive director of the academy, told La Nación newspaper that the 11 new inductees were chosen from dozens of candidates for their "significant development of science" in promoting research contributions in their respective areas.
Ruiz-Narváez's research is primarily focused on the genetic basis of human complex diseases, as well as the assessment of gene-environment interactions to uncover potential mechanisms of development of disease.
As an epidemiologist with the Slone Epidemiology Center, Ruiz-Narváez's past research has involved the study of genes involved in lipid metabolism to assess how natural genetic variation interacts with dietary intake and other lifestyle factors to affect risk of cardiovascular heart disease.
He is currently part of a team researching data gleaned from the Black Women's Health Study (BWHS), a longitudinal study following 59,000 women who enrolled in 1995. A primary focus of the BWHS involves research into genetic variations associated with risks of different diseases or conditions such as breast cancer, obesity, and type 2 diabetes.
The National Academy of Sciences of Costa Rica, established in 1992, is a permanent forum for cultivating scientific culture within the country. It is also charged with promoting research and scientific collaboration between its members and other groups, including national and international agencies.