Mobile Phones Can Help Homeless Vets Access Health Care
.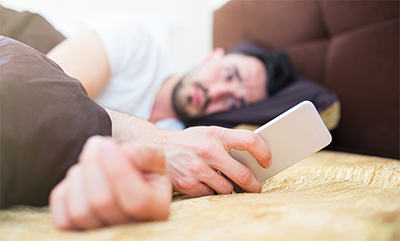 Many homeless veterans have mobile phones and regularly access the Internet, making mobile technology an effective tool for engaging them in health care and improving adherence to treatment, according to a study co-authored by a School of Public Health researcher.
About 90 percent of veterans interviewed by a study team that included researchers from the Edith Nourse Rogers VA Hospital in Bedford said they had a mobile phone and were receptive to receiving phone calls or text messages for appointment or medication reminders or other health care communications. The study, published in Peer J, was led by D. Keith McInnes, research assistant professor of health policy and management at SPH and a researcher with the Bedford VA.
The research team conducted interviews with 30 homeless veterans in different housing programs in Boston, ranging from emergency shelters to supportive transitional housing. The participants ranged in age from 33 to 65 years. Commonly mentioned health problems included depression, PTSD, substance and alcohol use disorders, anxiety, and hepatitis C.
The authors said that "despite the economic, societal, situational, and psychological barriers that affect homeless veterans accessing healthcare, our results suggest that IT such as mobile phones can contribute to improving access to outpatient health care services, which in turn may lead to improved health outcomes.
"While these technologies may not directly address these serious underlying challenges," they added, "[technology] does make it easier to connect with health care providers (e.g., text messages, mobile phone calls, emails and secure messages), remember appointment times . . . and know when it is time to refill a medication."
The authors noted that text messaging is not currently approved in VA healthcare, but a texting system is in development.
They said additional research is needed to evaluate implementation of mobile phone communication systems for homeless people and to assess their impact on health care use.
Nationwide, there are nearly 50,000 homeless veterans, comprising about 11 percent of the US homeless population. A 2010 study of urban homeless veterans receiving care in a Department of Veterans Affairs' medical center found 53 percent suffering from degenerative joint disease or arthritis, 45 percent with hypertension, 71 percent with alcohol use disorder, and 67 percent with depressive disorders.
Submitted by: Lisa Chedekel