Mobile Health Clinics Effective in Remote Namibia
.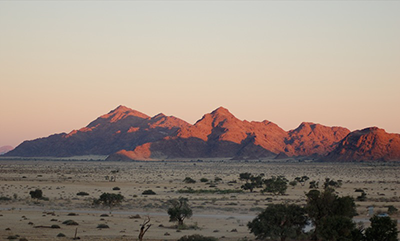 Mobile clinics that offer testing and counseling for HIV and other health conditions can be a cost-effective addition to fixed-site clinics in rural and remote areas, according to a new study conducted in Namibia and co-authored by a School of Public Health researcher.
In the study published in the journal Rural and Remote Health, Rich Feeley, associate professor of global health; researchers from the PharmAccess Foundation, a Dutch non-profit organization; and their Namibian colleagues found that the costs of mobile testing and counseling at workplaces in Namibia were comparable to costs at fixed sites.
"Well-run mobile services can operate effectively in rural and remote areas to provide services to otherwise hard-to-reach populations who do not have easy access to fixed sites," the study says.
The research team evaluated a mobile, voluntary HIV testing and wellness-screening program operated by PharmAccess at workplaces, and compared costs to those of similar services provided in existing fixed-site VCT (voluntary counseling and testing) clinics. Namibia is the second least-densely populated country in the world, with long distances between health facilities.
PharmAccess operated two mobile clinics under a program called Bophelo!, visiting workplaces in Namibia and testing employees for HIV, blood pressure, cholesterol levels, and other health measures. The employers paid for part of the operating costs, with the remainder paid for by the Namibia Global Fund Programme and other donors. Once contracted to visit a workplace, Bophelo! offered all employees a full range of tests, with confidential pre- and post-test counseling. Patients who screened positive for any condition were referred to government clinics.
The study found that costs of the mobile testing were comparable to testing in publicly funded clinics, with employer contributions reducing the costs at the mobile sites. At the fixed sites, the total cost per person tested for HIV was $58.21, while the cost of the mobile Bophelo! service was $60.59. Private employer contributions to the Bophelo! program reduced public costs to $37.76.
"Besides reducing the cost to the public sector, mobile clinics provide opportunities for wellness testing of groups that are normally difficult to reach, such as rural and remote communities," the study says. "The high percentage of rural individuals who elected to take an HIV test in the Bophelo! mobile clinics is an encouraging lesson that such populations will have testing when facilities are easily accessible."
The authors said the lessons learned from the study could be used to develop similar wellness screening programs in Africa and other regions with remote health access.