Mental Health Needs Unmet in Aftermath 
of Hurricane Sandy
.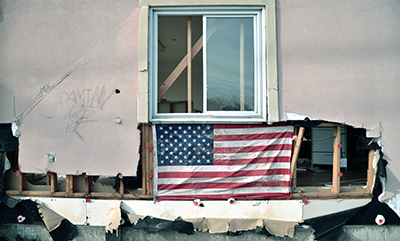 Despite substantial investment in post-disaster mental health, unmet counseling and service needs remain and more targeted outreach efforts are needed, according to a new study co-authored by a School of Public Health researcher.
Dean Sandro Galea and colleagues surveyed 500 adults living in New York City neighborhoods that were the most severely affected by Hurricane Sandy, which hit the area in October 2012, causing $50 billion in damages and 43 deaths. About 8 percent of those surveyed reported having mental health needs—but fewer than half of them used services.
Predictors of those with unmet needs included younger age, higher education, male gender, and exposure to more disaster-related stressors, the study found. The authors suggest that efforts to reduce these unmet needs "could focus on reaching survivors with these characteristics."
The study also found that some disaster survivors, albeit a small percentage of them, were receiving mental health services "without feeling a need for them." Depression was identified as a factor that was predictive of service use in the absence of need.
Taken together, the authors said, the findings call for additional efforts "to reach survivors most in need of services."
Previous research has shown that rates of psychiatric disorders, including posttraumatic stress disorder (PTSD) and major depression, are elevated in the aftermath of natural disasters. But prior studies also have indicated that the majority of disaster survivors suffering from psychiatric symptoms do not receive mental health services, despite substantial financial investments in meeting survivors' mental health needs. In the aftermath of Sandy, nearly $50 million in Federal Emergency Management Agency (FEMA) grants was allocated to mental health services in New York State.
The study was funded by the US Department of Health and Human Services, the National Institute of Mental Health, and the German Research Foundation. It was led by Sarah Lowe of the Department of Psychology at Montclair State University. Co-authors include Laura Sampson, statistical analyst with the SPH Department of Epidemiology, and Oliver Gruebner of the Harvard T.H. Chan School of Public Health.