Elevated Risk of Pneumonia in Children with Asthma
.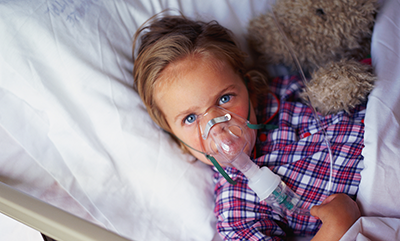 Children with asthma are twice as likely to suffer from pneumococcal disease, which can result in pneumonia, a study led by School of Public Health researchers found. Importantly, the research team also found that children who had asthma and another underlying comorbidity at the same time were even more likely to develop the disease.
The research team conducted a nationwide cohort study, using data from Danish medical registries that included 2,253 cases of childhood pneumococcal disease [PD] among more than 888,000 children born in Denmark from 1994 to 2007. The team assessed the impact of having asthma on the development of PD, and the biologic interaction between asthma and other underlying health conditions on the risk of PD.
Children with an asthma diagnosis had increased rates of PD compared with those who never had an asthma diagnosis. The rate of PD was highest among children 6 months to 2 years old (91.2 cases per 100,000 child-years) followed by children under 6 months old (78.8 cases per 100,000 child-years) and children 2 years to 5 years old (21.5 cases per 100,000 child-years).
The researchers also found that the rate of PD was especially high among asthmatic children who had other comorbidities such as cardiac disease, renal disease, or type 1 diabetes. Among children aged 2 to 5 years, the unadjusted incidence rate of PD in children with both asthma and comorbidity was 7.5 times the rate in children with asthma alone; among children aged 5 years and older, those who had both asthma and comorbidity were 14 times more likely to develop PD.
"The evidence presented here indicates that asthmatic children are more likely to develop PD . . . thereby providing support for the addition of asthma to the list of pneumococcal vaccine-eligible conditions for older children," the research team wrote in the journal Clinical Epidemiology. "These results also indicate that children who have asthma and another underlying comorbidity may be at especially high risk of PD, and should be carefully assessed in the clinic when presenting with bacterial illnesses."
Prior research has identified potential biologic mechanisms that may explain how asthma increases the risk of PD, the researchers said. Two studies identified associations between asthma and increased risk of Streptococcus pneumoniae bacteria, the causative agent for PD, in the nasopharynx, suggesting that children with asthma may be at increased risk of PD because they are more likely to be colonized with pneumococci. Other proposed mechanisms include pathologic alterations that can impair clearance of bacteria from the airway and chronic airway inflammation leading to impaired respiratory immunity.
The study was led by Kimberly Shea, assistant professor of epidemiology. Co-authors included: Susan Jick, professor of epidemiology; Henrik T Sørensen, adjunct professor of epidemiology at SPH and a professor of clinical epidemiology at Aarhus University in Denmark; Timothy Lash of the Department of Epidemiology, Rollins School of Public Health, Emory University; and Sussie Antonsen of Aarhus University Hospital.
Submitted by: Lisa Chedekel