An Agenda for an Activist Academic Public Health
.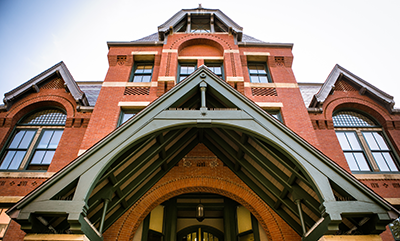 This Dean's Note is co-written by Associate Dean for Public Health Practice Harold Cox.
An activist academic public health agenda is a core feature of a mission-driven school of public health. Here we discuss briefly the form that agenda might take, both to address some of the questions raised at School Assembly and to add granularity to our collective discussion.
Many organizations (governmental offices, social service groups, community-based nonprofits, public health agencies, advocacy groups) play significant roles in assuring the conditions for healthy populations. Schools of public health also have a role in this public health enterprise. Our central role is knowledge generation and transmission, but a forward-looking school like ours should also tie in an activist practice agenda to this central function. An activist role, i.e. one that aims to bring about foundational change, is unavoidable if one aspires to promote the production of population health. SPH can both stay true to its core mission (focusing centrally on knowledge generation and transmission) and contribute meaningfully to the efforts of those whose core work involves improving the health of the public.
Much of the academic discourse in this area has taken place in a series of reports sponsored by the Association of Schools and Programs of Public Health. These reports examine the role of practice within schools of public health, grappling with how to demonstrate excellence in public health practice overall, and specifically how to tie in a practice agenda with research, teaching, and service. These reports provide a useful takeoff point for our discussion. Building on these reports and on the academic literature in the area, we propose that there are four areas around which an activist academic public health agenda can engage, contributing both to our core academic mission and to our aspirations for greater engagement with public health improvement.
First, we have a responsibility to generate scholarship around issues that are of direct relevance to public health practice. We must apply rigorous scholarship aimed at informing the practical needs of public health practice—scholarship that applies the tools of science to inform the day-to-day workings of public health practitioners. In its simplest form, we must continue to hold forums to help our school community understand current issues, such as Ebola responses, homelessness in Boston, gun control, and laws that require mental health treatment. At a more advanced level, we must seek answers to complex issues. For example, as the public health practice world has grappled with emergency preparedness as part of its sphere of influence, substantial public health scholarship has considered how health system capacity can best be built to inform public health preparedness efforts.
Second, building on the responsibility of academic public health to transmit knowledge, an activist public health agenda elevates our ambition to provide academic support for our public health practice partners. This means that we need to build the capacity to effectively educate students across a broad range of sectors, while also ensuring we have the modalities at hand to make our educational opportunities readily available and useful to our practice partners. In our school, an example of this is the Massachusetts Workforce Training Institute, which develops virtual training activities for public health personnel in all 351 towns and cities throughout the state. In many respects, this also means ensuring that our more traditional educational offerings are informed by the needs of public health practice. The SPH course on "Cases in Public Health Management," for example, does just this by drawing lessons from current public health practices to train and inform students who will be at the front lines of population health improvement tomorrow.
Third, academic public health has a duty to develop innovative approaches to public health practice that can later be adopted by partners in practice communities. As an academic institution, it is not our role to take on the mantle of direct service or program delivery in the longer term. However, one of our core responsibilities is generating ideas that can serve to transform programs and projects that are then carried forward by practice partners. Our oral health project, which provides dental screenings and restorative care for seniors living in Boston's public housing, is a paradigmatic example of this approach. In this partnership with the Boston Public Health commission and the Boston Housing Authority, we capitalize on our assets to change the way in which public health is practiced, aiming to positively influence the health of local populations.
The fourth element of an activist academic public health agenda moves beyond the remit of public health practice to an embrace of all sectors that have a role in shaping the health of the public. It is now clearly understood that most of the drivers of population health are not within the control of traditional health sectors themselves. Urban planning, tax code structure, health care resource allocation, and the packaging of calorie-dense and nutrient-poor food all shape the health of the public. Decisions on these areas are all well outside the scope of public health practice, but they should not be outside of our remit. A creative activist academic public health engages these areas to inform decisions that influence the health of populations. There is a rich academic scholarship in public health that articulates the centrality of non-health actors in influencing health. However, an activist academic public health moves beyond the recognition of these forces to think about how to leverage academic assets to effect change. Core to this effort is our engagement with multiple communication modalities to translate our work so as to effectively inform, influence, and shape a public conversation around population health (as discussed in a previous Dean's Note). Faculty engagement with sectors that extend beyond traditional health sectors goes hand in hand with this approach.
At SPH, many aspects of each of these elements already exist. However, a school-wide activist agenda would take this work to a new level. For instance, our Spotlight on Mental Health series could become more robust. We could have programs to inform us about the problems, provide activities to help train community health workers that serve mental health patients, develop an innovative program to serve homeless veterans, and work collaboratively to improve payment systems for mental health services.
In sum, we see an activist academic public health as core to the functions of a top-tier, forward-looking school of public health. This approach allows the creation of unparalleled learning opportunities for our students, helps inform the practical needs of the public health practice community, and improves the conditions that make people healthy. An activist school can, above all, turn theoretical concepts into reality—an asset for a school that aspires to train students for a real-world public health. We propose here four elements of an activist academic public health agenda that we see informing our activities as a school moving forward. We aim to inform our collective conversation, fuel discussion through our ongoing strategic thinking exercise, and, at core, help clarify our efforts to improve the health of populations.
I hope everyone has a terrific week. Until next week.
Warm regards,
Sandro
Sandro Galea, MD, DrPH
Dean and Professor, Boston University School of Public Health
@sandrogalea