Martha Werler Appointed Epidemiology Department Chair
.
Martha Werler, a BU School of Public Health professor of epidemiology, has been named the School's new Chair of the Department of Epidemiology. Werler, who is also a senior epidemiologist based at the Slone Epidemiology Center, will begin her new role on July 1.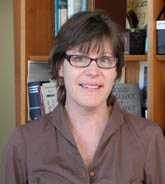 Werler (SPH '89) has been affiliated with BUSPH for nearly 30 years, arriving in 1985 as a doctoral student who went on to receive her D.Sc. in epidemiology. Throughout her career, she has focused on perinatal and pediatric epidemiology and began studying risk factors for various birth defects in 1982 as an MPH student at the University of Michigan.
She and colleagues conducted the first study to identify that children born to women who take 400 micrograms of folic acid (the dose found in most over-the-counter multivitamins) in early pregnancy have a significantly lower risk of spina bifida and other neural tube defects. Her continued research into neural tube defects has identified other risk factors such as maternal obesity, diabetes, and dietary glycemic index.
Werler has designed and implemented several case-control studies of specific birth defects that focus on behavioral, medical, and genetic risk factors. In her most recent study of clubfoot, she and colleagues identified several medications and cigarette smoking as risk factors.
She is an active co-investigator of the Slone Birth Defects Study and the CDC's National Birth Defects Prevention Study. In addition to studies of risk factors for specific birth defects, Werler conducts follow-up studies of affected children. Outcomes of interest include behavioral problems, cognitive deficits, and quality of life during early childhood and adolescence.
In addition to her research, Werler is Director of the Boston University Reproductive, Perinatal, and Pediatric Epidemiology predoctoral training program. She has also taught "Design and Conduct of Case-Control Studies" and "From Conceptualization to Manuscript: A Guided Epidemiologic Study" in the BUSPH Epidemiology Department and is an associate editor of the journal Birth Defects Research Part A: Clinical and Molecular and Teratology.
In announcing the appointment to the EPI department, Dean Robert Meenan wrote, "Martha impressed me, the search committee and those who interviewed her with her commitment to leadership, her understanding of the school and the department, and her record of scholarship. She has been very successful as a teacher, as a mentor and as a researcher, and she is clearly committed to succeeding as a department chair. I look forward to working with Martha as she leads a department that is essential to the success and reputation of BUSPH."
Werler will take over for Bob Horsburgh as department chair, a role he fulfilled for 14 years. As of July 1, Meenan said, "Bob will become a regular member of the EPI faculty, pursuing teaching and research activities of interest to him and of value to the department."
Horsburgh will also continue his work on the steering committee of RESIST-TB, an international organization dedicated to using clinical trials to improve treatment of multi-drug resistant tuberculosis.