Lauren Wise to be Honored for Published Research at National Epidemiology Meeting in June
.
Lauren Wise, an associate professor of epidemiology at BUSPH, will be formally recognized in June for lead authorship of research named as an Article of the Year for 2013 by the American Journal of Epidemiology (AJE) and the Society for Epidemiologic Research (SER).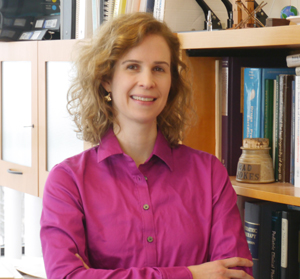 It is the first year that the award has been presented to an elite group of 10 articles selected by a panel of AJE editors as the top representations of scholarship in the field. Wise, who is also a senior epidemiologist at BU's Slone Epidemiology Center, will be honored for her work on "Is the Observed Association Between Dairy Intake and Fibroids in African Americans Explained by Genetic Ancestry?"
Wise and her fellow awardees will receive a joint certificate of appreciation from the AJE and the SER and will be highlighted in the printed program books of the SER's 47th Annual Meeting, to be held in Seattle on June 24-27, 2014. The articles will also be republished online in a special "best of" issue that will be released in conjunction with the annual meeting.
BUSPH colleagues who collaborated on the study were Julie Palmer, a professor of epidemiology; Edward A. Ruiz-Narváez, an assistant professor of epidemiology; and Lynne Rosenberg, a professor of epidemiology.
Wise joined the BUSPH Department of Epidemiology in 2004 after completing her ScD degree at the Harvard School of Public Health. She has an interest in reproductive epidemiology. Her research has involved the study of benign gynecologic conditions and delayed time-to-pregnancy in women. Wise is co-investigator of the Black Women's Health Study, a nationwide prospective cohort study of more than 59,000 African-American women. She is principal investigator of NICHD-funded studies examining the influence of diet, genetics, and psychosocial factors on risk of uterine fibroids in African-American women. She is also Principal Investigator of Boston University Pregnancy Study Online (PRESTO), an Internet-based prospective study of time-to-pregnancy that is one of the first web-based studies in North America to examine whether lifestyle factors such as diet, exercise, and medication use have an impact on fertility and pregnancy outcomes.