EPI Chair Martha Werler Honored by National Birth Defects Prevention Network
.
Martha Werler, chair of the Department of Epidemiology at BUSPH, has received the Godfrey P. Oakley, Jr., Award from the National Birth Defects Prevention Network.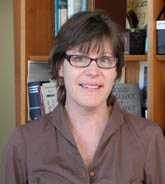 Werler (SPH '89) was honored for her significant contributions to the field of birth defects over the course of three decades. Throughout her career, Werler has focused on perinatal and pediatric epidemiology and began studying risk factors for various birth defects in 1982 as an MPH student at the University of Michigan.
She and colleagues conducted the first study to identify that children born to women who take 400 micrograms of folic acid (the dose found in most over-the-counter multivitamins) in early pregnancy have a significantly lower risk of spina bifida and other neural tube defects. Her continued research into neural tube defects has identified other risk factors such as maternal obesity, diabetes, and dietary glycemic index.
Werler has designed and implemented several case-control studies of specific birth defects that focus on behavioral, medical, and genetic risk factors. In her most recent study of clubfoot, she and colleagues identified several medications and cigarette smoking as risk factors.
She is an active co-investigator of the Slone Birth Defects Study and the CDC's National Birth Defects Prevention Study. In addition to studies of risk factors for specific birth defects, Werler conducts follow-up studies of affected children. Outcomes of interest include behavioral problems, cognitive deficits, and quality of life during early childhood and adolescence.
Dr. Oakley, for whom this award is named, was instrumental in setting the birth defects agenda at the Centers for Disease Control and Prevention for many decades and in focusing national attention on the effects of folic acid in preventing neural tube defects.
In 2013, Dr. Allen Mitchell — Werler's colleague at the Sloane Epidemiology Center – was a co-winner of the Oakley Award.