CDC Epidemiologist Wins 2014 Ozonoff Award for Studies of Camp Lejeune Families
.
Frank Bove, a senior epidemiologist at the Centers for Disease Control and Prevention, is the recipient of the 2014 David Ozonoff Unsung Hero Award for his work as a tireless advocate for communities suffering the long-term effects of contaminated water and soil.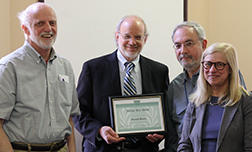 Bove received the award in an intimate ceremony in the Department of Environmental Health at BUSPH and was introduced by his longtime colleague Richard Clapp, a professor emeritus of environmental health. Bove has worked at the CDC's Division of Health Studies, Agency for Toxic Substances and Disease Registry (ATSDR) since 1991.
The honor was established in 2003 to recognize individuals whose contributions to the field of environmental health exemplify the principles and dedication demonstrated by BUSPH Professor and EH Chairman Emeritus David Ozonoff, but whose efforts have not received sufficient recognition.
During his remarks, Clapp joked that the description of "Unsung Hero" likely wouldn't apply to Bove for much longer due to the recent publication of a book detailing his efforts on behalf of the families of U.S. Marines stationed at Camp Lejeune. "A Trust Betrayed: The Untold Story of Camp Lejeune and the Poisoning of Generations of Marines and Their Families" examines the effects of three decades of water contamination on the health of base residents, most of whom were never told of the risks.
Families who lived on base at Camp Lejeune from the 1950s to the late 1980s were exposed to high concentrations of TCE, PCE, vinyl chloride and benzene. Many have reported higher levels of various forms of cancer, infertility, kidney failure and other diseases. In all, 15 specific ailments, many of them debilitating or fatal, are believed to be linked to the contamination. More than 750,000 people may have been affected.
Clapp noted that Bove led the ATSDR's Camp Lejeune studies for more than a decade and was instrumental in creating the Camp Lejeune Community Assistance Panel (CAP). In response to a 2010 report, Clapp observed that the panel was established to seek input from Marine families affected by contamination about the range of health studies that could be conducted and what might be learned from them. BUSPH Professors Ozonoff and Ann Aschengrau have also participated in review committees whose recommendations have informed the CAP and ATSDR, Clapp wrote.
The efforts of the CAP were documented in the award-winning 2011 film "Semper Fi: Always Faithful"
Bove began a distinguished career in environmental health in a very unorthodox way, first earning a BA in Political Science and Philosophy from the University of Pennsylvania. He moved to Boston to attend BU as a graduate student of philosophy, then left to work as a community organizer in the Boston Metro area on various issues including energy, environment, health, housing, and welfare rights.
He veered into the world of environmental health by earning a master's degree in Environmental Health Science and a Sc.D jointly in Occupational Health Science and in Epidemiology from the Harvard University School of Public Health.
In praising the book, Ozonoff wrote, "Whether you call it friendly fire or collateral damage, the results are the same: shattered lives, pain, and suffering of innocent people. This is the story of how the Marine Corps presided over one of the largest hazardous waste exposures in history. It is in turns maddening, dismaying, infuriating, but also inspiring for the heroism and perseverance of A Few Good Men."
Bove, said Clapp, is one of those men — and women.