Long-term Oral Contraceptive Use Doesn't Hurt Fertility, Study Finds
.
Long-term use of oral contraceptives does not hurt a woman's chances of becoming pregnant, according to a study co-authored by researchers from the BU School of Public Health.
"Women who have used [oral contraceptives, or OCs] for four years or more should be reassured because we found no evidence that long-term OC use deleteriously affects fecundability," says the study, published in the journal Human Reproduction.
Elizabeth HatchThe researchers found that long-term users of oral contraceptives, like short-term users, experienced a temporary delay in fertility, compared with those who were discontinuing barrier contraceptive methods. But the study also indicated that longer-term OC use was associated with a higher likelihood of pregnancy, compared with OC use for less than two years.
Also, a slight reduction in fecundability was found for women who used certain newer-generation oral contraceptives than for older ones, and for women who had first used OCs at an early age. The research team said both of those findings warrant further study.
"Overall, the study brings good news for oral contraceptive users, in terms of effects on future fertility," said co-author Elizabeth Hatch, BUSPH professor of epidemiology. "Our study, similar to previous ones, found that fertility is slightly reduced during the first few menstrual cycles after stopping oral contraceptives, but after that, monthly fertility rates are comparable to those of women stopping other methods of contraception."
Also, she said, the results suggest that long-term OC use "is not detrimental, and that fertility may actually improve with more years of use."
The study, called Snart Gravid, or 'Soon Pregnant', is a collaboration between researchers at BUSPH and the University of Aarhus in Denmark. Data for the study, based in Denmark, are collected via the Internet and include questions on socio-demographic background, reproductive and medical history, as well as follow-up questions on pregnancy status, frequency and timing of intercourse, and other lifestyle factors. More than 3,700 women, aged 18 to 40, were enrolled.
The study found that longer-term use of oral contraceptives actually improved the chances of pregnancy, with women who had taken the medications for more than four or five years more fertile than those who had used them for less than two years. Even women who used oral contraceptives for more than 12 years had higher rates of conception.
The researchers noted that increasing numbers of Western women are delaying childbearing until their careers and relationships are established. That trend has been accompanied by a longer duration of oral contraceptive use before the first attempt to conceive.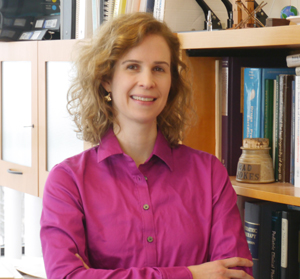 Lauren WiseThe research team found that women who started using OCs before age 16 had decreased fertility rates, for reasons that the authors said need further exploration. The researchers could not determine if the underlying therapeutic reasons that young women may have been put on the pills, such as menstrual cycle irregularities, may have played a role in fertility.
Oral contraceptives prevent ovulation by suppressing hypothalamic and pituitary secretion of hormones, which the authors said may influence both the short-term delay in fertility after discontinuation and improved fertility after long-term OC use. They speculated that long-term use of OCs might increase fertility by inhibiting follicle depletion over a woman's reproductive life.
Of the 3,727 participants, 3,603 (97 percent) had ever used oral contraceptives. The median age at first use was 17, and the median duration of use was seven years.
Authors of the study included: Lauren A. Wise, Kenneth J. Rothman and Henrik Toft Sørensen of the BUSPH Epidemiology Department, and Ellen M. Mikkelsen and Anders H. Riis of the Department of Clinical Epidemiology at Aarhus University Hospital in Denmark.
The study was supported by the National Institute of Child Health and Human Development and the Danish Medical Research Council.
Submitted by: Lisa Chedekel chedekel@bu.edu