BUSPH Researchers Awarded 5-Year Grant to Evaluate Medical Home Approaches for HIV-Positive Homeless
.
$550,000 grant will enable the Health & Disability Working Group to assess medical home models of treating HIV-positive homeless people.
The Health & Disability Working Group (HDWG) at Boston University School of Public Health has been awarded a five-year grant to evaluate the effects of medical home models on the health of HIV-positive homeless individuals with mental health and substance abuse issues. The grant includes funding in the amount of $550,000 for the first year with a potential of up to $2.5 million in the life of the project.
HDWG, under the leadership of Principal Investigator Serena Rajabiun, will join forces with Boston Health Care for the Homeless Program (BHCHP) to establish a multi-site evaluation and technical assistance center funded through the U.S. Department of Health and Human Services (HHS) under the Health Resources and Services Administration (HRSA) Division of HIV/AIDS Bureau Special Projects of National Significance (SPNS). Other SPH team members include the Data Coordinating Center (DCC), led by Christine Chaisson, and Howard Cabral from the Department of Biostatistics.
A medical home is not a building, house, hospital or home healthcare service but rather a coordinated approach to providing comprehensive health and support services to people with complex health needs. Support for medical homes is included in the Affordable Care Act, and the Centers for Medicare & Medicaid Services describe a medical home as "enhanced integration and coordination of primary, acute, behavioral health (mental health and substance use), and long-term services and supports for persons across the lifespan with chronic illness."
"We are excited to be working with BHCHP and the demonstration sites to establish medical homes for one of the most vulnerable populations at risk for and living with HIV," Rajabiun said. "Much is known about the barriers to HIV care and treatment for homeless individuals, but there is little evidence about effective, sustainable models to engage them in care. We plan to share what we learn with other programs across the country and, in this way, improve the health and quality of life for homeless people living with HIV."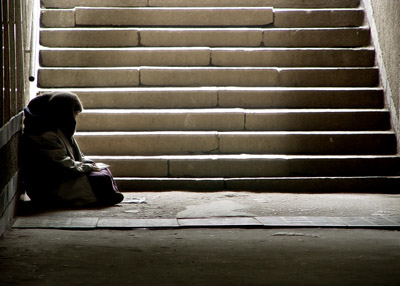 HDWG will evaluate various interventions to improve health outcomes of HIV-positive homeless people. (Photo: ThinkStock)According to HHS, homeless people living with HIV who have mental illness and substance abuse disorders are among those least likely to be engaged and retained in HIV primary care. Medical treatment may take a back seat to more pressing concerns such as food, clothing, and shelter, and medical issues may be ignored until a condition becomes acute and requires a trip to the emergency room and sometimes hospitalization.
The rate of HIV among homeless individuals is markedly higher than in the general population, while the rate of retention in care is low, complicated by high rates of substance abuse, mental illness, and physical and sexual violence. HIV treatment leads to lower rates of infectiousness; the lack of treatment coupled with high risk behaviors such as injection drug use and exchange sex results in a high rate of new infections among homeless populations.
HDWG and BHCHP will collaborate with nine demonstration sites throughout the U.S. to untangle these complex interactions by implementing models of care that link HIV-positive homeless individuals with needed services and resources. Interventions may incorporate shelter-based clinics, mobile vans, street-side care, partnerships with service providers and housing agencies, and the use of network navigators to provide a medical home. While the medical home approach has been shown to lead to better outcomes, its use with multiply diagnosed homeless people living with HIV is largely untested.
HDWG has over a decade of experience in training and technical assistance to implement and evaluate programs that identify, engage and retain people living with HIV in HIV care. Its evaluation and dissemination expertise is complemented by the clinical and programmatic experience of the Boston Health Care for the Homeless Program which has served homeless people with comprehensive medical care for 25 years. The combined talents of the two groups will be invaluable in providing technical expertise to the demonstration sites.
This initiative addresses the three main goals of the National HIV/AIDS Strategy that the White House Office of National AIDS Policy released in July 2010: 1) reducing the number of people who become infected with HIV 2) increasing access to care and optimizing health outcomes for people living with HIV and 3) reducing HIV-related health disparities. In particular, the second goal includes an actionable step of "supporting people living with HIV with co-occurring health conditions and those who have challenges meeting their basic needs, such as housing." This funding will enable BUSPH and its partners to address these goals by examining the effectiveness of interventions to retain homeless people in quality HIV care and the role of housing status in improving health outcomes among HIV-positive homeless people.