Creating Culture, Making Change: The Role of Entertainment in Global Health
Tuesday, March 28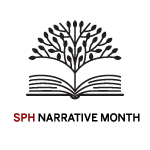 4:30–6 p.m.
Instructional Building
72 East Concord Street
Hiebert Lounge
Please Register
Live-Streaming Available During Event
#SPHDSS17
Health is produced by the cultural, social, and economic forces around us. As a key driver of culture, the entertainment industry can play a surprising and imperative role in creating healthy populations by educating audiences and shifting cultural norms and understanding. Boston University School of Public Health is dedicating March as "Narrative Month" and is highlighting stories that have shaped health in media, entertainment, art, and culture. On March 28, we are excited to bring together cultural influencers who have shaped how we think and feel about health.
Speakers
Georgia Arnold
Senior Vice President, Social Responsibility, Viacom International Media Networks; and Executive Director, Staying Alive Foundation

Read More
Joel Christian Gill
Chair of Foundations, New Hampshire Institute of Art
Read More
Alex Horwitz
Filmmaker
Read More
Planning on Attending? Let us know.