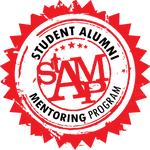 Vision
The SPH Student Alumni Mentoring Program (StAMP) seeks to connect MPH students with SPH alumni and create successful mentoring relationships. StAMP is a platform that leverages the BUSPH alumni network to improve the student experience at the School, furthering our commitment both to student development and alumni engagement.
StAMP's creation is coincident with the launch of the new curriculum at SPH. StAMP complements the suite of new advising programs being built in line with the new MPH curriculum. In harmony with the host of new programs, StAMP reflects SPH's commitment to ensuring that students have superlative, supportive academic and advisory experiences at SPH and beyond.
Q: How Does StAMP Work?
A: SPH students are expected to make first contact with alumni mentors through the platform (Campustap) by sending your mentor a request. StAMP helps by suggesting people based on shared interests, tags, certificate areas as well as other keywords associated with your profile. Involvement in the program is voluntary, and all incoming MPH students will be invited to participate. All alumni will be invited to participate. The mentorship program runs through a student's time in their MPH program although relationships can continue beyond the program limits.
Q: How Do I Register? 
A: We invite you to join StAMP through Campustap. Interested students and alumni will be asked to request an account at busph.thecampustap.com.
Q: Once on the platform, what should I be doing? 
A: Ways to stay connected through StAMP
Regularly visit the StAMP platform: busph.thecampustap.com
Post on the newsfeed: Use the newsfeed as you would other professional networks to share your thoughts, post articles, videos etc.; this is a way to engage more broadly in StAMP.
Add additional tags:

These are descriptive keywords associated with your

profile, consider adding tags for

work activities, skills, or interests.

Update personal description in the "About" field & add a picture
Include additional work experience
Access your account using the most up-to-date version of Chrome
Check your Junk or Spam mail for Campustap notifications
Q: How do I connect with a mentor? (Student/Mentee) 
A: To connect with someone, click the person's profile image or the "view" button on his or her card. When selecting "connect" in their profile, you'll be asked to select from the type of mentorship you are interested in. Once a mentor accepts your request, you will be able to communicate with one another directly in StAMP or exchange methods for preferred communication.
Q: How do I know a student wants to connect with me? (Alumni/Mentor) 
A: Once a student selects to connect with mentors, they will be prompted to share what they are seeking mentorship in. These requests will appear in your profile under "Pending Requests" you will receive an email notification that new users wishes to connect with you. Once you accept the request, you will be able to communicate with one another directly in StAMP or exchange methods for preferred communication.
Q: What Are The Expectations of the Mentorship Relationship?
A: The core values of successful mentorship relationships are contact, communication, and respect.
Contact
Mentorship pairs should expect to make contact at least four (4) times over the course of an academic year. Points of contact include email exchanges, phone calls, Skype calls/Google Hangouts, or in-person meetings, if geography allows.
SPH students are expected to make first contact with alumni mentors; maintenance of the relationships is left primarily to students, though both parties are expected to uphold these expectations.
Communication
Mentorships are relationships, which thrive on productive, open communications. Mentees who articulate their goals for the relationship will likely get the most out of mentorship experiences. Both parties are expected to uphold the highest standards for professional behavior in all interactions. Resources for making the most out of the mentor relationship can be found in the Career Services Office.
Respect
Successful mentor relationships are built on mutual respect. Alumni and students are expected to be respectful of the questions, experiences, and perspectives of their mentorship partners. While there is no set guideline for conversation topics, both parties are expected to respect the boundaries set by each other. Conversations may delve into areas relating to professional experiences, academic experiences, and personal experiences, when appropriate.
Please contact Mahogany Price with questions or register to participate.