Research Translation Core
.
Core Leader
Wendy Heiger-Bernays
Boston University School of Public Health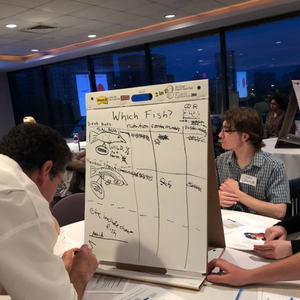 Core Description
The purpose of the BUSRP Research Translation Core (RTC) is to make research outcomes from our program available to governmental organizations responsible for protecting the health of local communities, to the scientific community in general, and to other SRPs in particular. The principal goal is to provide knowledge of exposure and health effects useful in risk assessment needed for consequential decision-making.  We do this by:
Coordinating communication of research within BUSRP, in New England, and the larger NIEHS SRP community to improve application of findings, provide access to data, consolidate resources and increase productivity and collaboration;
Developing and maintaining partnerships with governmental,


Rachel Carson. Inspiring non-scientists and scientists alike to improve health and environment. Woods Hole, MA

environmental, and public health agencies and provide them with data and expertise that might improve risk assessment-based decisions, particularly with respect to developmental and reproductive effects of environmental chemicals;

Effecting technology transfer by identifying potential end-users of technologies, assays and re-sources developed by BUSRP projects and facilitate their application;
Pursuing, initiating and implementing research translation activities emanating from the science of BUSRP researchers, working with the Community Engagement Core and Training Core to have a broader impact;
Among our partners, including the Museum of Science, Boston, the Collaborative on Health and the Environment (CHE), and the Zephyr Education Foundation, are national and local agencies, organizations and individuals with expertise in science and risk communication and education, media outreach, policy and regulatory decision-making. Our emphasis on open access and the willingness of our investigators to share reagents, new analytic methods, risk assessment techniques, and software, have contributed to the confidence in our partners of our commitment to make our work available to agencies and individuals who must make difficult decisions each day to improve public health and protect the lives of residents living in proximity to hazardous waste sites.
The Research Translation Core has played played a key role in responding to concerns and engaging with the community surrounding the New Bedford Harbor in an effective interdisciplinary approach. Learn more about the history of the harbor and our work there.
Research Translation Partners
The Collaborative on Health and the Environment's (CHE's) primary mission is to strengthen the science dialogue on environmental factors impacting human health and to facilitate collaborative, multifactorial, prevention-oriented efforts to address environmental health concerns. Founded in 2002 as a program of Commonweal, CHE is an international partnership of almost 5000 individuals and organizations in 79 countries and all 50 US states, including scientists, health professionals, health-affected groups, nongovernmental organizations and other concerned citizens, committed to improving human health across the lifespan.
The Museum of Scie
nce, Boston believes that everyone has a role to play in the world of science and technology – as learners, as future scientists or engineers, as citizens of our nation, as community leaders and members of the workforce, as consumers, and as stewards of our planet. The Museum of Science is committed to deepening the public's relationship with science and technology by leading efforts throughout the United States and abroad, in both formal and informal educational arenas, to redefine the roles that science centers can play.

The Zephyr Education Foundation is a non-profit organization that has an innovative marine science literacy and education program, located in Woods Hole, MA. The Foundation's mission is to promote marine science awareness, literacy and education for grades 6 through college. Founded in 2009, the Foundation has hosted over 10,000 students in its programs.
Research Resources
BUSRP Laboratory Reagents and Resources: In an effort to stimulate collaboration and increase the accessibility of research tools, the Research Translation Core is providing the following list of reagents and tools that have been developed by BUSRP researchers with support from the Superfund Research Program and can be distributed without permission.
MapGAM Package: Mapping Smoothed Odds Ratios from Individual-Level Data developed by Project 2. It contains functions for mapping risk surfaces using individual-level data such as case-control study data, using generalized additive models (GAMs) to smooth over two-dimensional location while adjusting for any confounding variables. 
General Concentration Addition to Visualize and Test Combination Data: Software and synthetic data developed by Project 2.
General Additive Models for Spatial Epidemiology: Software and synthetic data developed by Project 2.
Bioinformatics and Molecular Modeling Research Support Core: The Bioinformatics and Molecular Modeling Research Support Core develops and offers computational tools, expertise, and help in two areas: modeling the interactions between xenobiotics and protein receptors, including nuclear receptors and cytochrome P450s, using methods of structural bioinformatics and computational biology; and the statistical analysis of microarray data and the reconstruction of regulatory pathways.
Science Gardening Collaborative: A resource for research and guidance for safer growing in soils, grounded in sound science. A cooperative effort of public health practitioners, scientists, educators, policymakers, and gardeners.
How to Take a Soil Sample: This video outlines the steps and materials necessary for composite soil sampling in a garden. It is intended to be useful after a sampling plan of the lot has been completed and you are ready to collect soil samples for analysis. 
PFAS Factsheet: An informational factsheet to inform communities about PFAS chemicals, the health risks they pose to communities, and the options for testing, regulation, and reducing risk.
News and Translational Events
MAY 2019 Proj 5 Co-PI Jed Goldstone and Nadja Brun (postdoc trainee) gave a talk at the Pollutant Responses in Marine Organisms (PRIMO) meeting in Charleston, SC. Attendees included NOAA, USGS, EPA, SRP Centers: Duke, University of Washington.
MAY 2019 Cambridge Annual Science Festival "You are Being Exposed" presentation with a focus on decreasing our exposures: presentation with RTC leads Jenny Kay (MIT SRP) and Phil Brown (Northeastern SRP)
MAY 2019 Emerald Necklace Conservancy Annual Meeting: "Outdoors In Boston: Health Benefits for All" Shared by RTC Leader W. Heiger-Bernays
APR 2019 Residents met at the Vineyard Haven Public Library, MA to discuss "What's in your fish?" with Proj 5 Co-PI, J. Goldstone.
APR 2019 CHE-BUSRP call After the Storm: Climate Change and Toxic Hazards
APR 2019 Univ of Kentucky SRP: "Coping with Extreme Pollution: Mechanisms of adaptation following multi-generational exposure to toxic chemicals" shared by Proj 4 Co-PI, M. Hahn.
MAR 2019 Translational Research at Boston University SRP shared in monthly NIEHS SRP call. PI- Project 1Ann Aschengrau
FEB 2019 CHE-BUSRP call During the Storm: Climate Change and Toxic Hazards
FEB 2019 RT Core Lead (Heiger-Bernays) Appointed to EPA National Advisory Council for Environmental Policy and Technology
FEB 2019 Cape Cod Shellfish Managers heard from Trainee Jordan Avery Pitt and Proj 4 Co-PI M. Hahn on microplastics
FEB 2019 Duke SRP seminar series, Epigenetic effects of environmental chemicals: Integrative effects on DNA methylation and noncoding RNAs. Proj 4 Co-PI Neel Aluru
JAN 2019 CHE-BUSRP Before the Storm: Climate Change and Toxic Hazards
SEP 2018 with MassDEP scientists and decision-makers "The impact of early life environmental exposures on risk-taking behavior in adolescence and implications for risk assessment" Proj 2 Co-PIs Jon Levy and Susan Korrick
AUG 2018 Boston high school students, Boston Public Health Commission, Office of Public Health Preparedness. Training Core lead, J. van Seventer organized and ran two sessions of the BU Upward Bound Math Science Program (UBMS) Program
JUL 2018  What's In Your Fish? Forum 2.0
JUL 2018  CHE–BUSRP Call: Down the Drain with PFAS
MAR 2018 CHE-BUSRP call Superstorms and Superfund Sites: Preventing Toxic Exposures from Climate Change Disasters
OCT 2017  Wendy Heiger-Bernays quoted in article on 1,4-dioxane
SEP 2017  BUSRP participates in BU School of Public Health Showcase
AUG 2017  Madeleine Scammell and Wendy Heiger-Bernays participate in 2017 ISCHE Retreat
JUN 2017  

BUSRP commentary on prevention published on WBUR

JUN 2017  

BUSRP program-wide meeting strengthens collaborations

MAY 2017  

CHE–BUSRP call on Spanish Translation and the Health Studies Guide

MAY 2017  

Wendy Heiger-Bernays and Jennifer Schlezinger win awards for pilot projects

MAY 2017  Trainee Katie Tomsho completes MPH
APR 2017  

BUSRP partners with CHE for call on genome-editing technology

MAR 2017  

Research Translation Core provides comments to MassDEP

MAR 2017  

New study shows New Bedford Harbor is major source of airborne PCBs

FEB 2017  Wendy Heiger-Bernays presents at AAAS Annual Meeting
DEC 2016  CHE-BUSRP call on PFAS a success
DEC 2016  CEC and RTC Leaders meet with community surrounding New Bedford Harbor
DEC 2016  BUSRP presents at NIEHS FEST
DEC 2016  New factsheet for communities affected by PFAS contamination
DEC 2016  

Upcoming Event: CHE–BUSRP call on health hazards and community responses to PFAS-contaminated water

OCT 2016  Presentation on air monitoring collaboration at SETAC World Conference
OCT 2016  Wendy Heiger-Bernays speaks at community sustainability fair
OCT 2016  Research Translation Core presents at AEHS conference
SEP 2016  Wendy Heiger-Bernays speaks on AAAS Fellowship in SRP Trainee Webinar
SEP 2016  SRPs meet with regulatory agencies on air monitoring project
AUG 2016  BUSRP featured in Environmental Health Perspectives
JUN 2016  Upcoming Event: CHE–BUSRP call on the influence of bone-disrupting chemicals
JUN 2016  Upcoming Event: Obesity: From Biology to Policy
JUN 2016  BUSRP Trainee James Watt successfully defends PhD
JUL 2016  Wendy Heiger-Bernays co-organizes event on obesity with AAAS Fellows
MAY 2016  Upcoming PEPH Webinar: Urban Gardening
MAY 2016  Collaborative vapor intrusion study topic of latest SRP Research Brief
APR 2016  BUSRP and Iowa SRP discuss air quality monitoring with EPA and MassDEP
APR 2016  Upcoming Webinar Featuring BUSRP RTC and CEC
APR 2016  What's In Your Fish? Forum: An innovative and educational event!
FEB 2016  Symposium discusses Flint water crisis
FEB 2016  Focus Group for What's In Your Fish? Forum a Success!
JAN 2016  Project 4 Leader Mark Hahn featured in MV Times
DEC 2015  Upcoming Event: CHE call on Is a Health Study the Answer for Your Community?
DEC 2015  Meet and Greet at US EPA Atlantic Ecology Division
DEC 2015  Project 1 attends brown-bag lunch event at MassDEP
NOV 2015  BUSRP Highlights from the 2015 SRP Annual Meeting
NOV 2015  New England SRPs visit EPA Region 1
NOV 2015  Project 5 attends brown-bag lunch events at MassDEP
OCT 2015  BUSRP and Museum plan public forum on fish with stakeholder input
OCT 2015  BUSRP to co-host mini symposium
OCT 2015  BUSRP investigators participate in Research on Tap
OCT 2015  BUSRP Director is Sterling Drug Distinguished Lecturer
OCT 2015  Upcoming Event: CHE – BUSRP Call on Communicating the Science of TCE and PCE
OCT 2015  2015-2016 EH Seminar features BUSRP Investigators
SEP 2015  Data dialogue: scientific, organizing, and legal discussions with the community
SEP 2015  SRP research focus of EPA Diversity Event
SEP 2015  NIEHS Superfund Research Program: 25 Years of Translational Research for Public Health
AUG 2015  Community engagement strategy underway in air monitoring study
AUG 2015  Dr. Heiger-Bernays awarded AAAS Fellowship will head to US EPA
AUG 2015  Project 4 engages summer student fellows
JUL 2015  RTC Leader travels to Israel to teach risk assessment
JUN 2015  SRPs and partners meet with the community to plan air monitoring study
JUN 2015  BU and Iowa SRPs receive funding to study air-borne PCBs in response to community concern
JUN 2015  Upcoming Event: RTC partner CHE presents A Story of Developmental Disability, A Story of Health
JUN 2015  Project 2 contributes to the conversation at the Exposome Workshop
MAY 2015  Upcoming Event: From Molecules to Business: Better Living Through Green Chemistry
MAY 2015  Project 5 Leader Stegeman presents SRA-NE Seminar on Fish Models and PCBs
MAY 2015  ACE hosts EPA session on EJScreen & EJ 2020
APR 2015  Interpretation of Environmental Chemistry Data Workshop
APR 2015  Community Responsive PCB Factsheet
APR 2015  ACE hosts EPA session on EJScreen & EJ 2020
APR 2015  RTC Leader Invited Speaker at Global Food, Local Solutions Conference
MAR 2015  Upcoming Society for Risk Analysis seminar on fish models and PCBs
MAR 2015  Upcoming Event: Provocative Question Forum: Nanotech and Consumer Products
MAR 2015  Upcoming Pardee Center Seminar: Chemicals, Products, and Health: Global Challenges
MAR 2015  Peer Review of MassDEP Vapor Intrusion Guidance Now Available
FEB 2015  SRPs collaborate to respond to community concerns on vapor intrusion in schools
JAN 2015  Upcoming Event: RTC partner CHE presents A Story of Childhood Leukemia, a Story of Health: Genetic and Environmental Risk Factors for Childhood Leukemia
JAN 2015 Latest Podcast: What Was In Our Water?
DEC 2014  Upcoming Event: The State of the Water: Linking Ocean Health to Human Health
NOV 2014  BU & UK SRPs Collaborate on TCE Seminar for Kentucky Department of Environmental Protection
NOV 2014  Helping to Make Boston's Urban Gardens Safe
NOV 2014  Trainees Attend 2014 SRP Annual Meeting
NOV 2014  Upcoming Event: The Business of Ideas: Urban Agriculture & Collaboration
NOV 2014  Upcoming Event: The Resilient City Seminar features Dr. Heiger-Bernays
OCT 2014  Community Responsive Workshop & EH Clinic Pilot in New Bedford
OCT 2014  Project 4 at EPA National Forum on Contaminants in Fish
SEP 2014  Upcoming Workshop: A Dialogue on Cumulative Impacts in New Bedford
SEP 2014  Home Invaders: Are flame retardants fattening us up and harming our bones?
SEP 2014  Second Annual EH Clinic at Malden River Festival 2014
AUG 2014  Upcoming Event: CHE Partnership Call on PCBs in Schools
JUN 2014  Upcoming Event: CHE Partnership Call on Healthy Fish, Healthy Humans
MAY 2014  BUSRP at EPA Regional Science Council Forum
MAY 2014  The Eighth International PCB Workshop: PCBs in Schools
APR 2014  Dr. Aschengrau speaks at Museum of Science Earth Day Event
APR 2014  Risk Communication Planning
MAR 2014  Water Quality and Human Health the focus of Open Classroom
MAR 2014  Museum of Science Podcast features BU SRP
MAR 2014  BUSRP at Local Environmental Action 2014
FEB 2014  Free Events Today: Film Screening & Water Lecture
FEB 2014  New Project 4 & EPA Companion Papers on PCB-resistant Killifish in New Bedford Harbor
FEB 2014  Addressing Health Risks and Regulation of 1,4 Dioxane in Eastham, MA
FEB 2014  Dr. Scammell presents seminar on Exposure, Risk, & Regulation
FEB 2014  Upcoming Event: Chemical Trespassers In Your Indoor Air
JAN 2014  Immunology Seminar: Communication & Collaboration
JAN 2014  Upcoming Society for Risk Analysis seminar on wind turbines and public health
DEC 2013  Training & Outreach Day at the Museum of Science, Boston
NOV 2013  Dr. Heiger-Bernays presented at SETAC North America 34th Annual Meeting
NOV 2013  Free Soil Lead Testing for Community Gardners
OCT 2013  Upcoming Event: CHE Partnership Call on Environmental Justice and the Superfund Research Program: Community Collaborations Making a Difference
OCT 2013  Upcoming Dan Fagin Event
JUL 2013  Research Translation in Eastham, Massachusetts: Contamination of Private Drinking Water Wells with 1,4-Dioxane
JUL 2013  Dr. Scammell to present at Environmental Health Disparities & Environmental Justice Meeting
JUL 2013  Research Translation Core Dishes the Dirt on Soil at NEHA Conference in DC
JUL 2013  BUSRP participates in Museum of Science Summer Youth Interns' Discussion with Environmental Health Experts
JUL 2013  Upcoming PEPH Webinar: Oceans and Human Health
JUL 2013  Upcoming Seminar presented by the Society for Risk Analysis: Exposure Science in the 21st Century
JUN 2013  Upcoming Society for Risk Analysis seminar on uncertainty of economic costs/benefits analysis in environmental health regulations
MAY 2013  Upcoming Event: CHE call on 25 Years of the Superfund Research Program: Highlights and Hopes
MAY 2013  NIEHS Environmental Factor Highlights SRP investigators working on flame retardants
APR 2013  BUSRP co-sponsors Society for Risk Analysis meeting on health impact assessments
FEB 2013  CHE call on SRP Contaminants and Reproduction
NOV 2012  Dr. Jon Levy Receives Award from Society for Risk Analysis
NOV 2012  SRP Collaboration Presented at APHA
OCT 2012  BU and Brown SRPs present findings from vapor intrusion project
MAY 2012  Dr. Wendy Heiger-Bernays Honored by MEHA
MAY 2012  RTC Partner Recognized for Contribution to Public Health
JUN 2010  Two successful thesis defenses
MAR 2010  Research Translation Core designs remediation method for urban community gardens
JAN 2010  Environmental Health Nursing Education Collaborative presents endocrine disruptor seminar for nurses
JUL 2009  State Superfund maps updated
JUN 2009  Nelson and Scammell speak at research translation workshop
FEB 2009  Howard presents in Brown SBRP Seminar Series
SEP 2008  New Research Translation and Community Outreach staff
JUL 2008  List of BU SBRP Laboratory Reagents and Methods Now Available Online
JUL 2008  Conference Call: Wiki Basics
JUN 2008  New fact sheet discusses the effects of mercury in CFLs
Recent Core Publications
Heiger-Bernays, W.J., Tomsho, K. S., Basraa, K. Petropoulos, Z.E, Crawford, K., Martinez, A, Hornbuckle, K.C., Scammell, M. Human Health Risk Assessment of Site-Specific Airborne PCB Concentrations Measured in New Bedford Harbor Communities. Submitted for Publication, 2019.
Boston, C., Banacos, N., Heiger-Bernays, W. (2019). Per- and Polyfluoroalkyl Substances: A National Priority for Safe Drinking Water. Public Health Reports. DOI: 10.1177/0033354919826567
Martinez, A., Hadnott, B. N., Awad, A. M., Herkert, N. J., Tomsho, K., Basra, K., Scammell, M. K., Heiger-Bernays, W., Hornbuckle, K. C. (2017). Release of Airborne Polychlorinated Biphenyls from New Bedford Harbor Results in Elevated Concentrations in the Surrounding Air. Environmental Science & Technology Letters. doi:10.1021/acs.estlett.7b00047
Tomsho K, Basra K, Rubin S, Miller C, Juang R, Broude S, Martinez A, Hornbuckle K, Heiger-Bernays W, Scammell MK. 2017. Community Reporting of Ambient Air Polychlorinated Biphenyl Concentrations near a Superfund Site,  Environmental Science and Pollution Research doi.org/10.1007/s11356-017-0286-6
Basra K, Scammell MK, Benson EB, Heiger-Bernays W. 2018. Ambient air exposure to PCBs: Regulation and monitoring at five contaminated sites in EPA Regions 1, 2, 4, and 5. New Solutions. Aug;28(2):262-282. doi: 10.1177/1048291118763620. PMID: 295588
Boston, C, Banacos, N, Heiger-Bernays, W. 2018. Per- and Polyfluoroalkyl substances: A national priority for safe drinking water. Public Health Reports; Accepted for Publication 11/26/18.
This page is licensed under a Creative Commons attribution/share-alike license.