SRPs meet with regulatory agencies on air monitoring project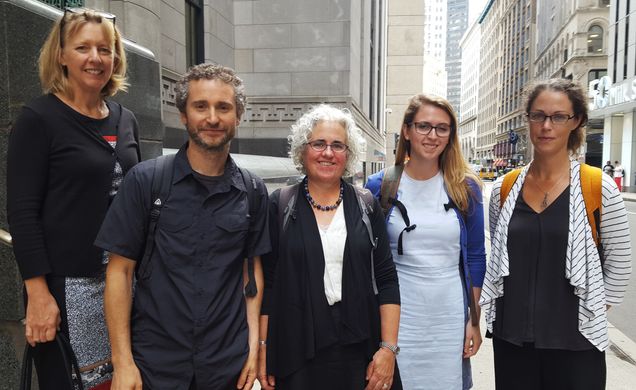 On September 8, Drs. Andres Martinez and Keri Hornbuckle of University of Iowa SRP (ISRP) traveled to Boston to meet US EPA Region 1 and Massachusetts DEP staff for the first time to discuss their analyses of PCBs in air due to the New Bedford Harbor Superfund site (NBH). BUSRP, ISRP and Toxics Action Center have been collaborating with residents surrounding the harbor to monitor air quality in response to community concerns that the dredging of the PCB-laden harbor floor could cause an increase in airborne PCBs. The SRP monitoring has complemented the monitoring of EPA and MassDEP, and the modeling by ISRP used data made available by EPA.
First, the Iowa investigators shared the PCB ambient air measurements for the first three rounds of sampling around NBH. Passive polyurethane foam (PUF) monitors were located at sites selected by residents of the area affiliated with Hands Across the River Coalition. ISRP investigators compared these results to the EPA air monitoring data from active samplers. (These data had previously been shared with residents.)
Using data on PCBs in NBH water measured by EPA, Iowa investigators predicted the flux of congeners to air and used EPA's AERMOD modeling system to predict the ambient air PCB concentrations in the NBH region. After ISRP's presentation, EPA's NBH project manager, Dave Lederer, presented up-to-date information about the status of dredging and the timeline for the future remedial efforts. There was then discussion about data needs of researchers and regulators, and areas in which each organization's efforts could complement and support one another were identified.
The final round of data was collected at the end of August and results will be shared with residents in December. This work is supported by NIEHS supplemental funding.
September 9, 2016