Alum, PhD Student Win Poster Awards at SER Conference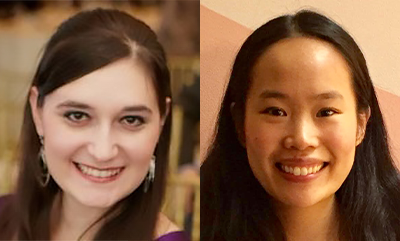 Two members of the School of Public Health community received poster awards at the Society for Epidemiologic Research (SER) Annual Meeting, held June 18-21, 2019 at the Hyatt Regency in Minneapolis, Minn.
Anna Modest (SPH'11,'18), an alum of the doctoral and Master of Public Health programs, won a Best Poster Award in the reproductive category for her research on the effect of multiple gestations in the association between in vitro fertilization (IVF) and ischemic placental disease (IPD).
Tammy Jiang, a rising third-year doctoral student in the epidemiology program, won a second-place poster prize in the methods/statistics category on a study she led that examined the impact of misclassification on random forests, an ensemble machine learning method (think: multiple decision trees) that can be used to build prediction models.
Modest, who is a staff scientist in the Division of Research in the Department of Obstetrics and Gynecology at Beth Israel Deaconess Medical Center, says that the research she presented at SER was an extension of work she completed for her dissertation at SPH.
"IVF is an incredible technology," she says. "Although huge strides have been made, there are still a lot of adverse outcomes in IVF pregnancies and we're trying to figure out why."
Modest and her team found that multiple gestations mediate the effect of IVF on IPD risk. Specifically, they concluded that multiple gestations have a greater effect on the association between IPD and autologous IVF (in which women use their own eggs) versus the association between IPD and donor IVF (in which they use donor eggs).
"More research is needed, but these findings suggest that there are different mechanisms for the increased risk of IPD in IVF pregnancies," Modest says.
Jiang's study sought to fill the gap in current knowledge on the impact of misclassification in machine learning, a growing branch of artificial intelligence that allows computer systems to analyze and predict complex data models.
"Machine learning is increasingly used to detect novel risk factors for diseases and predict risk of adverse health outcomes," Jiang says. "My project applies methods for assessing misclassification in random forests, which is a popular machine learning technique due to their ability to be applied to a wide range of prediction problems."
Jiang studies psychiatric epidemiology at SPH, and is currently working on projects using machine learning to predict suicide deaths and attempts in the Danish population.
"I've attended SER twice so far, and each time I feel even more passionate about epidemiology, and galvanized to make research contributions and apply new things I learned," she says.
Established in 1968 to foster epidemiologic research, SER is the oldest and largest general epidemiology society in North America. The organization's annual meeting features workshops, lectures, poster sessions, and symposia on a wide range of epidemiologic issues.