PHX Launches New Podcast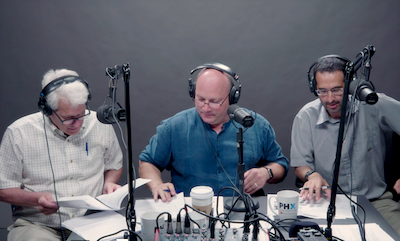 A new podcast from Population Health Exchange (PHX), the School of Public Health's lifelong learning initiative, will launch on September 12.
Free Associations is a journal club podcast that will take on the often messy work of judging new health studies—are the findings to be believed? will the study be contradicted next week?—and help listeners learn to make those judgments themselves.
"We look to be a key resource, engaging and meeting people where they most enjoy learning," says Leslie Tellalian, director of lifelong learning and of PHX. "This podcast is a great addition to our offerings, whether you're a parent worried about vaccines or a researcher trying to unravel the results of a study."
The podcast will be hosted by Matthew Fox, professor of epidemiology and global health; Christopher Gill, associate professor of global health; and Donald Thea, professor of global health.
"We put this show together as a way to talk about issues we care deeply about—the difficult and messy world of finding cause and effect," Fox says. "We also wanted to do it in a way that we could have fun, and so, the podcast was born."
Free Associations will kick off with a launch and listen party, including live podcasting, on September 12, 2017, from 5:30 p.m. to 7:30 p.m. The event will be free and open to the public, with food, conversation, and the chance to win a prize.
---
Related Profiles: