Rising Income Inequality Tied to Gaps in Survival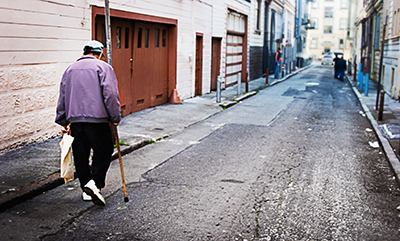 The survival gap between the richest and poorest Americans is widening, with the richest 1 percent living 10 to 15 years longer than the poorest 1 percent, feeding the country's growing health inequities, according to School of Public Health researchers writing in a special series in The Lancet.
"The rise in income inequality in the USA in 1980–2015 has coincided with widening inequalities in health and longevity. Not only do the poor have lower incomes, they increasingly live shorter lives than do higher-income Americans," writes Jacob Bor, assistant professor of global health; Sandro Galea, dean and Robert A. Knox Professor; and Gregory Cohen, statistical analyst in epidemiology.
Published as the new administration approaches its first 100 days in office, the five-paper Lancet series highlights the need for broad initiatives to address structural racism and inequality, as well as health reform that moves towards a single-payer system, to address growing health inequalities and prevent a 21st century "health-poverty trap."
The SPH team reviewed studies assessing changes in survival gaps between Americans of different socioeconomic strata since 1980. "The literature points overwhelmingly to the fact that socioeconomic health gaps are widening in the United States," Bor said. "This consensus is notable given current efforts to cut safety-net programs that protect the health of the poor."
The researchers noted that since 2001, the poorest 5 percent of Americans have experienced no gains in survival, while middle- and high-income Americans have seen their life expectancy increase by two years. The researchers identify two distinct trends from 2001 to 2014: Poverty deepened, and poverty became an increasingly important risk factor for poor health.
Based on current trends, the gap in life expectancy between the poorest 20 percent and wealthiest 20 percent of Americans is projected to increase by nearly a decade in a single generation—rising from 77 versus 82 years for Americans born in 1930, to 76 versus 89 years for those born in 1960.
"We are witnessing a slow-moving disaster unfolding for the health of lower-income Americans who entered the labor force after the post-war boom and have spent their working lives in a period of rising income inequalities," said Bor. "Rising economic insecurity among poor and middle-class Americans has led to the persistence of smoking and the rise of obesity and opioid epidemics, with adverse consequences for health and life expectancy. At the same time, paying for health care in the USA today can bankrupt households and impoverish families."
Other papers in the series examine the Affordable Care Act, which has significantly reduced the number of Americans without health insurance, but created high co-payments, deductibles, and co-insurance that still drive many households into debt; structural racism in public and private policy, from discrimination in hiring decisions and housing to tough sentencing laws for drugs, which contribute to health inequalities; and the high rate of incarceration in the US, which has vast repercussions for the health of prisoners, families, and communities.
In the SPH paper, the authors say that behind changes in individual risk factors, such as smoking, obesity, and substance use, lie "distal factors" fueling the growth of survival inequities, such as unequal access to technological innovations, increased geographic segregation by income, reduced economic mobility, and increased exposure to the high costs of medical care and other determinants of health.
They recommend further research into socioeconomic inequalities in illness, rather than just mortality, including the increased burden of chronic pain and mental health issues among the poor.
"Without interventions to decouple income and health or to reduce inequalities in income," they write, "we might see the emergence of a 21st century health–poverty trap and the further widening and hardening of socioeconomic inequalities in health."
In conjunction with The Lancet series, SPH is hosting a Dean's Seminar on Monday, April 10, titled, "Income Inequality and Health in America: A Lancet Special Issue." Speakers include Bor; Zinzi Bailey, director of research and evaluation, Center for Health Equity, New York City Department of Health and Mental Hygiene; Samuel Dickman, resident in internal medicine, University of California, San Francisco; Adam Gaffney, instructor in medicine, Harvard Medical School, and attending physician, Cambridge Health Alliance; and Steffie Woolhandler, distinguished professor of public health, City University of New York at Hunter College.
The event takes place from 4:30 to 6 p.m. in Hiebert Lounge, School of Medicine Instructional Building, 72 East Concord Street.
---
Related Profiles: