Workshop Builds Bridges in Population Health Science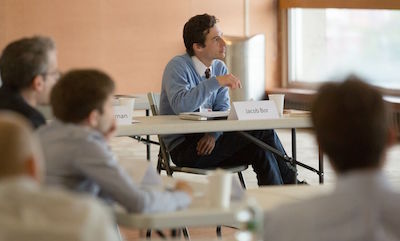 Drawing experts in public health, medicine, and economics from schools around the country, the School of Public Health hosted a population health science research workshop on September 23.
The workshop was organized by Assistant Professor of Global Health Jacob Bor and Dean and Robert A. Knox Professor Sandro Galea.
"We wanted it to be a meeting that brought people from all different disciplines together in a single-day meeting where we can talk about the science and learn from each other," Bor says.
Bor and Galea gathered an advisory committee from across schools and disciplines to develop the conference and put out a call for papers to be presented. Bor says they were overwhelmed with submissions, finally narrowing it down to 12 papers.
One of the discussants was Willa Friedman, an assistant professor of economics from the University of Houston. She says the workshop filled a major gap for researchers whose work crosses disciplines. "As an economist interested in health, I'm often one of the few economists at a public health conference," she says. "This feels like it's brought groups together for the sake of talking to each other, not talking over each other, and having a conversation that is really worthwhile."
Bor says bringing disciplines together is vital for population health sciences—especially because the concept is so new, and still in flux.
"If the determinants of population health are nested in the social, environmental, or health systems context, and if important research on those determinants is being done in economics departments, anthropology departments, or in environmental sciences, then we need to build those bridges," he says.
Bor says the particular environment of SPH also makes an innovative, cross-disciplinary approach possible: "If you want to do something, people will be supportive. If you have an idea that you're excited about, that builds community, I have felt that kind of citizenship is welcome."
Both Bor and Galea hope the workshop will become an annual event, with SPH continuing to play a central role in the development of the field of population health science. "This should be an important function of a school of public health," Galea says. "This is what public health should aspire to be."
---
Related Profiles: