BU's Center for Computing and Data Sciences, the University's Most Environmentally Sustainable Building, Officially Opens Doors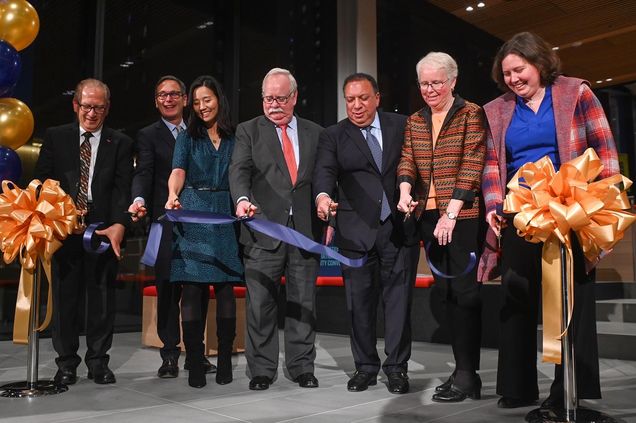 It wouldn't be a proper opening of the most environmentally sustainable building that Boston University has ever seen if it wasn't in a climactic fashion.
Boston Mayor Michelle Wu stood alongside BU President, Robert A. Brown, distinguished members of CDS faculty, City Counselor Kenzie Bok, and Dean of Arts & Sciences, Stan Stan Sclaroff, for the official ribbon cutting and dedication to BU's first 100 percent fossil-free building this past Friday. The new facility will also house operations for BU Spark!, which makes a dramatic move from its current home at 111 Cummington Mall.
"Our hope is that the central location of Spark! on the second floor will allow us to play an even more active role in bringing together the students from the different departments represented in the building and those from across campus interested in  computing and data sciences into an inclusive and supportive community," Ziba Cranmer, Spark! Director said.
What's known as the "Jenga" building for its innovative architecture, also sets another record for being one of BU's tallest buildings at 19 stories, and amasses nearly 350,000 square feet of space. "To have one of our very large buildings very plainly saying that not only can we make it work, not only is the technology there, but we are going to prove it and live it and have a place where you can feel it and experience it—that is so powerful," Wu said at the ceremony.
Inside its doors, visitors will also find classrooms and labs for the mathematics, statistics, and CS departments, as well as spaces for Rafik B. Hariri Institute for Computing and Computational Science & Engineering and the Faculty of Computing & Data Sciences. Students not involved in these programs can still enjoy the public spaces found on the lowest floors.
"We hope to take this example and replicate it across the city," Wu added. 
Students and the BU community as a whole will be welcomed into the center at 665 Commonwealth Ave. in the new year. Check out pictures of the celebration in the new Spark! space below.