Seminar Series
The Department of Sociology proudly presents the Fall 2021 Seminar Series.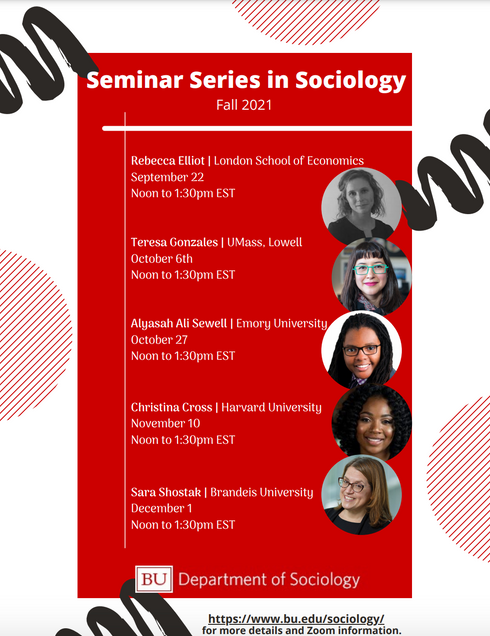 Fall 2021
Rebecca Elliot, "Losing Ground: Values at Risk in an American Floodplain." 
Rebecca Elliot is an assistant professor at the London School of Economics. Her research interests involve economic sociology, political sociology, environmental sociology, and knowledge production and science studies.
September 22, Noon – 1:30pm EST.
Zoom link: https://bostonu.zoom.us/j/96520912093?pwd=TmdGanRjc1lja0poRG1qVmFsSFNvQT09&from=addon
Teresa Gonzales, "Grounds for Play: Race, Gender and Leisure in Lawrence's Public Parks." 
Teresa Gonzales is an assistant professor in the College of Fine Arts, Humanities, and Social Sciences at the University of Massachusetts, Lowell. Gonzales's expertise includes Civic Engagement; Community and Urban Studies; Local Economic Development; Play & Recreation; Racial Inequality (with a focus on Black and Latina/o/x populations).
October 6, Noon – 1:30pm EST.
Location: SOC 252
Alyasah Ali Sewell, "All It Takes Is One Block: The Legacy of Redlining in Lethally Surveilled Neighborhoods."
Alyasah Ali Sewell is the associate professor of Sociology at Emory University. Their various interests are in racial inequality, structural racism, health disparities, and social attitudes. Their research involves looking at the health of ethnoracially-marginalized people that is curtailed by anti-Black structural ethnoracism.
October 27, Noon – 1:30pm EST.
Zoom Link: https://bostonu.zoom.us/j/96112109477?pwd=cHZiMlhvcGJLaWJZcXhDSmVZd0tuUT09
Christina Cross, "Color, Class, and Context: Examining Heterogeneous Family Structure Effects."
Christina Cross is a postdoctoral fellow (2019-2022) and assistant professor of Sociology at Harvard University (beginning 2022). Her research examines the intersectionality of families, race/ethnicity, and social inequality. Her work has received awards from the American Sociological Association, the Population Association of America, the Society for the Study of Social Problems, ProQuest, and the Midwest and Southern Sociological Societies.
November 10, Noon – 1:30pm EST.
Location: SOC 252
Sara Shostak, "Tell All the Stories: Memory, Inequality, and Urban Agriculture."
Sara Shostak is the associate professor of Sociology and Health: Science, Society, and Policy (HSSP) at Brandeis University. She is a medical sociologist dedicated to researching the social production of health and illness across diverse contexts. Many of her research projects look at questions surrounding food, health, and community in New England's cities.
December 1, Noon – 1:30pm EST.
Zoom Link: https://bostonu.zoom.us/j/95882869588?pwd=SDliYzNmUHRydVBQemdjUUpiMmQydz09
---
Past Seminars
Spring 2021
Social Determinants of Covid-19 and Excess Mortality in the United States. Andrew Stokes, BU School of Public Health, Assistant Professor.
Delaying Sex & Wrapping it Up: HIV Stigma Beliefs, Media Exposure, and Risky Sexual Behavior in Sub-Saharan Africa. David Cort, University of Massachusetts-Amherst, Associate Professor of Sociology and Associate Dean for Diversity, Equity, and Inclusion.
Fatphobia as Misogynoir: Gender, Race, and Weight Stigma. Sabrina Strings, University of California-Irvine, Associate Professor of Sociology.
Public Investments, Private Investments and Class Gaps in Child Development. Margot Jackson, Brown University, Associate Professor of Sociology.
Fall 2020
There Were Black People in the Past: Gentrification, Displacement and the Making of A Food Oasis. Waverly Duck, University of Pittsburgh, Associate Professor.
Learning Her Place: Black Girlhood Lessons on Policing and Marginalization. Shannon Malone Gonzalez, University of Texas-Austin. Doctoral candidate and American Sociological Association Minority Fellowship Program (MFP) Fellow.
Racialized Organizations, Diversity, and the Maintenance of the Racial Order. Victor Ray, University of Iowa, Assistant Professor.
What Really Caused the Flint Water Crisis? Louise Seamster, University of Iowa, Assistant Professor.
Spring 2020
Yesterday's Monsters: The Manson Family Cases and the Illusion of Parole. Hadar Aviram, UC-Hastings College of Law, Professor.
Does Demand Lead Supply? Gentrifiers and Developers in the Sequence of Gentrification. Brendan Beck, University of Florida, Professor.
Public Investments and Class Gaps in Parents' Developmental Expenditures. Margot Jackson, Brown University, Professor.
The Making of Homo Financius: Conventions, Emotions, and Morality in Financial Education. Daniel Maman, Ben-Gurion University of Negev, Professor.
The Punitive Turn in Latin America: Comparative and Theoretical Perspectives. Maximo Sozzo, National University of Litoral (Argentina), Professor.
Fall 2019
The Last Plantation: The Politics of Food, Space, and Work. James Jonas, Rutgers University, Professor.
Health Migrations: How Social and Socio-Cultural Factors Shape Latin American Immigrants' Healthcare Practices. Tiffany Joseph, Northeastern University, Professor.
The Company We Keep: Interracial Friendships and Romantic Relationships from Adolescence to Adulthood. Grace Kao, Yale University, Professor.
Producing Racial Profiles: Global Cosmetic Surgery and the Art of Standardization. Alka Menon, Yale University, Professor.
Spring 2019
Twitter Wars, Teens, and Tolerance: Negotiating Inequality Online in the Anti-Bullying Era. Sarah Miller, Boston University, Lecturer.
Down, Out, and Under Arrest: How Policing Shapes Everyday Life in Urban Poor Communities. Forrest Stuart, Stanford University, Associate Professor.
Constructing Need and Fostering Trust: Grassroots Leaders at the Nexus of Religious and Social Welfare Fields in Uganda. Nicolette Manglos Weber, Boston University School of Theology, Assistant Professor.