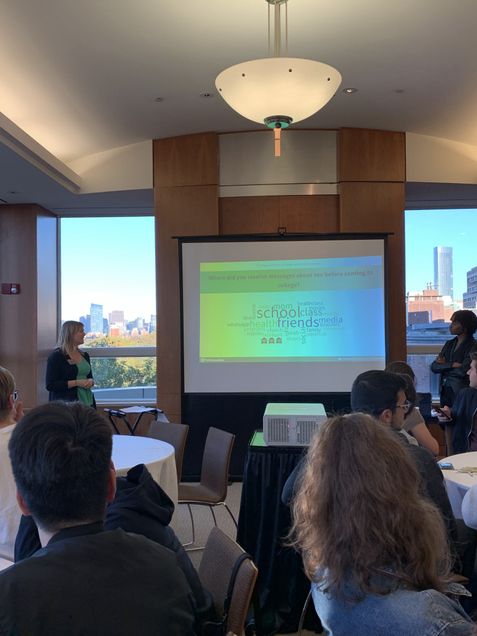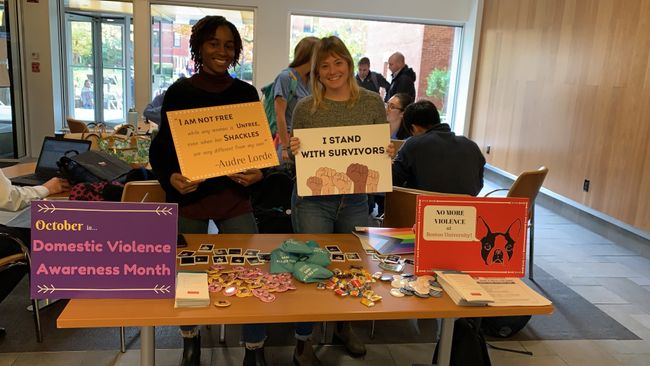 Prevention Intern
Description
SARP Prevention Interns are paid​ graduate student staff that facilitate prevention programs and evaluations; develop social media and marketing strategies; and curate prevention content and materials.
Requirements
 Commit 24hrs per week
Must be available Wednesdays from 12-2 for group supervision and team meeting
Support
40-hour training
Weekly supervision
Paired facilitation
Peer support
Professional development
Compensation of $16.50/hour
Qualifications
Must be available in-person starting August 1st  (Including training)

Enrolled in a graduate program with expected graduation in the spring semester. Relevant programs include but are not limited to Social Work, Public Health, and Communication Research

Ability to commit 24 hours/ week
Interest in sexual violence prevention
Experience working and collaborating on a team
Ability and skills to commit to one prevention intern specialization for the year (See descriptions below).
General Duties
Facilitate training: Bystander intervention (SUSIBU), Consent (YES! Consent & Sex Positivity), and Healthy Relationships
Data collection: Distribute and collect evaluations for each training
Anonymous feedback mechanisms to improve PI experience
Want to join the team?
Application Process
 Applications are due by June 30th at 11:59pm
Individual interviews on a rolling basis (In-person and Zoom available)
Final decisions ​second week of July
Email prevent@bu.edu if you have questions or concerns.
Statement of Encouragement
Students of color, international students, students with disabilities, and/or LGBTQ+ students are strongly encouraged to apply.
Intern Specializations
Research and Data Analysis
Review previous years surveys, report findings, provide recommendations for training updates (e.g. new scenarios), and new curriculum development
Analyze results from training evaluations weekly
Create quarterly reports with suggestions for application based on feedback from evaluations
Research (as needed) different ways to apply feedback from evaluations
Apply feedback from evaluations

E.g. design scenarios for curriculum

Design and analyze evaluations for events and activities in collaboration with appropriate interns and supervisor
Research and compile information for new curriculum, modules, and activities based on SARP's vision and goals for the year
Communications
Design materials as needed for one-off outreach activities such as awareness building around incidents.
Create quarterly newsletter
Develop informational "handouts"/one pagers as needed for SARP training and services
Develop four types of supplemental material to complement trainings and events (e.g. short videos, modules)
Monthly consume and review sex-positive media like podcast, books, and other media to promote learning

Ambassador support can be enlisted

Plan one annual awareness campaign to launch during SAAW
Graduate and med campus specific objectives:

All above objectives
Act as student rep for SARP by attending and engaging in monthly GSO meeting
Present SOPs to graduate student groups as needed.

Manage social media accounts: Instagram, TikTok, twitter, Facebook,
Create daily content for SARP social media based on existing social media guidance
Develop monthly calendar for social media content using Facebook Creator Studio

Coordinate social media content creation team including ambassadors

Promote advertisements for SARP events and activities as needed
Community Development and Programs
Responsible for the overall day-to-day community organizing, networking and mobilization of student ambassadors. Activities include:

Supervise, support, and provide student ambassadors as it relates to preventing interpersonal violence on campus
Plan ambassador tabling schedule

Make presentations and represent SARP's strategic vision at student activities and meetings, and collaborative university-based projects.
Train student ambassadors to deliver SARP's mission and strategic vision through tabling, events, and other outreach activities.

Organize, plan, and co-facilitate weekly meetings for student ambassadors for the entire academic year
Plan and facilitate retreat for student ambassadors to achieve above goals;

Work to ensure that SARP services are understood and accessible to students, student groups, and departments on campus.
Develop strategic outreach plans and approaches; implement innovative ways to provide information and recruit students for leadership development, events, and other initiatives
Evaluate ambassador program.