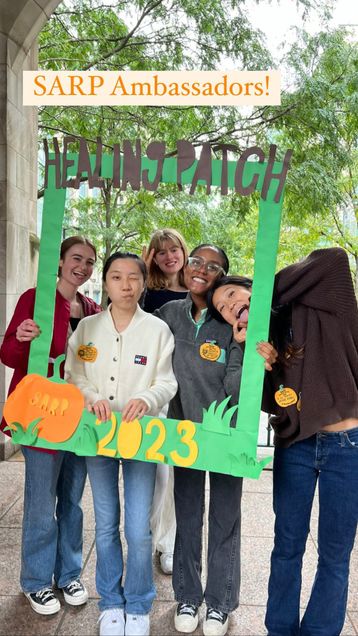 About
SARP Ambassadors assist in the planning and implementation of SARP events and initiatives, facilitate programs, provide valuable feedback on campus initiatives and facilitate important conversations with other BU students about interpersonal violence. 
SARP Ambassadors are committed to building community, creating a safer campus, and preventing sexual misconduct. If this sounds like you apply to be a SARP ambassador today. 
SARP Ambassador Responsibilities:  
Weekly Meetings: Monday nights from 6pm-8pm

These weekly meetings are an opportunity to brainstorm and collaborate on ideas to discuss interpersonal violence. Ambassadors deepen their knowledge by discussing current events, meeting with guest speakers, and hearing from staff. These meetings cover a range of topics such as rape culture, racial justice, classism, ableism, and other intersecting issues that impact our ability to prevent sexual violence.
Tabling

SARP ambassadors spend a portion of their hours doing outreach work to build awareness about SARP resources. Tabling involves attending events, at the GSU, and other locations frequented by students. Through tabling students are also able to share important prevention messages such as how to be a prosocial bystander or be an ally to survivors with intersecting identities.  

 
Awareness and Events

Encouraging others to be invested in preventing sexual misconduct can be done in so many ways! Here are a few examples of the many campaigns, events, and activities that SARP ambassadors have hosted over the years:

Incarcerated Survivors Letter Writing Event  

White Ribbon Week

I Will Walk With You

Sexual Assault Awareness Week

Domestic Violence Awareness Month

 
Want to join the team? 
Eligibility 
All undergraduate BU students are invited and encouraged to apply to be SARP Ambassadors. 
Students must be in good judicial and academic standing with Boston University

 

Availability during training sessions and Monday evenings for our weekly meeting

 

Ability to commit 4-6 hours to prevention activities and completion of the SARP bystander intervention and consent training during this time 

Ability to participate in a team building retreat 

 
Application Process 
Application Opens: February 6, 2023
Information Session: February 9, 2023, 7pm
Application deadline: February 24, 2023, 11:59pm
Notification of interview selection: March 24, 2023
Interviews begin: March 31, 2023
Notification of decision: Late April 2023
Position commitment: September 2023 – May, 2024
Questions: Please email

prevent@bu.edu

.

 
Applications for the 2023 – 2024 academic year have closed.