Crowd Control: The Mary L. Cornille (GRS'87) Graduate Symposium in the History of Art & Architecture
by Jillianne Laceste and Phillippa Pitts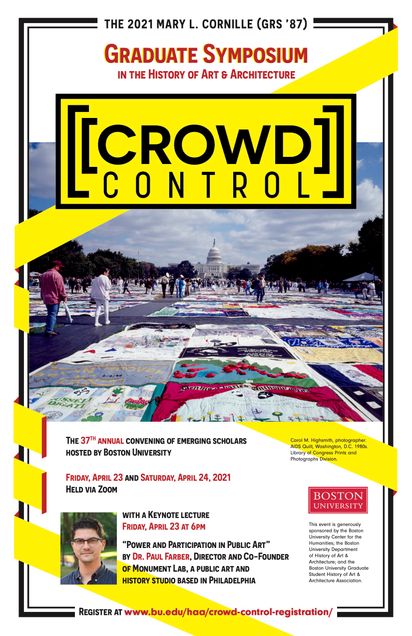 This year's symposium centered on the timely theme of "Crowd Control." The disastrous personal and public health impacts of the COVID-19 pandemic, the closing of both minds and borders, and the lives lost to hate and white supremacy all heightened our awareness of two things: the power of the people and the strength of the bureaucratic and political systems which envelop them. Meditating on crowd control today immediately raises questions about agency, authority, and influence. From the creation of a temporary green space in front of Lincoln Center to the forcible removals of controversial monuments around the globe, the events of this year threw into sharp relief the wide array of structures that seek to order, pacify, neutralize, inspire, repress, or control collective humanity. The seven graduate student papers selected to present at this year's virtual symposium added important context to this conversation by illuminating the deep roots of both injustice and impetus for change.
For two reasons, the 2021 symposium itself was unique within the thirty-seven years of the event's tenure. First, the program was held entirely on Zoom, a choice made for practical public-health reasons, but which unleashed transformative potential. Freed from the constraints of travel time and expenses, we welcomed presenters and attendees from across the globe, a change which enriched the event in myriad ways. Second, this year was marked by a significant gift. In late 2020, an exceptionally generous alumna, Mary Cornille, endowed our graduate symposium in perpetuity, guaranteeing that this convening of emerging scholars will remain a fixture in our department and our field. Cornille, who graduated two years before the first BU art-history symposium, attended this spring's event via Zoom and we hope to welcome her to many future symposia in person. In thanks, our symposium has been renamed in her honor as the Mary L. Cornille (GRS'87) Graduate Symposium in the History of Art & Architecture. Despite the transition to an online format, neither the caliber of presentation nor the quality of intellectual exchange at this year's event dimmed. To provide some reprieve from Zoom fatigue, the program was spread over two days, with graduate-student panels on the afternoon of Friday, April 23, and the morning of Saturday, April 24, anchored by a Friday evening keynote by Dr. Paul Farber of Monument Lab.
The first panel, entitled "Pushing the Past," was hosted by PhD student Colleen Foran. Drawn from a range of contexts and methods, the three papers collectively challenged the ways in which we engage with history, query our practices of interpretation, and examine the construction of knowledge. Corey Loftus (MA candidate, Tufts University) opened the first panel. Her paper examined the moral, political, and social complexities of Theresa Margolis's Sutura, a blood-soaked textile scored by repeated stitched lines, hand-embroidered by Venezuelan men in a slow, silent performance. Juxtaposed in both Loftus's talk and the artist's installation with photographic records of the humanitarian crisis which has driven more than one-million Venezuelans from their homes, this work of art is more than a statement. It functions as corporeal evidence of violence. Connections between displacement, display, and humanity were also interrogated in the second presentation, a paper on Joseon folk dolls by Lina Shinhwa Koo (MA student, University of London SOAS). These miniature figures, produced for a Japanese export market, extended the dehumanization of the subjugated Korean people: weaponizing local culture to reinforce the colonial dichotomy of the "advanced" and the "backward," while miniaturizing and homogenizing the country's population into benign doll form. The last paper of the day, delivered by Aidan Flynn (SMArchS candidate, Massachusetts Institute of Technology), took us to a third continent and a third historical moment. Using Domenico Cresti's Bathers at San Niccolò (1600) as a productive point of departure, Flynn suggested a framework through which to explore queer subjects in the early modern world, in a manner that carefully balances efficacy and anachronism, scholarly rigor and personal positionality. In doing so, Flynn explored fear, love, desire, and punishment in Renaissance Florence, physically mapping these abstract ideas onto the built environment in a manner which illuminated new and productive lines of inquiry and understanding.
After a brief recess, we reconvened to hear from Dr. Paul Farber, Director and Co-Founder of Monument Lab, a public art and history studio based in Philadelphia. Monument Lab defines monuments broadly as "statements of power and presence in public." Such a phrasing includes the most conventional of examples: statues, in bronze and marbles, on pedestals, in city squares. But it also encompasses other ways in which people imprint their stories in public space: through art, music, dance, projection, paint, and protest. This framework also encourages us to approach monuments as "agreed-upon fictions" and question their permanence: to recognize that they require maintenance, preservation, and upkeep. Even the most still of statues is evidence of an ongoing relationship, between people and across time. In his energetic talk, which creatively combined methods from civics, history, urban studies, and design thinking, Farber spun together reflections on the local and the global, on passion and professional development, and knowledge "not as a one-sided gesture but a collaborative process."

The next morning's panel, "Patterned Behavior," continued the conversation, picking up a number of threads from the previous day. Moderated by PhD candidate Rachel Kase, this discussion ranged from the domestic to the carceral, with papers that addressed the ways in which art and architecture enforce, experiment with, and disrupt activity on a mass scale. In doing so, the presenters highlighted both the repressive and resistant potential of crowd control. Kelli Fisher (MA candidate, Syracuse University) kicked off the discussion by drawing our attention to the understudied American Negro exhibition at the 1901 Pan-American Exposition. As Fisher demonstrated, this Black-curated presentation of Black success operated in productive subversive tension with the overwhelming narrative of "racial progress," which was overtly manifested in painful ethnographic exhibits, but also reinforced in every element of the fair's design: from color palettes to the racialized spatiality of the fair's layout. The next presenter, Ian Tan (PhD candidate, University of Hong Kong), picked up this theme of race, space, and control in his analysis of nineteenth-century quarantine stations in Hong Kong and Singapore. Tan drew our attention to the complexities of every element of these facilities' construction: how exposed steel beams both professed modernity and proffered practicality in the form of fire-proof and easily disinfected surfaces; how the medical systems both protected and punished waves of emigrants across the Indian and Pacific Oceans; how these spaces were both curative and carceral. The last was certainly a theme expanded upon by Sarah Churchill (PhD candidate, Drew University). Churchill's talk was punctuated by unflinching photographs of life in the Divis flats, a Belfast slum-clearance project inspired by Corbusian utopianism but which became a humanitarian crisis. Weaving together photography, architectural theory, and local history, Churchill not only conveyed the danger and deplorable conditions of life in this "city in the sky," she highlighted the resistant power of the residents who refused to surrender their lives or dignity without a fight. The last paper of the morning, by Katy Knortz (PhD candidate, Princeton University), took a lighter note while maintaining the theme of interdisciplinarity which had punctuated each of the presenter's talks. Knortz proposed a holistic scholarly approach, drawing from archaeological, art historical, and literary sources to retrieve that which has been lost from the historical record. She modeled her approach by examining women's spaces in Greek domestic architecture of the Classical Period, noting the connections between gender and control.
Altogether, these papers interrogated the myriad forms that crowd control has taken across continents and over the course of centuries. The presenters posed important questions, tested new methodological frameworks, drew our attention to marginalized histories and peoples, and sparked dialogue amongst themselves and the audience. We hope that this symposium was not the end of these fruitful conversations, but the beginning.
____________________
Jillianne Laceste
Jillianne Laceste is a PhD candidate in the History of Art & Architecture at Boston University. Her research addresses cross-cultural connections of the early modern world with a particular focus on Italy and the Americas. Her dissertation examines the visual culture of Christopher Columbus and transatlantic exploration in seventeenth-century Genoa.
Phillippa Pitts
Phillippa Pitts is a PhD candidate and Horowitz Foundation Fellow for American Art at Boston University. Her research explores the ways in which visual rhetorics around expansion, immigration, and Indigeneity have shaped American culture from the long nineteenth century to the present. Pitts's work has been generously supported by the Center for Advanced Study in the Visual Arts, the Kress Foundation, the Center for American Art, and the University of Michigan.
____________________