Test Kitchen: Sargent Choice Creamy Artichoke Soup


Mia Sugarman, SAR Dietetics '22
Sargent Choice Creamy Artichoke Soup 
Recipe modified from FoodNetwork 
Yield: 4 Servings 
Ingredients:
2 tablespoons extra-virgin olive oil
3 leeks, white part only, washed and chopped
1 clove garlic, minced
1 small potato, peeled and chopped
1 (8 ounce) can artichoke hearts
2 cups low sodium chicken or vegetable stock 
½ teaspoon salt
¼ teaspoon freshly ground black pepper
2 tablespoons plus ⅓ cup mascarpone cheese (substitute with silken tofu for non-dairy alternative)
 Directions for the Creamy Artichoke Soup:
Heat olive oil in a heavy, large pot over medium heat. Add the leeks and the garlic and stir. Add the potatoes and cook for 5 minutes, stirring often. Add the artichokes, stock, salt, and pepper and cook until the vegetables are tender, about 20 minutes.

Using a handheld immersion blender, or in a blender in batches, puree the soup. Add the 2 tablespoons of mascarpone or alternate and blend again to combine. In a small bowl, stir the remaining ⅓ cup of mascarpone or alternate to soften.

Ladle the soup into serving bowls. Dollop the top of each of the soups with a spoonful of the softened mascarpone cheese or alternate and top the cheese with chives.
Note: When blending hot liquids, remove the liquid from heat and allow it to cool for at least five minutes before blending. Fill the blender no more than halfway with the hot liquid, preventing the vacuum effect that creates heat explosions. Place a towel over the top of the machine, pulse a few times then process on high speed until smooth.
Low Prep/Dorm Recipe Tip:
If you do not have access to a cooktop, heat a low sodium creamy mushroom or butternut squash soup in a microwave safe bowl. Serve with canned artichoke hearts, whole grain crackers, and a dollop of Greek yogurt, ricotta, or mascarpone.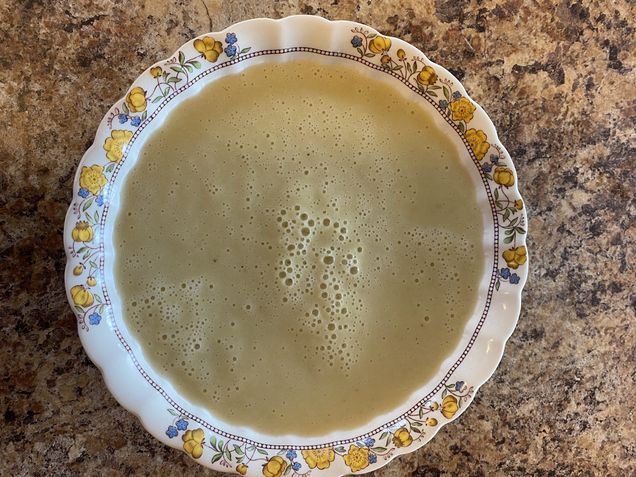 What we liked: 
The soup was incredibly smooth and creamy.

 

This dish can be served as an appetizer or meal.

 

The artichoke and mascarpone combination created a unique and rich flavor.

 

This recipe can be made suitable for a vegan diet by using vegetable stock and tofu.

 
Suggestions:
Add different spices to adjust the flavor of the soup to your taste preference.

 

Ricotta cheese would be a great alternative to the mascarpone cheese.

 

Tofu can be used instead of the cheese as a protein source with a similar texture.

We recommend eating the soup soon after cooking for the best flavor experience. 
Nutritional Value: 
Extra-virgin olive oil is a good source of heart healthy unsaturated fat.

 

Leeks and artichoke hearts are non-starchy veggies that provide fiber and water for filling power, as well as many vitamins and minerals.

Potatoes are a starchy vegetable that provide energy, as well as fiber, potassium and vitamin C.

Cheese and tofu provide calcium and protein for lasting satisfaction.