Test Kitchen: Sargent Choice Chopped Greek Salad
Mia Sugarman, SAR Dietetics '22
Are you interested in creating Sargent Choice recipes with local produce this summer?
BU is excited to partner with ReVision Urban Farm based in Dorchester, only 5 miles from the Charles River Campus. Part of the Victory Programs family, ReVision Urban Farm is located right off of Blue Hill Avenue, in the Dorchester neighborhood of Boston. ReVision Urban Farm is an innovative urban agriculture project, with a mission to increase access to local, affordable, nutritious, and culturally appropriate food for residents of the ReVision Family Home and the extended Boston community.

What is Community Supported Agriculture (CSA)?
Each year, BU Dining works with a local farm to offer Community Supported Agriculture (CSA) shares on campus. CSA is a way to connect with local farmers, and have guaranteed access to local seasonal produce during the summer and fall.
What is a CSA share and how does it work?
A CSA share is a means of buying local food where you pay the cost upfront and receive local produce for the duration of the season, receiving vegetable, herbs and fruits weekly. Paying for all or some of the share up front allows the farm to purchase seeds, tools and other equipment, as well as pay employees in the beginning of the season when expenses are high but sales are low.
More information can be found here:
BU Dining Service Website www.bu.edu/dining/sustainability/csa/
ReVision Urban Farm Website: www.vpi.org/revision/our-programs/csa/
Sargent Choice Chopped Green Salad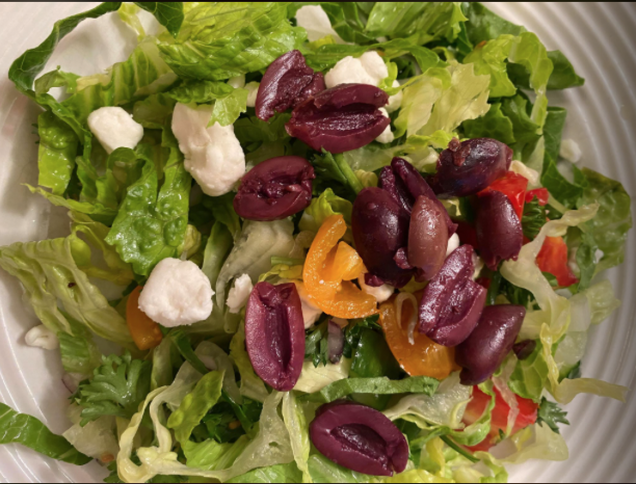 Recipe modified from CookieandKate
Yield: 8 Servings
Greek Salad Ingredients:
10 ounces chopped romaine lettuce (about 2 medium or 3 small heads, chopped)
1 pint cherry tomatoes, quartered
1 medium cucumber (about 8 ounces), seeded and chopped
1 yellow or orange bell pepper (optional)
½ medium red onion, chopped (about 1 cup)
½ cup chopped fresh parsley
½ cup pitted and halved Kalamata olives
6 ounces feta cheese, sliced into ¼" cubes (about 1 ¼ cups)
Greek Vinaigrette Ingredients:
½ cup extra-virgin olive oil
¼ cup red wine vinegar
2 medium cloves garlic, pressed or minced
2 teaspoons dried oregano
1 teaspoon honey or maple syrup
½ teaspoon salt, more to taste
Pinch of red pepper flakes, for heat (optional)
 Directions:
In a large serving bowl, combine the chopped lettuce, tomatoes, cucumber, pepper, onion, parsley, olives and feta. Toss the ingredients together and set aside
To prepare the vinaigrette, combine all of the ingredients in a liquid measuring cup or a dressing mixer. Whisk until blended. Taste, and add more vinegar if you'd like a tangier dressing, or more honey for a sweeter dressing
If you'll be serving all of the salad at once, go ahead and drizzle enough dressing in to lightly coat the salad and toss to combine. Refrigerate dressing and salad separately.
To round out this salad as a full meal, add a whole grain, such as brown rice, bulgur wheat, farro, whole wheat pasta, and a protein, like chicken, tofu, beans, eggs, or falafel.
What we liked:
The salad was full of different vegetables, which gave it lots of color and a crunchy texture.
The salad portion size can be adjusted, served as a meal or as a side salad.
The recipe is quick and dorm friendly – no special appliances needed.
Suggestions:
Wait to apply the vinaigrette until you are ready to eat the salad, storing the salad separate from the vinaigrette.
Add additional protein, like nuts, seeds and tofu, or try different vegetables to provide more flavor and texture.
Nutritional Value:
All of the vegetables provide health-promoting vitamins and minerals, as well as filling power from fiber and water!
The olives contain heart healthy monounsaturated fats.
The feta cheese is a good source of protein and calcium.