Test Kitchen: Sargent Choice Apricot Hamantaschen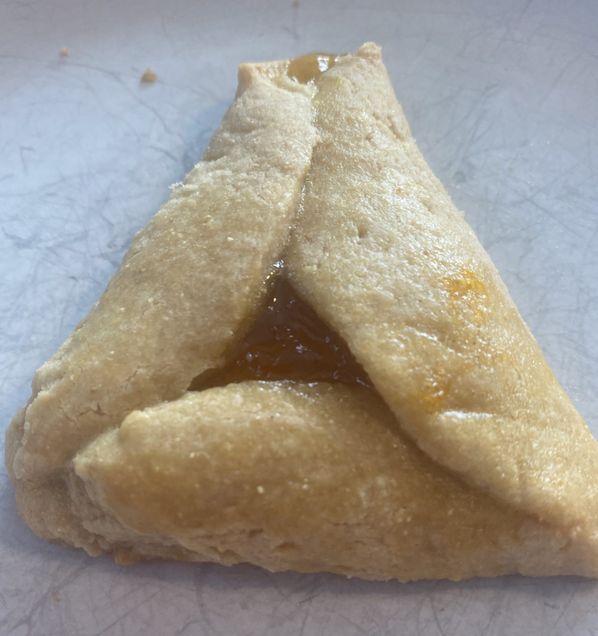 Mia Sugarman, SAR Dietetics '22
Sargent Choice Apricot Hamantaschens
Recipe modified from OnceUponAChef
Yield: 30 Servings
Ingredients: 
1 cup confectioners' sugar
2 ¼ cups white whole wheat flour, spooned into a measuring cup and leveled-off with a knife, plus more for rolling the dough
3 large egg yolks, divided
¾ teaspoon salt
2 sticks margarine, cut into cubes, very cold
1-2 tablespoons ice cold water
¾ cup apricot jam, best quality
Directions:
Preheat the oven to 375 degrees and line two baking sheets with parchment paper.
Combine the confectioner's sugar, flour and salt into the bowl of a food processor fitted with the metal blade. Process for 10-15 seconds to combine. Add the butter and pulse until the mixture is coarsely combined.
Add 2 of the egg yolks and pulse a few times, until the mixture is crumbly and pale yellow. Add 1 tablespoon of water and pulse until the dough starts to clump together. If the mixture seems dry, add the remaining tablespoon of water and pulse again.
Dump the dough onto a lightly floured work surface and knead into a smooth ball. Divide in half and pat into two 6-inch discs; wrap in plastic and refrigerate for 30 minutes.
In a small bowl, make an egg wash by mixing the remaining egg yolk with 1 teaspoon water.
Remove the dough from the refrigerator and place on a lightly floured surface. Working with one disc of dough at a time, roll to ⅛ inch thick, turning and dusting with more flour as necessary so it doesn't stick. Using a cookie cutter or glass, cut out 3-inch circles and place about ½ inch apart on the baking sheets.
Re-roll and re-cut any excess dough. Brush the dough with the egg wash and place a level teaspoon of apricot jam on the center of each cookie (do not overfill). Fold in the sides, slightly overlapping the filling to form a triangle so that each side of the cookie has a corner that folds over and one that folds under.
Slide the pans into the refrigerator for 20 minutes to chill.
Bake for 12-15 minutes, turning the pans halfway through baking, until the cookies are lightly golden on top and just starting to brown in the corners. Let the cookies cool on the baking sheet for a few minutes, then transfer to a wire rack to cool completely.
Dough can be frozen for up to 3 months! To freeze, shape the dough into 2 discs, wrap each in plastic wrap and place them in a sealable bag. To freeze after baking, let the hamantaschen cool completely and store in an airtight container.
What we liked:
This recipe can produce a large amount of hamantaschens, which is great for sharing with friends and family!
The hamantaschens taste delicious both warm and cold.
Different sizes can be made according to how big or small you would like them.
This recipe can be made using a food processor, a blender or kneaded by hand.
Folding hamantaschens is very fun!
Making this recipe is a great way to celebrate the Jewish festival Purim.
Suggestions:
Try modifying the recipe with different fillings including jams, honey or cheese, or with different fillings such as dried fruit, dark chocolate or grated cheese.
Plan time to prepare and refrigerate the dough for 30 minutes.
If you are kneading the dough by hand, plan for extra time for this step.
Nutritional value:
The whole wheat flour, made with all parts of the grain, is a source of filling fiber.
The egg yolk is packed with nutrients, including protein, minerals and vitamins, like vitamin D and choline.