SLHS Students Awarded ASHFoundation New Century Scholars Doctoral Scholarships
The American Speech-Language-Hearing Association's ASHFoundation awarded New Century Scholars Doctoral Scholarships to two Sargent College Speech, Language & Hearing Sciences PhD students: Kimberly Dahl and Hilary Miller.
This scholarship recognizes strong doctoral candidates who demonstrate academic excellence and a commitment to a teacher-investigator career in the field of communication sciences and disorders.
Kimberly Dahl is a PhD student in the Stepp Lab for Sensorimotor Rehabilitation Engineering whose research focuses on voice and voice disorders. Her specific interests include gender diversity in voice and communication, voice perception, and prosody. With the New Century Scholars Doctoral Scholarship, she will continue her work exploring voice change in transmasculine individuals and other gender-diverse populations.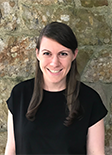 Hilary Miller is a PhD student studying the neural control of speech in the Speech Neuroscience Lab with Professor Frank Guenther. Her research focuses on applying neurocomputational models and neuroimaging methods to understand the neural bases of motor speech disorders, including stuttering and apraxia of speech. This scholarship will help support her dissertation work, investigating clinical and neural predictors of speech motor sequence learning in patients with neurogenic speech disorders.
View a list of past New Century Scholars.