Degree Requirements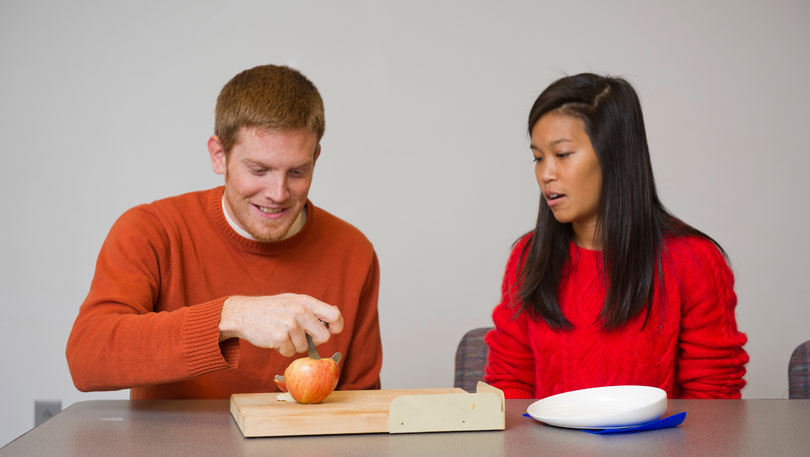 The Boston University Entry-Level Occupational Therapy Doctorate (OTD) program prepares students to become occupational therapists who promote health, well-being and participation in a global society.  Our three-year innovative hybrid program includes four on-campus semesters, on-line courses during the summer months, six months of Level II fieldwork (LIIFW), and a 14-week "Doctoral Capstone."  The curriculum is designed to provide an outstanding education for students to work as occupational therapists in traditional settings, as well as in areas of newly identified need.
Fall
Spring
Summer
OTD yr-1
16cr on-campus
18cr on-campus
8cr on-line, 14wk
OTD yr-2
18cr on-campus
16cr on-campus
8cr on-line, 14wk
OTD yr-3
Level II Fieldwork
(0cr)
Level II Fieldwork 
& 2cr on-line, 7wk
6cr on-line, 14wk
Doctoral Capstone
Clinical courses make extensive use of case examples, representing the life course. This life course approach differs from the traditional divisions by diagnosis (mental health, physical disabilities) or age group (pediatrics, geriatrics) and guides the introduction of relevant assessment, intervention, and systems issues as they would typically occur in relation to each aspect of the life course.
During the first four on-campus semesters, students participate in an Integrative Seminar that links academic course content with concurrent extended Level I Fieldwork (LIFW) in the local Boston community. Students discuss and analyze their LIFW experiences in the seminar and apply learning from other courses to these clinical situations.  We have a large network of clinical fieldwork sites for students to choose from.
Our students also participate in many extra-curricular activities, volunteer locally and abroad, and engage in leadership roles. Click here to learn more about the many diverse opportunities to develop your OT skills outside the classroom.
Summary of Entry-Level OTD Requirements
The Boston University Entry-Level OTD program is designed for full-time study.
A minimum grade of C in all professional courses (students may not repeat more than two courses, and no course may be repeated more than once).
A minimum cumulative GPA of 3.0.
A minimum of 92 graduate-level credits from courses numbered 500+ or above.
Demonstration of appropriate professional behaviors as described in the Occupational Therapy Student Manual.
Meet Technical Standards.
Successful completion of 24 weeks of supervised Level II Fieldwork (SAR-OT593/OT594) and 14-weeks of Doctoral Capstone within 24 months after finishing didactic work.
Completion of all requirements within five years of initial matriculation.