Alumni Spotlights
Jordan Badger ('17) Presents at MAND Annual Nutrition Conference and Exposition
Jordan Badger (MS/DI '17) was selected to present her poster at the 2018 Massachusetts Academy of Nutrition and Dietetics (MAND) Annual Nutrition Conference and Exposition. She was mentored by Clinical Assistant Professor Stacey Zawacki and Sargent Choice Nutritionist Rachel Reynolds. While at BU, Badger was a member of BU CHAMPS (Community Health Alliance of Medical Professionals), an interprofessional learning collaborative.
Badger is currently a clinical dietitian at Massachusetts Eye and Ear Institute.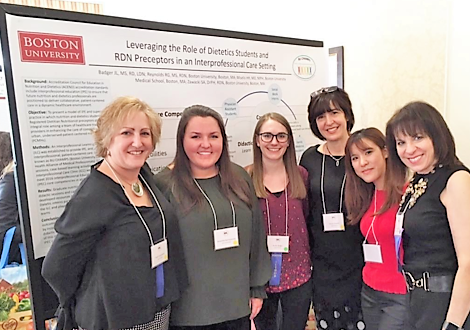 ---
MS+DI Alum Named Emerging Leader in Dietetics
MS+DI alumna Amy Branham, MS, RD, LDN (SAR '10) received the Emerging Dietetic Leader award from the Academy of Nutrition and Dietetics (AND). The Emerging Dietetics Leader Award recognizes the competence and activities of members at the beginning of their dietetics careers.
Branham was the first Sargent MS+DI student to complete an MS thesis research project, extending her timeline in our clinical master's program to gain research skills and mentorship. She worked with Associate Professor Paula Quatromoni on CYCLE Kids, an urban community-based health promotion project to teach bicycling skills and nutrition education to at-risk middle school students. Branham taught and mentored youths, collected and interpreted data, and contributed to the nutrition curriculum components of a program that is now in schools and communities nationwide.
Amy currently works for University of Massachusetts Extension as a SNAP-ED multi-level specialist.