Human Physiology Internship/Practicum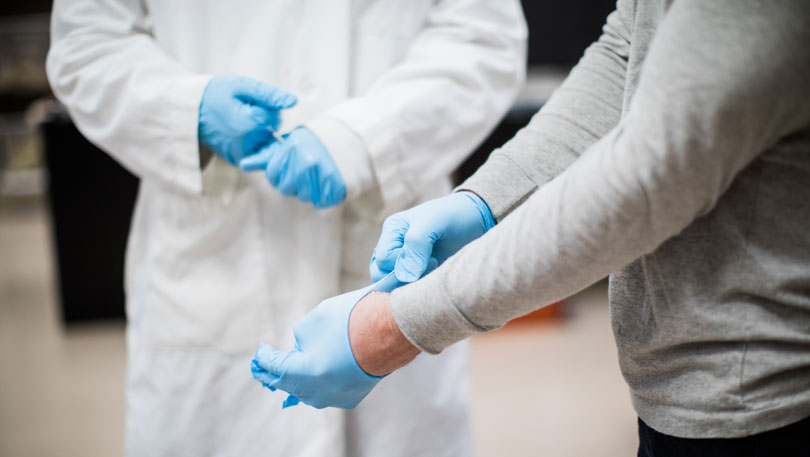 What makes our program so special? Minimal observation, maximum participation, and a selection of clinical and research sites that few schools can match.
For example, if you take your internship in a hospital or clinical center, you can count on direct patient contact. In a laboratory internship, you'll have real responsibilities in a research project. Many students say their experience gave them a clearer view of medical practice or research in the real world—and a stronger commitment to their chosen field.
With so many Sargent College internships in Boston and across the country, choosing the one that best complements your interests and career goals takes some guidance. Our Internship Coordinator Kelly Pesanelli will work with you personally to find one that's relevant and exciting to you.
HS 410: Internship Course Information
Practical experience in a clinic, hospital, community or research institution or other appropriate setting. The majority of field sites chosen will be those offering experience in clinical or basic research, the evaluation of cardiovascular health and fitness, cardiac rehabilitation, and other duties specific to the day-to-day operation of these agencies.
Please note: a one-time $100 internship fee per undergraduate internship course will be applied. This fee will cover all administrative expenses incurred for the student's participation in this academic requirement.
Recent placements include:
Beth Israel Deaconess Medical Center Emergency Medicine
Boston Medical Center Cardiovascular Center
Boston Medical Center Coronary Health Unit
Harvard School of Public Health
Henry M. Goldman School of Dental Medicine
Joslin Diabetes Center Section on Developmental and Stem Cell Biology
New England Medical Center Pediatric Cardiology
Spaulding Rehabilitation Hospital Cardiovascular Research Laboratory
Prerequisites:
Completion of all required academic courses through the junior year
PRIOR consent of the instructor
Cumulative grade point average of 2.0 required before an internship can commence
Credits: 4 credits, 140 contact hours
Objectives:
In a clinical or research setting, students will demonstrate the ability to:
Apply the knowledge gained in academic training
Adapt quickly to routines and procedures required in the assigned labs and clinics
Perform assigned tasks with competence and with minimum supervision
Act in a mature, professional manner, instilling confidence in clients
Work harmoniously with others in the assigned agency
Procedures for Obtaining an Internship: