Student Spotlights
Meet Jay Patruno (BS, Dietetics 2018)
Jay was honored with the 2018 Outstanding Dietetics Student Award from the Massachusetts Academy of Nutrition and Dietetics.

 Why did you chose BU's program in Nutrition and Dietetics?
I searched for colleges based on their undergraduate program in nutrition. I wanted to be a dietitian so the dietetics track at BU was very appealing. I toured BU and fell in love. I went to an Open House where I heard Dr. Salge Blake give a presentation and attended an information session about the nutrition program where Dr. Quatromoni spoke. I was sold.
Tell us about your practicum at America's Test Kitchen.
Working at America's Test Kitchen (ATK) was both a unique and rewarding experience. It was a new niche in the field of nutrition that I had not been exposed to (publishing and software), but one that provided me with great validation of my knowledge-base and education. I truly believe I have added something valuable to ATK's repertoire that will continue to help improve the nutrition information related to their product.  This was such a great practicum, both for me and ATK, that it could very well lead to paid employment with them going forward.
 What other field experiences have you had outside of the classroom during your time at BU?
I had another practicum at Community Servings, a not-for-profit program providing food and nutrition services to families living with critical and chronic illness.  I was a volunteer intern for Fresh Communications, a public relations and marketing company started by two BU alumni — Registered Dietitian Nutritionists (RDN).  I also had an internship with Astarte Medical partners, a health software start-up company financing research on the infant microbiome.
What did you like most about the program?
I love the faculty and Sargent College. As challenging as college is, I always felt supported and comfortable in the department and inside Sargent. Over the last four years, I've worked closely with my advisor, Dr. Quatromoni, for scheduling, outside classroom opportunities, dealing with life challenges, and work frustrations. It has created a professional and candid relationship for which I am very grateful.  Overall, I learned a lot here and feel really prepared.  I think that is because our nutrition faculty are so experienced and well regarded.
How do you feel BU's program prepared you for your next steps? 
I think the BU nutrition program has more than prepared me for my next steps after graduation. Our coursework is thorough and challenging, but it has crafted some very capable students and future dietitians. I believe that my time spent on coursework has paid off.
What are your plans after graduation?
After graduation, I will be doing my dietetic internship at the Brigham and Women's Hospital (BWH) in Boston, MA. This was my #1 choice and I am very excited to be moving on to the next step. Eleven months after I complete my internship at BWH I will be eligible to become a licensed RDN!
---
Lena Ho ('18) Presents at ASN Annual Conference
Lena Ho (Nutritional Science '18) and her mentor Research Associate Professor Megan McCrory presented their research on the timing of eating and weight status at the 2018 American Society for Nutrition (ASN) Annual Conference. Lena's presentation in her topical category of "chrononutrition" earned her first place in the Emerging Leaders Poster Competition.
---
Undergraduate Research
Our students have many opportunities to get involved in research – including through Boston University's Undergraduate Research Opportunities Program (UROP), a university-wide academic program that promotes undergraduate participation in faculty-mentored research projects.
Kelsey Lloyd (Nutritional Sciences '16) presented a research poster at the Fall 2016 UROP conference, showcasing her interdisciplinary research in gastroenterology, under the direction of Associate Professor Paula Quatromoni. Lloyd was a member of a team of nutrition students who conducted interviews with patients undergoing colonoscopy at Boston Medical Center to collect data on food intake and compliance with pre-procedure instructions.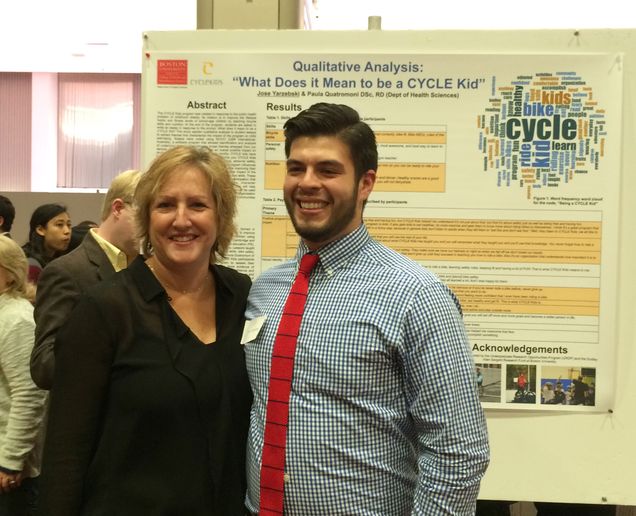 Jose Yarzebski (Nutritional Science '16) presented his work at the 18th annual UROP Symposium. Mentored by Associate Professor Paula Quatromoni, Yarzebski used his UROP funding to examine the psychosocial impact of participation in the CYCLE Kids program, a physical education unit for school-age kids that teaches bicycling skills and bike safety along with proper nutrition.
---
BU Nutrition Club
The BU Nutrition and Dietetics Club (BUNDC) aims to promote a spirit of community, education, awareness, and development among Sargent's undergraduate and graduate nutrition students. The club host a variety of events throughout the year including an annual Thanksgiving Turkey Drive, healthy cooking events, high intensity interval training group workouts, eating disorder awareness events, and alumni panels.