From the Chief of Police and Executive Director of Public Safety
TO MEMBERS OF THE BOSTON UNIVERSITY COMMUNITY:
This year has been unlike any other in recent memory, so I'd like to take a moment to recog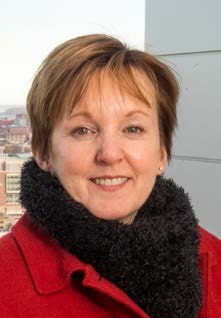 nize the challenges, hardship, and turmoil our country has been facing. From the COVID-19 pandemic to widespread protests against systemic racism to demands for police reform—all within a polarized political atmosphere—the need for self-examination, dialogue, and change has never been clearer. That extends to the Boston University Police Department (BUPD), and we fully embrace this call to action.
This past June, Boston University President Robert A. Brown announced his intent to establish a Community Safety Advisory Group. Comprising deans, faculty, staff, and students, and reporting to the president, this group will provide recommendations to myself and University leadership on how the BUPD can help foster a greater sense of safety and security for every member of the BU community regardless of color, ethnicity, religion, sexual orientation, or gender identity.
Policing is changing, as it must. Legitimacy with the community has always been paramount to the BUPD's mission, and that requires trust, transparency, and a willingness to reform. We welcome an honest and open dialogue, no matter how difficult or uncomfortable. At the same time, I want to assure the community that we won't compromise on safety as we pursue our goals of greater transparency and inclusivity. The security of every member of the BU community remains the top priority of the BUPD, as set forth in more detail in our Annual Security and Fire Safety Report .
SAFETY AND SECURITY AT BOSTON UNIVERSITY
The city of Boston is unique and amazing. It offers a wide array of cultural, historical, and academic opportunities for Boston University students, faculty members, and employees. Nevertheless, we are in a big city on an open campus and the issues of crime, crime prevention, and personal safety must be addressed explicitly.
Although our crime rate is far lower than the national average, Boston University is not free of crime. The number-one reported crime on campus is theft, usually of unattended and unsecured personal property. Laptops, bicycles, delivered packages, and some clothing are the primary objects stolen.
The Boston University Police Department and Boston University Medical Campus Public Safety are committed to ensuring the safety of students, faculty, staff, and guests to enhance their experience within our community. Our approach to crime prevention and personal safety is highly regarded by our university and law enforcement peers. Boston University has also received the prestigious Jeanne Clery National Safe Campus Award. However, even the best safety system will fall short without your continued cooperation and commitment to your own
safety and the safety of others.
Boston University's unique approach to crime prevention brings each of the University's main operating departments into an integrated safety network. Our Annual Security and Fire Safety Report describes the components of our comprehensive crime prevention and personal safety structure.
Your personal safety at Boston University, and the safety of each member of the community and visitors, is a primary concern and treated very seriously. Thus, the University provides an array of protective measures for you.
Boston University's Charles River and Fenway Campuses are patrolled and served by armed, professional, sworn, state-certified, and academy-trained officers, 24 hours a day, 7 days a week. Public Safety provides directed patrols of the Medical Campus regularly and armed patrols are available to the Medical Campus 24 hours a day, 7 days a week.
The Boston University Police Department and Public Safety meets regularly with University officials as well as with surrounding police agencies to share information and discuss safety concerns for our community.
The campus has over 100 "blue-light" emergency call boxes on the Charles River, Fenway, and Medical Campuses, and has an extensive video surveillance and security network system.
The residences have automatically locking outer doors or security/ID stations.
The University strictly enforces its visitor and overnight guest policy and rules of conduct.
Boston University's crime prevention and personal safety structure combines professional police patrol and investigative personnel, crime prevention initiatives, and the regular dissemination of safety information to members of the Boston University community. We are all responsible for creating and maintaining a safe and secure environment for every member of our community. Each one of us can improve our community's welfare by paying attention to our personal safety,
by reporting crime and unsafe conditions, and by helping others.
There are five important things you can do and abide by to avoid being a victim of theft or a
more serious crime:
Lock your room door when you are asleep or out of the room, even for a few minutes.
Don't leave personal property unattended anywhere that has public access, such as offices, gyms, libraries, cafeterias, classrooms, and the like.
Always be aware of your surroundings, whether on or off campus.
If possible, walk with friends when out at night; otherwise use Scarlet Safe Walk/ Street Team. (617-353-4877)
Report any suspicious activity or persons immediately to the Boston University Police Department or Medical Campus Public Safety. Do not assume they are harmless; trust your feelings.
The Police Emergency Number is 617-353-2121 for BUPD and 617-358-4444 for Medical Campus Public Safety and is located on the back of your Terrier ID card.
Boston University has a robust emergency response plan and communication system to promote a safe and secure environment. In the event of a critical emergency situation, such as a building fire, chemical leak, bomb threat, weather-related hazard, or any potentially violent situation, the University's Incident Command Team has the ability to simultaneously notify students, faculty, and employees of an incident through a variety of electronic means and take appropriate actions in response.
The University takes pride in maintaining an effective public safety program. Our goal is to minimize the incidence of crime and injury. Please help us by reporting anything—however trivial it may appear—that doesn't "seem right." If you see something, say something. Let this be a year in which we all work together to make our campus the safest it can be.
I welcome your comments and suggestions and I look forward to seeing you on campus.
Chief Kelly A. Nee
Boston University Police Department