Recruiting Officer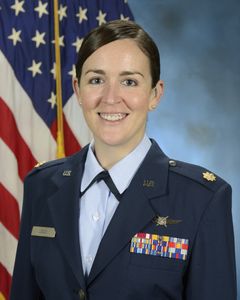 Major Erika Leach
Major Erika Leach is the Recruiting Officer, Air Force Reserve Officer Training Corps Detachment 355, based at Boston University in Boston, Massachusetts. Her area of responsibility covers the recruitment efforts of the detachment at Boston University and 8 other colleges and universities, as well as supervising approximately 50 cadets.
Major Leach graduated cum laude from Bowdoin College with a major in computer science. She earned her commission in the Air Force in 2004 through Officer Training School. Major Leach is a distinguished graduate from the Air Force Institute of Technology where she majored in Information Resource Management. She has served various communications and cyberspace roles, to include Special Missions Flight Commander, Command Information Technology (IT) Portfolio Manager, and Executive Officer. Additionally, Major Leach served as a White House Social Aide directly supporting the President and First Lady with events such as Queen Elizabeth's State Arrival and multiple Medal of Honor Ceremonies. Major Leach deployed in support of Operations ENDURING FREEDOM, IRAQI FREEDOM, and NEW DAWN. Prior to her current position, Major Leach was the Deputy Director for the US Air Force Academy Admissions Liaison Officer program in Washington, D.C.
Major Leach assumed her current position in September 2017.
EDUCATION
2002 Bachelor of Arts in Computer Science, Bowdoin College, Brunswick, ME
2004 Officer Training School, Maxwell AFB, AL
2004 Air and Space Basic Course, Maxwell AFB, AL
2009 Master of Science in Information Resource Management, Air Force Institute of Technology, Wright-Patterson AFB, OH (Distinguished Graduate)
2010 Squadron Officer School, Maxwell AFB, AL, by correspondence
2011 Squadron Officer School, Maxwell AFB, AL
ASSIGNMENTS
February 2004 – April 2005, Deputy Commander, Information Assurance Flight, 11th Communications Squadron, Bolling AFB, Washington, DC
April 2005 – May 2006, Officer in Charge (OIC), Multimedia Center, 11th Communications Squadron, Bolling AFB, Washington, DC
May 2006 – August 2007, Operations Group Executive Officer, 11th Operations Group, Bolling AFB, Washington, DC
August 2007 – March 2009, Masters Student, Air Force Institute of Technology, Wright-Patterson AFB, OH
April 2009 – December 2010, Command IT Portfolio Manager, United States Air Forces in Europe (USAFE) Communications Directorate (A6), Ramstein AB, Germany
January 2011 – March 2012, Special Missions Flight Commander, 86th Communications Squadron, Ramstein AB, Germany
March 2012 – May 2015, Admissions Liaison Officer, Area 462, Washington, DC
June 2015 – September 2017, Deputy Director, USAF Admissions Liaison Officer Program, Area 462, Washington, DC
September 2017 – present, Recruiting Officer, AFROTC Det 355, Boston, MA
MAJOR AWARDS AND DECORATIONS
Meritorious Service Medal
Air Force Commendation Medal (2 Oak Leaf Clusters)
Air Force Achievement Medal (1 Oak Leaf Cluster)
Joint Meritorious Unit Award
Air Force Outstanding Unit Award (1 Oak Leaf Cluster)
OTHER ACHIEVEMENTS
2004 Armed Forces Communications and Electronics Association (AFCEA) Company Grade Officer (CGO) Communicator of the Year
2006 11th Wing Team of the Year, Bolling AFB, Washington, DC
2009 USAFE A6 CGO of the Year, Ramstein AB, Germany
2009 AFCEA Distinguished Young AFCEAN Award, Ramstein AB, Germany
2009 AFCEA Air Force Institute of Technology Award, Wright-Patterson AFB, OH
EFFECTIVE DATES OF PROMOTION
Second Lieutenant February 20, 2004
First Lieutenant February 20, 2006
Captain February 20, 2008
Major February 20, 2015
(Current as of April 2018)