Jennifer W. Knust
745 Commonwealth Ave., #304
Boston, MA 02215
T: 617.358.4222; F: 617.353.3061
Spring 2018 Office Hours: Tues 1:00-3:00pm and by appointment

Bio
Jennifer Knust joined the faculty of BU in the fall of 2005. Professor Knust is a specialist in the literature and history of ancient Christianity with a particular interest in the transmission and reception of sacred texts and in the importance of gendered discourses to the production of an early Christian identity. In the College of Arts and Sciences, she teaches courses on the history Christianity, women and religion, and in the Core Curriculum. After earning her PhD from Columbia University in 2001 and before joining the BU faculty, she taught at the College of the Holy Cross and held fellowships from the Radcliffe Institute, the American Council of Learned Societies and the National Endowment for the Humanities (2003-2004). Her book Abandoned to Lust: Sexual Slander and Ancient Christianity (Columbia University Press, 2005) examines the use of sexualized invective by Christian authors from Paul to Irenaeus of Lyons, placing these charges within broad discursive and political contexts. Author of several essays and journal articles, she has written on the transmission of the Gospels, ancient views of sexuality, theories of sacrifice, and religious violence. Her current projects include an inter-disciplinary volume on sacrifice in the ancient Mediterranean (edited with Zsuzsanna Varhélyi, Department of Classical Studies), a detailed study of the transmission of the story of the woman taken in adultery (John 7:53-8:11), and a consideration of the contradictory presentation of sexual ethics within the biblical books.
See also: Prof. Knust's School of Theology web page
Books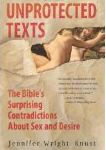 Unprotected Texts: The Bible's Surprising Contradictions About Sex and Desire
By Jennifer Wright Knust
HarborOne
February 7, 2012
Buy it now from Amazon.com!
Abandoned to Lust: Sexual Slander and Ancient Christianity
By Jennifer Wright Knust
Columbia University Press
November 9, 2005
Buy it now from Amazon.com!
Courses
CAS/GRS
CAS CC 102 Core Humanities II
CAS RN 104 Judaism, Christianity, and Islam
CAS RN 202 From Jesus to Christ: The Origins of Christianity
CAS RN 224 Women and Religion
CAS RN 301/601 Varieties of Ancient Christianity
CAS RN 302/602 Early Christian Women
STH
TN 721 Introduction to the New Testament
TN 723 New Testament Greek I
TN 724 New Testament Greek II
TN 803 Jesus in the Gospels
TN 804 The Christian Bible: A History
TN 816 Greek Reading
TH 817 Varieties of Ancient Christianity
TN 825 Gender and the Family in Ancient Christianity
TN 920 New Testament Seminar (Gender and Christian Origins)