All

Stories
Business Has Changed. Why Haven't Business Schools?
Business leaders think many management degrees are no longer relevant. Are they right—and what can be done about it?
WHILE ITS CUSTOMERS WERE ORDERING MOVIES FROM THE COMFORT OF HOME, BLOCKBUSTER WAS STILL STOCKING SHELVES WITH DVDS.
When photography went digital, Kodak stayed monochromed in the past. As Sears was reserving mall anchor sites, Montgomery Ward was clinging to Main Street. For years, business schools have taught students to beware the corporations that dozed while the world sprinted on. Yet two recent Gallup surveys suggest higher education might be failing to follow its own advice.
When asked in 2013 to assess their institution's ability to prepare students for the world of work, 96 percent of chief academic officers said they were somewhat or very effective. Compare that to a 2013 survey of business leaders who were asked to assess whether recent graduates have the knowledge that their organizations need: only 33 percent said they agree or strongly agree that they did.
Such a stark disconnect between an enterprise and an essential customer base would make for an interesting business school case study.
Business schools have not kept pace with changes in industry, leading some to question the ROI of a management degree. The ethical lapses of the 2008 financial collapse cast a shadow on campuses. Online course offerings threaten schools' basic business model established a century ago. The Millennial generation of students requires a fresh, digital-savvy approach to learning. Given these conditions, what would you as a decision-making leader do to address this situation?
CRITICAL QUESTION*
HOW WILL INDUSTRY AND BUSINESS EDUCATION TAP THE POTENTIAL OF MILLENNIALS?
MILLENNIALS WANT TO MAKE AN IMPACT, NOT JUST MAKE MONEY. They seek educational settings that mirror their world: technology-saturated and global. And they are enthusiastic, with big ambitions and great expectations for their futures. Business schools must adapt to these students' needs and expectations.
As a classroom exercise, it would be sure to spark serious discussion. But this issue reaches far beyond campus. The urgent challenge—one faced not just by BU Questrom School of Business, but by business educators around the globe—is about the future of management education: how do we make business schools work in the 21st century so that students in every sector develop the capabilities they need to be effective, and the companies and societies in which they work and live benefit?
This is the question that led Questrom to organize the Business Education Jam, a marathon, first-of-its-kind online conversation that attracted a global pool of nearly 3,700 participants, including students, academics, and representatives from more than 40 industries. The 60-hour event held September 30 to October 2, 2014, gathered ideas on a range of topics, such as "Fostering Ethical Leadership" and "Producing Research with Impact," in forums facilitated by experts. The result: Questrom's launch of a global endeavor to develop effective business schools of the future.
The conversation has continued well after the Jam ended, and the first action steps have followed: a new consortium, established by Questrom, for business schools around the world to share ideas and best practices for educational innovations; a webinar series conducted by the Financial Times picking up on topics from the Jam; and a multischool drive, again led by Questrom, to develop a new research agenda that encourages business school faculty at BU and other universities to delve into areas that have relevant business applications.
A CLEAR SIGNAL TO ACT
To Kenneth W. Freeman, Allen Questrom Professor and Dean, who initiated the Business Education Jam, the diverging survey results from academics and business leaders were like a flashing beacon on a CEO's dashboard to act right now: key customers are expressing urgent concerns that leaders have failed to hear. The survey data echoed the notes Freeman had picked up during his four years as dean—remarks from alumni and business leaders—informing him that business schools needed to do better to prepare their future peers.
"The academic world is not going to solve all its problems just by talking to itself," Freeman says. "The world has changed and we have been slow to make adjustments. You want to be in an enterprise that has a future, and I believe that the best schools, including BU, will be around longer than others. But the fact is that we are all feeling major challenges, from technology and other things. There's more change happening in higher education now than since the time Gutenberg invented the printing press. It's that dramatic. I felt a huge need for this industry to change."
CRITICAL QUESTION
HOW CAN MANAGEMENT RESEARCH THAT ORIGINATES IN BUSINESS SCHOOLS DRIVE INSIGHTS FOR INDUSTRY?
BUSINESS RESEARCH HAS WEAKNESSES THAT NEED ADDRESSING: It is often overlooked, not readily accessible to practitioners, rarely bridges the gap between research and practice. Suggestions included rewarding research published in consumer business magazines and giving researchers more chances to work with business leaders.
The Business Education Jam, the first step to addressing a clear gap between management educators and industry, was the best way to bring all interested parties together, Freeman says. And the goals of this Jam were clear: Convene as diverse a group of people as possible, from both academia and business, to share ideas in an unfettered exchange—like a jazz musician's free-­flowing, improvisational session; emphasize the global nature of the discussion, so issues and proposals were not focused on any one country, region, or culture; and emerge from the event with relevant conclusions for next steps in answer to the question, "How will business education thrive in the future?"
Freeman says it took the Questrom administration about a year to plan the Jam. The project won support from IBM, which had the online forum software to support the registration process for participants and moderation tools that facilitators used to convene and direct discussions. Freeman recruited other business school deans and scholars, as well as executives from various industries, to participate and lead discussion threads, including leading names—Michael Wright, global chief information officer at McKinsey & Company, and Ceree Eberly, senior vice president and chief people officer at the Coca-Cola Company, among others—to demonstrate the relevance of the proceedings. Questrom lined up other corporate sponsors in addition to IBM to defray some of the costs.
With arrangements set, all that needed to happen was for people to show up, a situation that led to feelings of anticipation and some fitful nights for the dean. "It's not unlike starting a new business, or starting a new venture, which I've been involved in," Freeman says. "The same kind of emotions. Same kinds of ups and downs. It was invigorating, quite frankly."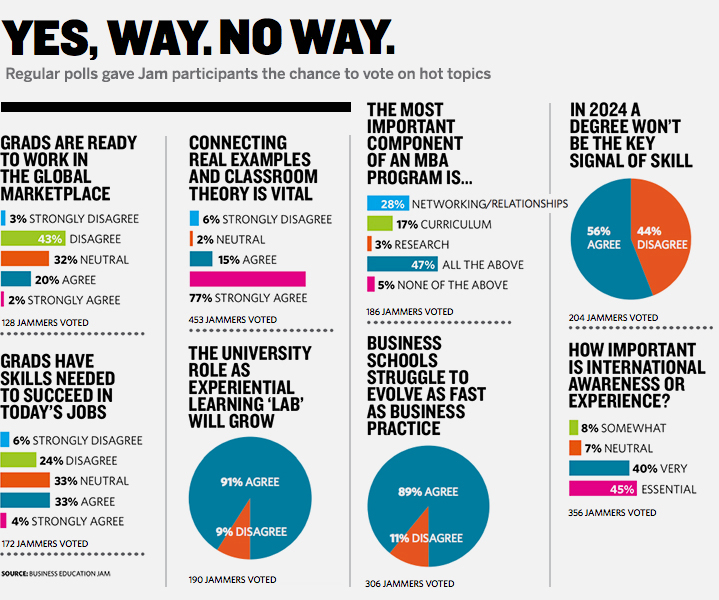 BUILDING LEADERSHIP POTENTIAL
Starting on September 30, large screen displays mounted in the atrium and on the fourth floor at Questom's Rafik B. Hariri Building at 595 Comm. Ave. flashed snippets from the proceedings of the Business Education Jam. IBM executives were on hand to talk to students and staff about the underlying technology connecting attendees. While many participants logged on remotely, a number of group facilitators took three-hour shifts at computers set up in the building. Howard Thomas was among them.
Thomas, distinguished professor and former dean at Singapore Management University, has also served as a business school dean in the UK (University of Warwick) and the US (University of Illinois at Urbana-Champaign). The 18 hours he spent over 3 days of participating in the Jam—what he called "working the email and summarizing the themes of the day"—reinforced his view that business schools must tailor their programs to the context of the markets and to the work environments their students are entering.
"There is no meaning without understanding the context, and understanding the culture of individual countries," Thomas says, noting that models of organizational leadership can vary by country. "The great advantage of the Jam was that it exposed the ideas of a wide audience to the debates that must take place in management education, to improve its quality and stature over the next 20 or 30 years."
Take the issue of developing leadership skills, a key topic for business educators. Effective leadership styles often depend on the culture and context in which leaders find themselves, Thomas says. Ideas that arose in the Jam—greater emphasis on students gaining experiences through projects or action-based learning and less emphasis on lectures and rote learning of concepts—are worth pursuing, and reflect a desire to make the classroom more like real-world settings. This method of teaching "is at the forefront at many programs, particularly executive education programs and postgraduate programs, where you're trying to build leadership potential," Thomas says.
CRITICAL QUESTION
HOW WILL TECHNOLOGY CONTINUE TO CHALLENGE THE MODEL OF BUSINESS EDUCATION?
THE "NEW NORMAL" for business schools should blend classroom, online instruction, and experiential learning.
The chance to have a voice in the proceedings attracted Pamela Norley, a leading talent executive at Fidelity Investments, to the discussion. (The easy-to-access online format also enticed her, since she could take part from her office when her schedule permitted.)
Norley, executive vice president for enterprise relationships and talent groups at Fidelity, was discussing how business schools and enterprises like hers can collaborate on developing next-generation leaders. One discussion that emerged in her section of the Jam: should business schools concentrate on developing good managers or subject-matter experts who can delve into specific issues, such as new developments in information technology? Successful enterprises need both, she says. Soft skills. And hard skills.
It's an essential topic to Fidelity's talent management efforts. The firm offers internships so business students can gain practical experience in settings where, for example, teams work on projects with people they don't know and have to meet deadlines and the expectations of multiple stakeholders. It requires the students to develop effective communication and collaboration strategies to be successful. The experience gained in an internship helps students enter the workforce as ready contributors, Norley says, adding that during the Jam, "We got confirmation that in our partnerships with universities around the world that it is so important that we are tightly aligned."
In reviewing the Jam report findings and in continued work with Questrom and other business schools, Norley hopes to pick up suggestions for how her firm can make experiences like internships more valuable to students and employers. An MBA student participating in the Jam even suggested corporations might go further, integrating their own training programs into the academic curriculum.
AN END TO ISOLATION
The Business Education Jam and its follow-up activities are all about strengthening the alignment between schools like Questrom and the corporations and other organizations that its students will join or start. The schools' activities should line up with the world outside. And events can build connections to make that possible.

That's what makes the Jam project so interesting, says John A. Byrne, editor-in-chief of
Poets & Quants
, an online community for graduate business school education. The topic itself is not new, and many business schools are now preparing more well-rounded graduates than they were 15 or 20 years ago, with classes that emphasize soft skills in addition to traditional subjects. But
Byrne
says forums focused on future improvements tend to be insular. "It's rare when such a wide, diverse group of people get to discuss substantive issues related to graduate business education," he says. "When any discussion occurs, it's usually very siloed. Usually, it's about groups of deans and faculty getting together and talking about it, in isolation, apart from their real customers."
Byrne says he logged on to the Jam hoping to discuss another kind of silo he sees: faculty research that in too many cases fails to address practical business problems. In the Jam, he found others with whom he could discuss this issue and more, such as Lynda Gratton of the London Business School. She championed workshops linking academia and industry to "identify issues that are of concern and then explore these themes in more detail."
"There was a real critical mass of people who were responsive and who were adding substantive comments," Byrne says, adding that the user interface for the event, which required users to register and allowed commenters time to consider their comments before posting them to the forum, elevated the quality of the conversation above that of some other online forums.
Successfully conducting an event that acknowledges challenges with business education today, while seeking ideas for addressing them, means the Business Education Jam has the potential to be a real catalyst, says N. Venkatraman, David J. McGrath, Jr. Professor in Management at Questrom, who was among the BU faculty involved in organizing the event. "It could trigger changes at many levels—starting with the design of courses, learning experiences, field seminars," Venkatraman says. "It could also bring about new programs and degrees, as well as redesigning some of the fundamental facets of business education, incorporating digital technology, and bringing better interactions with industry."
An example is better matching teaching to industry needs. "From my point of view, it involves the role of digital technologies," says Venkatraman, academic lead of the digital technology sector. "Much of what we teach was perfected before the internet. If we look at the curriculum today, the role of digital technology is barely visible. Yet, when we look outside, it is all around us. So, our challenge as educators is to better recognize these trends and develop appropriate responses. What type of teaching materials should we use? What types of learning models are relevant? How can we impact practice with our research?"
CRITICAL QUESTION
HOW CAN ACADEMIA AND INDUSTRY COLLABORATE TO MAKE SURE THAT STUDENTS DEVELOP CRITICAL LEADERSHIP AND MANAGEMENT COMPETENCIES?
LEADERS SHOULD BE ABLE TO THINK GLOBALLY; cross boundaries of function, culture, and other factors; collaborate with stakeholders of all kinds; think critically to solve problems; learn continuously; and "lead with courage and integrity."
And echoing Byrne, Venkatraman says he hopes follow-up efforts from the Jam provide opportunities for greater collaboration with leaders from industry to match "what we research and teach with the needs of industry—at a time of profound changes in the global landscape.
"These are some of the points I have seen raised after the Jam: hiring the right people, training existing staff, using digital technology, developing an adventurous attitude in your employees, and maintaining your expertise after graduation," Venkatraman continues. "These ideas need to be discussed at a greater level than just headlines. That can be done only with more dialogue between industry and academia."
A BLUEPRINT FOR CHANGE
In one sense, the Business Education Jam succeeded: thousands of people came together for two and a half days and shared their views on what business education should do for students and the enterprises they join after graduation. In truth, however, the Jam was the first part of an ongoing effort, led by Questrom, to bring business schools around the world into the 21st century.
After compiling results of the Jam, Questrom published ­Reimagining Business Education: A World of Ideas, a briefing paper summarizing findings from the event and providing a guide for further discussion and action. The paper includes a three-point blueprint, actions that require greater attention from business school stakeholders:
ENHANCE THE VALUE OF A BUSINESS SCHOOL EDUCATION, to demonstrate the degree is worth the time and money invested. Among the recommendations: business schools need to develop holistic measures of ROI, such as "what a school's graduates have typically contributed to organizations in which they have worked and the communities their work has affected," and the levels of personal satisfaction the graduates experience. Schools also should develop systematic ways to determine what employers seek in graduates and how academic programs and curricula serve those needs.
ENSURE RESEARCH AND TEACHING HAVE REAL-WORLD RELEVANCE, so that lessons led by faculty and learned by students reflect experiences in a 21st-century global economy. Recommendations include putting faculty in the field to shadow practitioners (a marketing professor would spend time with a marketing executive to see what matters in their day-to-day work). The report also calls for rewarding professors who publish their work in general-interest business publications, to demonstrate their research's timely relevance to a commercial audience.
PROVIDE DIFFERENTIATION IN AN EVOLVING MARKETPLACE for a business school education, with offerings that incorporate innovations enabled by online technologies while developing fresh learning formats to meet students' and employers' needs. Recommended actions include developing innovative classroom experiences that "make on-campus learning irreplaceable," such as providing a "flipped classroom" in which students absorb course lectures by video on their own, and meet in person to work on team-based projects, simulating business working environments.
The report, released in April 2015, represents one of several steps Questrom is taking to advance this agenda, Freeman says. At a meeting of the Graduate Management Admission Council, he says, other business school leaders asked to participate in the new consortium Questrom is organizing to share ideas for accelerating change in business schools. He adds that Howard Thomas, former dean of the Lee Kong Chian School of Business at Singapore Management University, is joining Questrom as the initial Ahmass Fakahany Distinguished Visiting Professor this summer to be part of this effort. Other steps include the push to make academic research relevant to business, the Financial Times webinar series, and a second Business Education Jam that Freeman would expect to happen in early 2016.
CRITICAL QUESTION
HOW CAN ETHICAL LEADERSHIP BE FOSTERED ACROSS BUSINESS EDUCATION AND INDUSTRY?
LEADERS OF THE FUTURE must consider the complicated ethical and social implications in every business issue they confront. Business schools must make these issues come alive in their curricula.
And while these are new initiatives, Freeman is quick to point out that they build on efforts already under way at Questrom. One notable example is the newly approved Master of Science in Management Studies program. Scheduled to enroll its first class in September 2015, it's a one-year degree program designed for recent graduates in science, technology, engineering, and math who want to add business expertise to their skillset. Students in the program won't enroll in regular Questrom courses. Rather, they'll learn in modules based at one of three business hosts: a startup firm, a health care company, and a large enterprise. This program will provide the School with a kind of living lab to evaluate the experiential learning-style courses that students will attend.
The idea for the new degree program didn't emerge from the Business Education Jam, but it's all of a piece: listening to the people who are looking for ways to better connect the Questrom School of Business with the world of business, to make both work more effectively. To show business leaders in particular: We're listening.
"That, I think, is the real secret of this event," says Freeman. "It's the fact that industry has never been given the opportunity to express its views in a large-scale way with fellow industrialists and the academic community. Most industries like to talk to themselves. And certainly academics love to do that. This was an attempt to break down that barrier. Every business school has one or two companies they work closely with. But if we're really going to be relevant, it can't just be a one- or two-company specific relationship that helps define what we do as an individual business school. We need to open it up to having a much broader conversation.
"And in the conversations I had with industry, they were thrilled to have the opportunity, for once, as a customer of business schools hiring our graduates, to speak their mind. To share their views and ideate with others to try to come to a better answer."
* Critical questions are taken from the final Jam report, Reimagining Business Education.