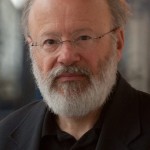 George Annas, JD, MPH
William Fairfield Warren Distinguished Professor and Chair Chair, Department of Health Law, Bioethics & Human Rights School of Public Health, School of Medicine, School of Law
George Annas is the William Fairfield Warren Distinguished Professor and Chair of the Department of Health Law, Bioethics & Human Rights of Boston University School of Public Health, and Professor in the Boston University School of Medicine, and School of Law. He is the cofounder of Global Lawyers and Physicians, a transnational professional association of lawyers and physicians working together to promote human rights and health. He has degrees from Harvard College (A.B. economics, '67), Harvard Law School (J.D. '70) and Harvard School of Public Health (M.P.H. '72), where he was a Joseph P. Kennedy Fellow in Medical Ethics.
After graduating from law school, Annas clerked for Justice John V. Spalding of the Massachusetts Supreme Judicial Court, and came to Boston University in 1972 as the Director of the Center for Law and Health Sciences at the law school. Professor Annas is the author or editor of sixteen books on health law and bioethics, including American Bioethics: Crossing Human Rights and Health Law Boundaries (2005), The Rights of Patients (3d ed. 2004), Some Choice: Law, Medicine, and the Market (1999), Standard of Care: The Law of American Bioethics (1993), and Judging Medicine (1987), and a play, entitled "Shelley's Brain," that has been presented to bioethics audiences across the U.S. and in Australia.
Professor Annas has been called "the father of patient rights," "the doyen of American medico-legal analysts," and a "national treasure." Professor Annas wrote a regular feature on "law and bioethics" for the Hastings Center Report from 1976 to 1991, and a regular feature on "Public Health and the Law" in the American Journal of Public Health from 1982 to 1992 and since 1991 has written a regular feature on "Legal Issues in Medicine" for the New England Journal of Medicine, now under the title "Health Law, Ethics, and Human Rights." He is a fellow of the American Association for the Advancement of Science, a member of the Institute of Medicine, co-chair of the American Bar Association's Committee on Health Rights and Bioethics (Individual Rights and Responsibilities Section) and a member of the Committee on Human Rights of the National Academies. He has also held a variety of government regulatory posts, including Vice Chair of the Massachusetts Board of Registration in Medicine, Chair of the Massachusetts Health Facilities Appeals Board, and Chair of the Massachusetts Organ Transplant Task Force.