Undergraduate Academic Advising Awards: Past Awardees
2022 Faculty Academic Advisor Award Recipient
Dr. Nancy Harayama

Senior Lecturer, Special Education, Wheelock School of Education & Human Development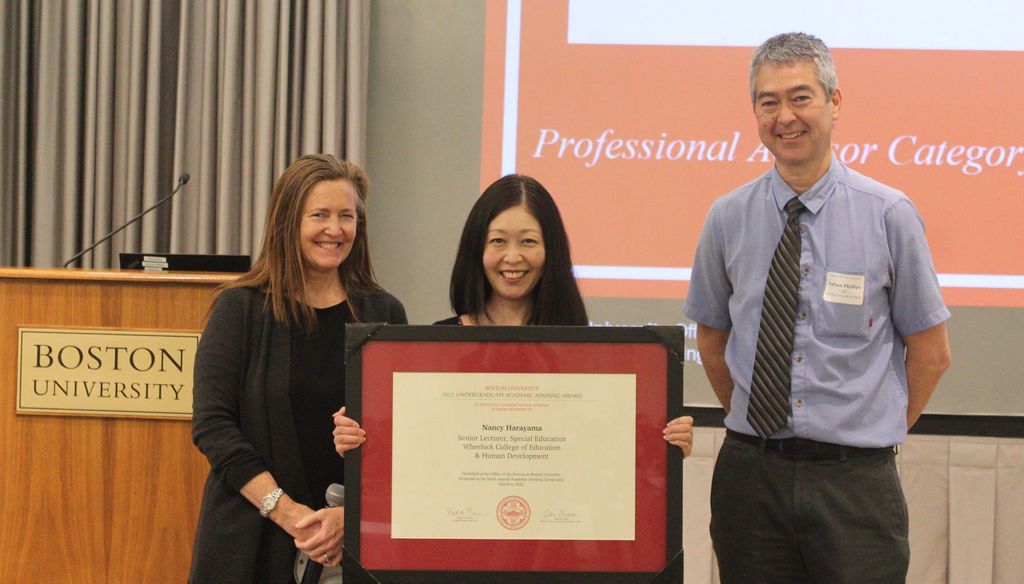 As a triple terrier, Nancy Harayama, has been part of the BU community since 1991. She joined the BU Wheelock Special Education Program as an instructor in 2011, and became a lecturer in 2013. Nancy's primary role has been to serve as instructor and advisor, and she continues to fulfill these roles while now working also as Wheelock's first Director of Undergraduate Education. Nancy was vital to students and her department during the merger of the BU School of Education andWheelock College in 2017. She is well-known for her thorough and effective work to connect with students and guide them through their degrees; her individualized attention to each student has been a hallmark of her work at Wheelock. Nancy's advisees are often navigating extensive requirements to meet their BU degree requirements as well as strict state licensure coursework and fieldwork, and she is a reliable asset for clearly outlining their options to proceed through their degrees and look forward to their futures.  One colleague shared, "[Nancy] follows each student's performance carefully, paying attention to areas of concern, patterns of struggles, successes the student experiences, and overall, is truly "on top" of the students' academic performance until they graduate." She is often a resource for students outside of her assigned advisees who have complicated planning questions, and can count on expert guidance. Nancy also makes a concerted effort to address the specific needs of first-generation students and students from other historically marginalized groups throughout their time at BU. She focuses on supporting students in and preparing them for their long-term goals, through equity-minded advising for resiliency and community building. She noted, "my advisees will continue to be faced with adversity, large and small, as they become special educators. They will need guidance to develop the tools to cope with these challenges with resiliency…they will have to reflect upon how these coping skills can be applied when they are working professionals." Students value her reliable, motivating advising efforts, and shared gratitude for the chance to work with Nancy. A recent advisee shared that "Nancy is the glue that holds everything together. Without her, my life would be completely different at BU and so would everybody else's," while another stated that "It is very clear that she truly cares about her advisees and their success. I can tell she is always rooting for me and is proud of my accomplishments." For her attentive, thorough, and thoughtful advising work within Wheelock and for BU as a larger community, we are thrilled to recognize Nancy Harayama with the 2022 Undergraduate Advising Award in the Faculty Advisor Category.
BU Today Article (March 4, 2022)
2022 Professional Academic Advisor Award Recipient
Dr. Alyse Bithavas

Director of Student Services and Academic Advising, College of General Studies
Alyse Bithavas has been a vital part of advising in the College of General Studies since 1997. Though she has since moved from Academic Advisor to Director of Student Services and Academic Advising, Alyse maintains a robust advising load, and has never flagged in her commitment to student-centered advising, allowing her to build authentic relationships with students. She believes these relationships are key transformational tools in helping students achieve their goals and persist through adversity. Alyse's colleagues share that "student development and personal success are at the heart of Alyse's approach to advising. A talented practitioner, she is gifted at building the relationships, support and advising infrastructure necessary for CGS students and advisors to thrive." Alyse is well-known for her warm and compassionate style, and her readiness to help CGS students with any questions. She's committed to helping outside of standard work days and hours during times of high-volume demand, and many of her students cite her reliable availability to help them with their questions. As part of CGS, Alyse is adept at guiding students through hundreds of potential pathways into their degree programs and areas of interests, and is a valuable resource to helping students explore their options through CGS and into the other schools and colleges. One student shared that Alyse "has allowed me the choice to pursue what I love in the best manner possible." Alyse values holistic support for students and working with them to explore their path in expansive and thoughtful ways. Alyse shared: "I believe that all students need support and guidance as part of a comprehensive educational experience to help them reach their full potential. I am committed to fostering the development of the whole person, including the student's intellectual, professional, and emotional growth." A long-time colleague and supervisor shared that Alyse "is a master at engaging them in the transformative process of self-discovery, connecting them to university resources, and teaching them to open themselves up to the many other academic and career options."  We are delighted to recognize the consistent, comprehensive, collaborative, and compassionate support Alyse Bithavas has provided to CGS students and to BU for 25 years by presenting her with the 2022 Undergraduate Academic Advising Award in the Professional Advising category.
BU Today Article (March 4, 2022)
2021 Faculty Academic Advisor Award Recipient
Professor Jeffrey Allen

Assistant Professor, Information Systems, Questrom School of Business
Since joining Boston University as a faculty member in 2001, Jeff Allen has consistently dedicated his attention to advising and mentoring undergraduate students. In his role as a co-coordinator for the Introductory Information Systems course at Questrom, Jeff works with more than half of the entire Questrom undergraduate student population. Despite an enormous caseload on top of his teaching responsibilities, Jeff's devotion to his advisees is unwavering. His colleagues have noted that there is never a time when Jeff is not with an advisee, whether they are meeting in the office or chatting during Jeff's regular power-walking sessions. Jeff says that he genuinely enjoys assisting his students and ensuring they thrive, even as they navigate uncertainties and challenges in their educational journeys.  He incorporates his own professional and personal experiences into his advising, and students appreciate his openness.  As one student put it, "He offers real insight and honesty about his life, and the real working world. He also provides a holistic perspective about being a working adult: school, work, friends, family, and being able to care for yourself as well. Aside from this, Jefferey is extremely well connected and a wonderful resource for students who are looking for jobs. I would recommend this advisor to friends who are looking to establish a genuine relationship with an advisor and move forward in their career." In a letter supporting Jeff's nomination for this award, his department chair affirmed that "Jeff's multi-decade dedication to students has won him the hearts of tens of thousands of students and has left a lasting impact."  We are delighted to recognize Jeff's work by presenting him with the 2021 Undergraduate Academic Advising Award in the Faculty Advising category.
BU Today Article (February 26, 2021)
2021 Professional Academic Advisor Award Recipient
Brian Dudley

Undergraduate Academic Advisor, CFA: School of Theatre
As the academic advisor within the School of Theatre, Brian Dudley plays a critical role in CFA.  People refer to him as the "go to" person for anything advising related, and his colleagues and students consistently praise his genuine commitment to students and the positive energy he brings to advising. In reviewing materials for these awards, the selection committee was truly inspired by the number of students who spoke to Brian's kindness, his compassion, and his ability to listen in a way that makes students feel heard. Several students said they would not have remained at Boston University without Brian's support, and a number of students wrote movingly about the profound impact that Brian has had on their educational experience and on their personal growth.  In particular, students wrote about how Brian has taught them to feel empowered and to take ownership of their decisions.  One student explained, "Brian has taught me that even in one of the most prescribed schedules, the BFA in Acting at CFA, I still have agency over my schedule and my undergraduate education. Yes, I have requirements to fulfill, but he has showed me that I am able to fulfill these requirements AND my personal educational goals at the same time. He taught me to be a self-starter, organized, and reach out when I need help […]. At a massive university, it is easy to feel small, insecure, and insignificant. Brian's personable advising skills have made me feel confident and capable of being the driver of my own education."  Another wrote, "Brian has helped me shake loose the thought that I have to adhere to a rigid structure of education – that I have to get the same education as everyone else. Coming from a high school mentality of school, there is not a lot of choice. Brian, by first asking me what I want to do – instead of just showing me options, has made me think for myself first and really demand the best education I can get out of Boston University. I now have the mindset that I get to create my own path here, not anyone else, and Brian helped me realize that." We are lucky to have Brian guiding our students in their self-development, and we are honored to award him the 2021 Undergraduate Academic Advising Award in the Professional Advising category.
BU Today Article (February 26, 2021)
2020 Faculty Academic Advisor Award Recipient
Professor Nancy Lowenstein

Clinical Associate Professor of Occupational Therapy, SAR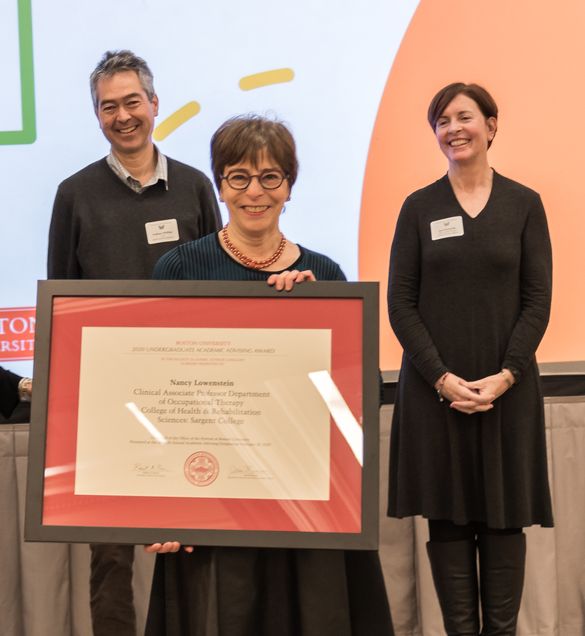 Since joining Boston University's faculty in 1999, Nancy has had a significant impact on undergraduate students through her teaching, her advising, and her service as a two-time Posse mentor. Her compassionate manner supports her advisees as they embrace the opportunities and challenges of college. Her past advisees uniformly attest to her excellent guidance, particularly mentioning how she prioritizes her advisees' needs. Whether she is encouraging them to be more confident or assisting them as they find their academic passion, her door is always open.  Students and colleagues alike noted her exceptional generosity.  One of her advisees shared the following with the selection committee: "When I first stepped foot into [Nancy's] office, I immediately felt welcomed. She made an effort to get to know details about my background, life on campus, and aspirations. From then on, whenever I met with her she showed a genuine interest in how and what I was doing. She influenced me to be self-directed, ambitious, motivated, and a responsible decision-maker while encouraging my successful completion of the Behavior and Health degree. It is evident that she looks at students further than just her advisees. She actively connects students to opportunities that highlight their goals. Through building relationships, she can detect what a students' strengths are and as opportunities come her way that she believes would suit someone, she will pass it along or nominate them."  Another explained of Nancy's impact, "[Professor Lowenstein] made me feel welcomed and appreciated in a way that I had not expected from a college advisor. She challenged my opinions, made me think about "why" I wanted to take a class, and offered great advice in regards to class load. She helped me strategically layout my academic coursework to correspond with extracurricular activities and anticipated work-load. Without her guidance, I would have tried to race through my education to just minimize the cost of attendance without considering my ability to succeed. Professor Lowenstein helped refocus my priorities when I needed it; she helped me thrive academically, emotionally, and physically. She encouraged me to push myself out of my comfort zone to try new things – something I previously did not enjoy doing. Thanks to her, I have enjoyed my time as a BU undergraduate and I can proudly say that she has shaped who I am today."
BU Today Article (February 28, 2020)
2020 Professional Academic Advisor Award Recipient
Debbie Claar

Assistant Director, Academic Services, SAR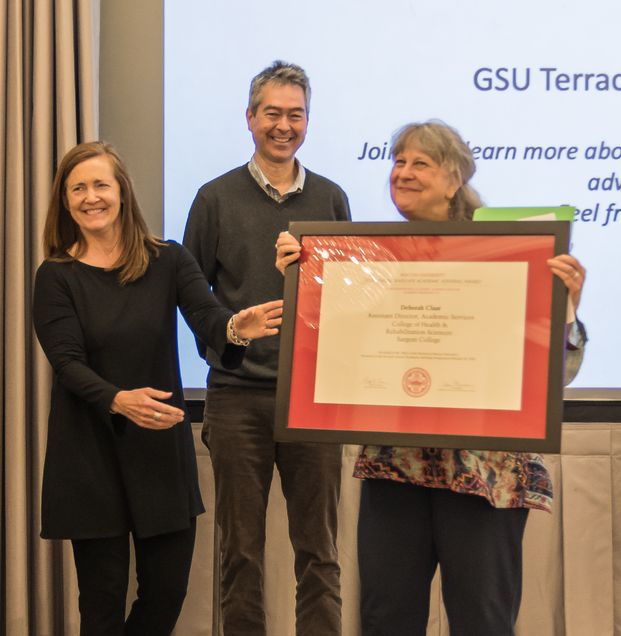 Debbie has been supporting students as an Academic Advisor at Boston University for the past 40 years. She has worked with direct entry, internal transfer and external transfer students at Sargent College and has made lasting impressions on the students she advises. She is known and appreciated for her warmth as well as her knowledge.  In addition to the one-on-one advising she does, Debbie has also played a key role in the development of many of the foundational student engagement programs at Sargent.  Students who wrote in support of Debbie's nomination expressed feelings of authentic connection when they talked about Debbie's advising.  One student wrote, "Debbie has had such a profound effect on my life since I met her freshman year. She is one of the most caring and genuine people I've met at Boston University. When I first transferred into Sargent College, Debbie welcomed me with a big smile and heart, and has been a huge presence in my life ever since. She is always willing to help with any academic or social issues. Her door is always open for everybody. I also have had the privilege of working with her for the past two and a half years in the peer mentor program, and it has been my most cherished accomplishment here. She fosters an environment that emphasizes teamwork and respect. Her passion for helping others and making everybody feel at home in a new environment is inspiring."  Another student wrote, "I felt Ms. Claar understood me on a personal level and clearly took into consideration my individual needs and concerns in an appropriate and respectful manner.  I am confident my determination and success both inside and outside of the classroom is derivative of the sincere care and consideration Debbie Claar so selflessly provides to each and every student she meets."
BU Today Article (February 28, 2020)
2019 Faculty Academic Advisor Award Recipient
Professor Anna Henchman

Associate Professor of English and Director of Undergraduate Studies, CAS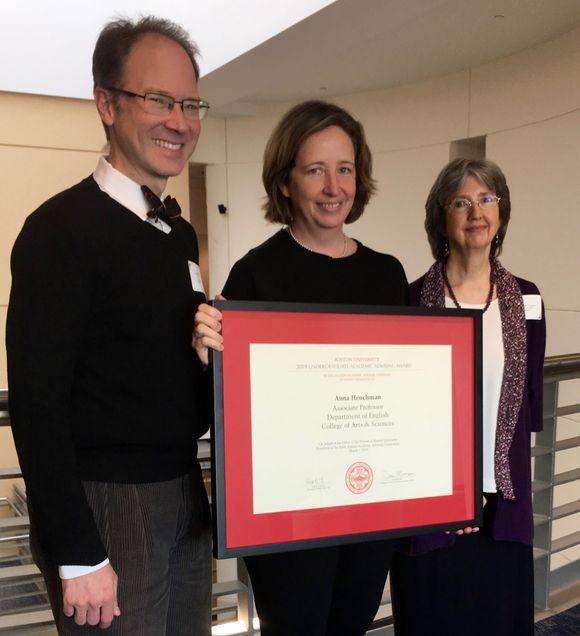 Anna Henchman joined the College of Arts & Sciences Department of English in 2007, and has served as the Director of Undergraduate Studies since 2014.  As an advisor, Anna's impact extends beyond just the department to the greater CAS student body and beyond.  In her nomination she is characterized as "a vital link between advisees, faculty, staff, and other BU units." She is sited as having "made significant contributions to the wider BU community through her work with CAS Advising, the Center for Career Development, and the UROP program."  Anna Henchman is the advisor to the advisors in her department, leading a shift in the culture, structure, and procedures around undergraduate advising.
Just as her advisees learn from her, Anna believes she learns just as much from them. She is genuinely connected to her advisees, always considering how the enterprise of advising improves the lives and addresses the concerns of undergraduate English majors at Boston University. As Director of Undergraduate Studies,  she is rightfully proud of having increased the number of humanities majors engaging in research through the auspices of UROP (Undergraduate Research Opportunities Program) and of having helped design the Humanities Scholars Award.  Key to her efforts has been easing the concerns of her students that they will have robust employment prospects. Above all, though, she encourages students to undertake these projects to stretch themselves and to broaden their undergraduate experience.
Professor Henchman is described by advisees and colleagues alike as a committed and genuinely caring advisor. Her advisees know they can count on her  continuous support and able guidance. The professional advisors in the College consider her  one of the "go to" faculty advisors in CAS, who "is equally effective whether she's singing the praises of being an English major or working through a sensitive situation with a student in academic difficulty."  Anna Henchman is an exemplar of caring, effective faculty advising.
2019 Professional Academic Advisor Award Recipient
Cecilia "CC" Yudin
Assistant Director, Academic Advising, Undergraduate Academic & Career Development Center, QST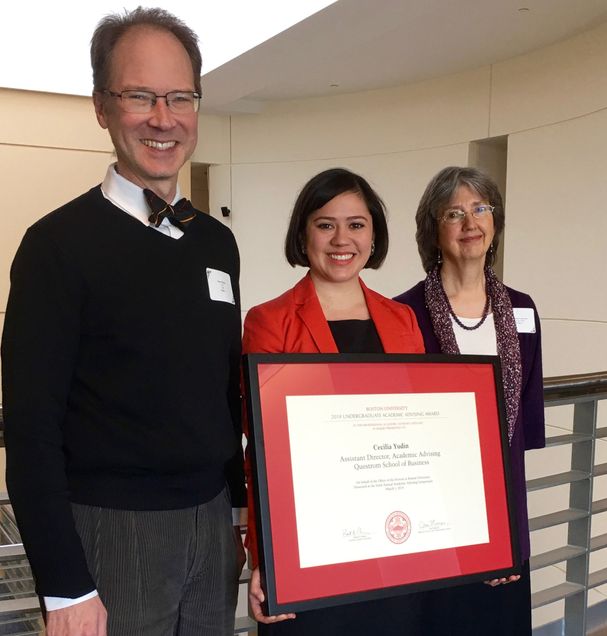 Cecilia "CC" Yudin has served as Assistant Director of Academic Advising at Questrom's Undergraduate Academic & Career Development Center since 2014. A proud Boston University alumna, she taps into her own undergraduate experience to inform her advising approach. Empowering students to access every resource and opportunity is a central theme of her work.
"CC approaches nothing in a half-hearted way," writes one of her nominators. "She is dedicated to the highest quality – in her program development, her contemplation of issues, her collegial relationships, and most relevantly in her student advising. . . She brings a uniquely thoughtful style, encouraging student exploration at the highest level."
In addition to her advising role, CC oversees the 30+ student organizations at Questrom.  She has served as the managing director of the Questrom Ascend Fellows Program and volunteered for BU Orientation.  In each of these instances, her kindness, supportive approach, and commitment to Questrom students comes to the fore. Writes another nominator: "Ms. Yudin leads by example and puts forth every effort to meet students' needs."  This tirelessness in going above and beyond was a common thread throughout Ms. Yudin's support letters.
CC's unwavering devotion to advising is clearly noted by her colleagues and advisees. Colleagues describe her as a passionate advisor, who considers her advising in a holistic manner. Her advisees mention her humane approach, commitment, and caring. It is clear that CC is not only an incredibly knowledgeable advisor, but one whose impact is widespread and lasting.
2018 Faculty Academic Advisor Award Recipient
Dr. Shoai Hattori

Lecturer and Assistant Director, Undergraduate Program in Neuroscience, CAS
Shoai Hattori has been a lecturer and assistant director in the Neuroscience Program since 2014, where he teaches the first- and second-year required experimental lab courses, as well as an upper-level elective; oversees the Honors Program in Neuroscience; and advises 100 – 150 Neuroscience majors each year. Shoai received the CAS Templeton Award for Excellence in Student Advising in 2017. To read the testimonials of his students, it is immediately evident that Shoai goes above and beyond the expectations of an excellent advisor. With a mentorship approach that covers academic, career, and personal goals, Shoai has a unique ability for making each student feel heard, coached, and cared about.  Students frequently comment that Shoai's office hours are as therapeutic as they are elucidating in helping determine their academic and professional pathways.
Shoai's knowledge of the university resources and services available to students is encyclopedic, as is his grasp of career and graduate program trends, which he follows assiduously to advise students beyond BU and connect them with alumni. He is equally generous with his schedule, setting up student appointments on short notice, even when he's short on time, and helping undergraduate students join faculty labs, become co-authors on science publications, and travel to conferences to present their work. Shoai writes up to 80 recommendations per year for students' medical & graduate school applications. It's all part of an approach he embodies that places advising as a central pillar of BU's academic mission.
BU Today Article (February 8, 2018)
2018 Professional Academic Advisor Award Recipient
Taryn Andrea
Academic Advisor, CAS
Taryn Andrea has been an Academic Advisor at BU since 2013, initially advising pre-medical undergraduate students, before moving to the CAS Advising Center in 2015. She has an advising caseload of 280 students and serves as the advising liaison to five academic departments. Taryn leads the Undeclared First Year Experience Committee and developed five undeclared First Year Experience (FY 101) course sections. Among these has been a First Year Experience Topics (FY 103) seminar that she's co-taught, entitled Building a Meaningful Life, which focuses on self-exploration and intentional decision-making. She also helped to develop the Time to BU Summer Orientation program, serves as a CAS Academic Life retreat committee member, and partners with the Center for Career Development to provide workshops around identity, interests, and values.
Taryn challenges and empowers her students to deepen their own self-knowledge in order to make informed decisions around their majors, careers, and life choices. Her deeply personalized approach and talent for engaging undergraduates in fluid, candid conversation around interests, values, skills, course selection, and careers make her a truly exceptional advisor and mentor for undeclared students.
2017 Faculty Academic Advisor Award Recipient
Christopher Cavalieri

Assistant Professor, Department of Film and TV, COM
As Faculty Advisor to BUTV 10, Professor Christopher Cavalieri established the University's student-operated campus television channel, and advises the Student Management Board and the show producers. His work enabled over 330 students from 8 BU schools and colleges to participate in BUTV in Fall 2016. He also advises Kilachand Honors College students and prospective COM students (and their parents!). In his advisees' words, Chris has "real faith in his students, pushes them to do their best" and gives them "no nonsense guidance." He pushes them again to critically evaluate what they are doing. Said one student: "He has helped me understand the reasons behind the education that I am receiving at BU and within COM." Chris believes that academic advising is based on "active engagement" that "establishes meaningful two-way conversation." Chris is responsive to the changing needs of his advisees as they develop and require different kinds of support and advice across their time at BU, and beyond.
BU Today Article (March 28, 2017)
2017 Professional Academic Advisor Award Recipient
Taryn Craig
Academic Advisor, KHC
Taryn Craig advises over 150 students in the Kilachad Honors College where, in an office students find warm and inviting, she provides attentive, individual consultation on college, life and careers for her students. Previously, Taryn served in the International Students and Scholars Office, where, in the course of three years, she offered general information and advice to more 7000 international  students from 150 countries. "Warm, approachable, extremely knowledgeable and always willing to go the extra mile," say her advisees. "She provides guidance without boxing me in," said one in an exemplary comment.  "Caring" is a word that threads through students' praise for Taryn. "She listens with care and advises with poise," is my favorite. "Every time her name comes up in conversation, it is followed by universal praise and gratitude."
2016 Faculty Academic Advisor Award Recipient
Dr. Paul Lipton
Research Associate Professor and Director, Undergraduate Program in Neuroscience, CAS
Paul Lipton's development of his program into a thriving major is perhaps matched only by the accolades he receives as a primary academic advisor each year to more than 100 students. Students – including those not majoring in Neuroscience – routinely hail Dr. Lipton's approach to advising as transformative, peppering their evaluations of his performance with words like "relatable," "enthusiastic," "challenging," "constructive," and "knowledgeable." Dr. Lipton views academic advising as a pedagogical tool and central feature of the undergraduate experience, using the advisor-advisee relationship to help students explore the root of their curiosity and focus or expand their inquiry – a method that ultimately empowers them to assume responsibility for their own academic, intellectual, and personal development. "Dr. Lipton gives students the tools to excel at Boston University and in their future careers," writes one student. His nominator states it even more succinctly: "He has that rare ability to make every student feel special."
BU Today Article (February 26, 2016)
2016 Professional Academic Advisor Award Recipient
Faith Nussbaum
Assistant Director, Undergraduate Program Office, Questrom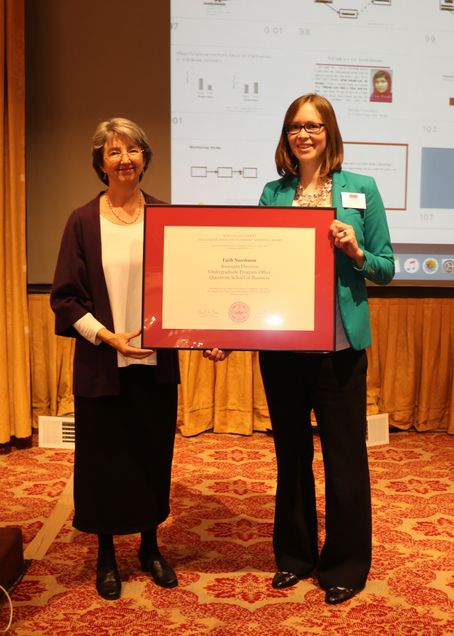 Faith Nussbaum enjoys distinction as one of her school's busiest academic advisors, overseeing a sizeable caseload in Questrom's advising program, and yet managing to ensure each student's needs are successfully met and a lasting personal connection established. For Ms. Nussbaum, who manages much of Questrom's study abroad advising, meeting the demands of so many students in such a regimented timeframe requires considerable strategy, from knowing her school's curriculum inside and out to make course loads fit, to walking students through the steps it will take to achieve their goals, and managing an accurate and accessible website. It also means coaching them through challenging academic times (sometimes meeting weekly) and keeping an eye out to resolve potential roadblocks that could hinder students' plans. Ms. Nussbaum's advisees regularly describe her as "dedicated," "professional," "compassionate," and "welcoming," lauding an approach that makes them feel at once secure in their trajectory and genuinely cared for. "Faith is always patient and understanding with each student she meets with," writes one nominator. "She makes each student feel extremely comfortable and always makes sure their questions are answered."